/ Source: The Associated Press
President Barack Obama on Saturday told graduating cadets eventually headed for war that their country needs allies standing with the U.S. in Afghanistan at a time when some nations are questioning their commitment to that fight and the costs of war.
Obama also said that while the U.S. military is the "cornerstone of our national defense," those who wear America's uniform cannot bear that responsibility by themselves.
"The burdens of this century cannot fall on American shoulders alone," the commander in chief said at the U.S. Military Academy, where in December he announced he was sending 30,000 more troops to Afghanistan.
Obama said the fight against al-Qaida, begun under President George W. Bush after the attacks of Sept. 11, 2001, is part of an international effort that was necessary and just.
"The threat will not go away soon," Obama told the nearly 1,000 cadets seated on the field at Michie Stadium on an overcast day. "But let's be clear: al-Qaida and its affiliates are small men on the wrong side of history."
America, he said, has a history of not acting alone — citing World War II and the Cold War as among more recent examples.
"We are the United States of America. We've repaired our union, faced down fascism and outlasted communism," he said. "We have gone through turmoil and come out stronger, and we will do so once more."
'Difficult days ahead'
Obama said that although the nature of the war in Afghanistan has changed since it was launched late in 2001, it remains as important as it was in the days after Sept. 11.
Last week, during an appearance at the White House with Afghan President Hamid Karzai, Obama said the fighting in Afghanistan will get worse before it gets better, with tough battles expected in the coming months as U.S.-led forces prepare to push into the Taliban's birthplace in Kandahar province in June.
The campaign for Kandahar, already under way in areas outside the city, is expected to be among the bloodiest of the nearly 9-year-old war.
"There will be difficult days ahead," Obama said Saturday. "But we will adapt, we will persist and I have no doubt that together with our Afghan and international partners, we will succeed in Afghanistan."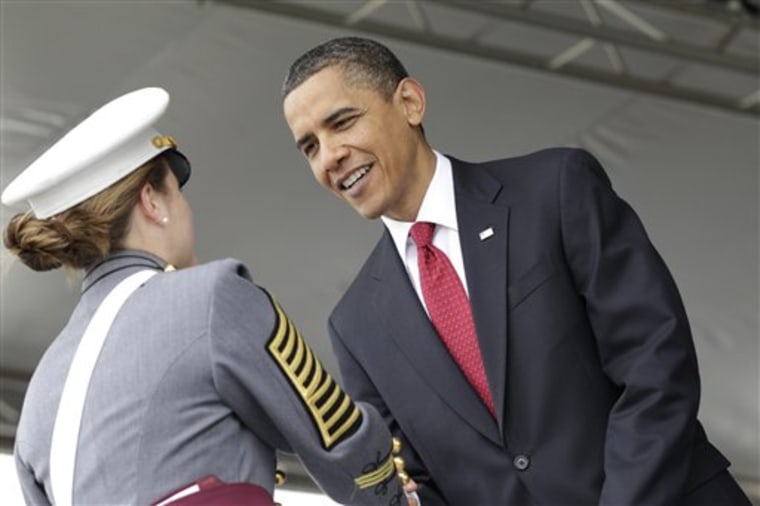 As Obama focuses on defeating a resurgent Taliban, some U.S. allies are questioning their commitment in Afghanistan.
In February, the Dutch government collapsed after Prime Minister Jan Peter Balkenende tried to meet a NATO request to keep the Netherlands' 2,000-strong contingent in Afghanistan from coming home this year. A majority of the Dutch parliament backed a withdrawal this summer, as planned.
The Dutch crisis, and growing public opposition to further involvement in Afghanistan, have fed fears that other NATO nations could rethink their role in the war. Canada, which serves in the same southern region as the Dutch, also plans to remove its 2,800 troops by next year.
'Full support'
Nearly the entire graduating class of 2010 will become Army second lieutenants, with most expecting to serve eventually in Iraq or Afghanistan, a fact that that Obama said "humbled" him.
"I assure you you will go with the full support of a proud and grateful nation," he said.
Obama commended the cadets for serving the country and for setting a standard of service and sacrifice "as great as any in U.S. history" at a time "when too many of our institutions have acted irresponsibly."
He said defending the U.S. isn't the sole responsibility of the military and that "the rest of us must do our part." He said that includes encouraging innovation at home to help restore U.S. economic vitality and strengthening existing international alliances and building new ones.
Obama said promoting basic human rights around the world and working with those who share U.S. interests also are important.