/ Source: The Associated Press
Thousands of police and soldiers stormed the Jamaican ghettos where reggae was born in search of a reputed drug kingpin wanted by the United States on Tuesday, intensifying a third day of street battles that have killed at least 30 people.
The masked gunmen fighting for underworld boss Christopher "Dudus" Coke say he provides services and protection — all funded by a criminal empire that seemed untouchable until the U.S. demanded his extradition.
Coke has built a loyal following in Tivoli Gardens, the poor West Kingston slum that is his stronghold. U.S. authorities say he has been trafficking cocaine to the streets of New York City since the mid-1990s, allegedly hiring island women to hide the drugs on themselves on flights to the United States.
Called "president" and "shortman" by his supporters, Coke does not wear flashy clothes or hold court at Kingston nightclubs like other powerful gang bosses. The few published photographs of the 5-foot-4-inch Jamaican the U.S. Justice Department calls one of the world's most dangerous drug lords show an unassuming man with a pot belly.
Schools and businesses closed
On Tuesday, masked gunmen in West Kingston vanished down side streets barricaded with barbed wire and junked cars. The sound of gunfire echoed across the slums on Jamaica's south coast, far from the tourist meccas of the north shore.
Schools and businesses were closed across the capital and the government appealed for blood donations for the wounded.
At the epicenter of the violence are the West Kingston slums, known as garrisons and which include the Trenchtown ghetto where reggae superstar Bob Marley was raised.
The son of an alleged gangster, the 41-year-old Coke has strong ties to the governing Jamaica Labor Party, which has counted on gunmen inside his Tivoli Gardens slum to intimidate election rivals. By exposing the ties between gangs and politicians, some hope the explosion of violence will put Jamaica on a path to reform.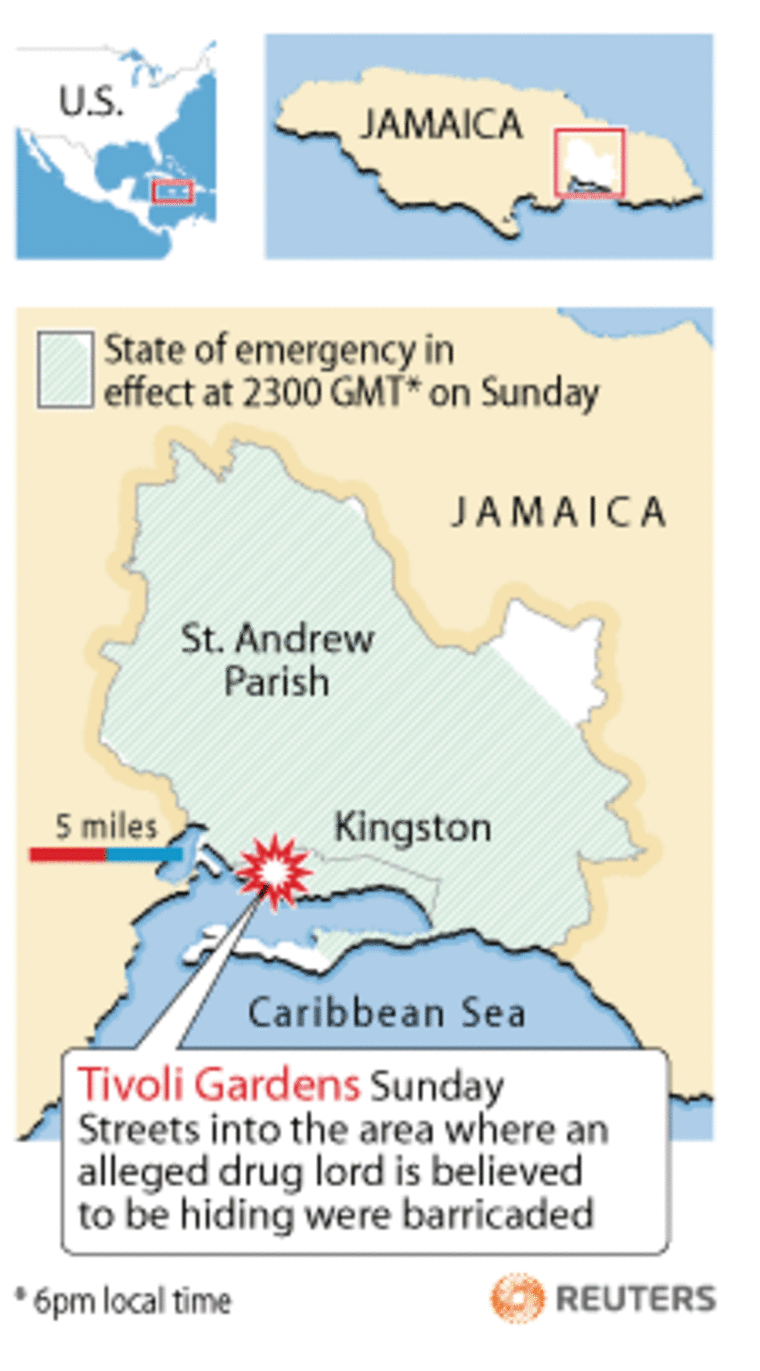 "I think it certainly has been a wake up call for the entire country," said Peter Bunting of the opposition People's National Party.
Members of Coke's Shower Posse and affiliated gangs began barricading his stronghold last week following an announcement by Prime Minister Bruce Golding that he would approve Coke's extradition on drug- and gun-running. Golding, who represents Tivoli Gardens, had stonewalled the U.S. request for nine months.
Police spokesman Corporal Richard Minott told The Associated Press on Tuesday that the fighting in West Kingston alone has killed 26 civilians and one security official. Police reported that earlier fighting killed two officers and a soldier.
The government imposed a monthlong state of emergency for the Kingston area on Sunday.
By Tuesday, about 10 percent of the capital was cordoned by security forces.
The violence has not touched the tourist meccas along the Caribbean island's north shore, but several hotels reported cancellations. Air Jamaica rescheduled four flights on Tuesday because of the unrest in Kingston.
"I'm very concerned," said Wayne Cummings, business director for Sandals resorts. "The entire Caribbean and the world is trying to pull itself out of a recession. This kind of hit, if one can call it that, comes at a very, very bad time."
Known for helping out slum dwellers
Along the pitted and trash-strewn streets of West Kingston, residents say Coke is feared for his strong-arm tactics, but also is known for helping out slum dwellers with grocery bills, jobs and school fees.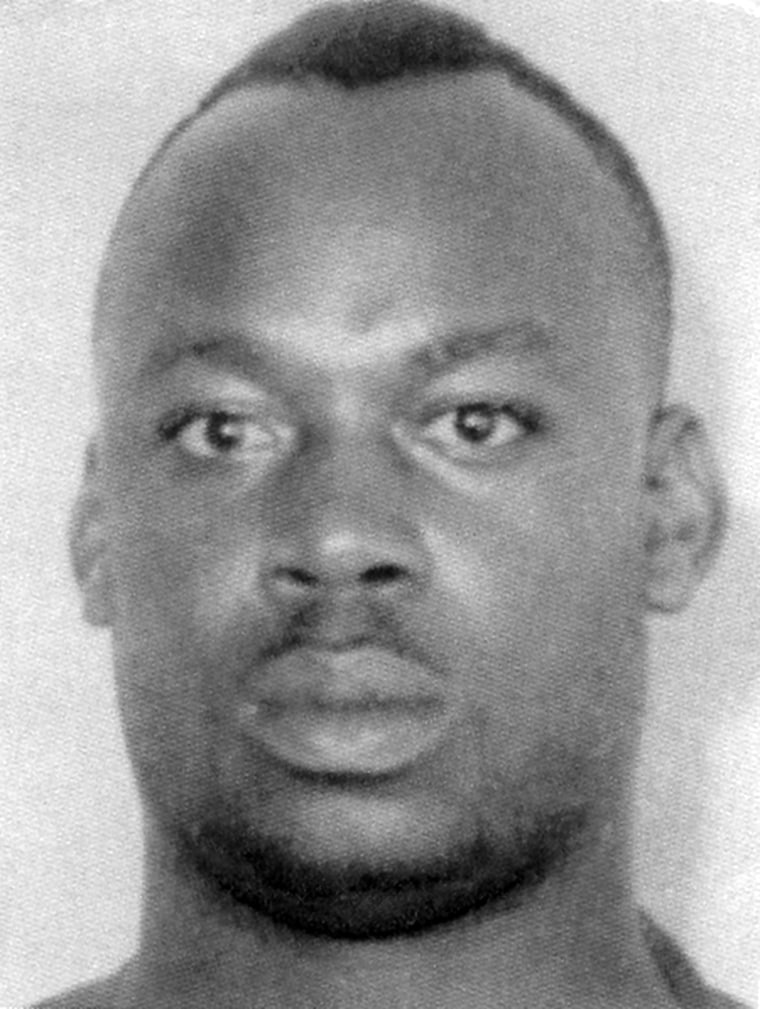 He reportedly owns a company called Presidential Click that throws wild street parties in Tivoli Gardens each week and handles public works contracts in West Kingston's slums, where flatbed trucks have brought in huge stockpiles of construction materials to build in barricades against the police.
His influence extends well beyond the capital. Police say gunmen from gangs that operate under the umbrella of his Shower Posse elsewhere on the island have been flocking to his defense. Federal prosecutors in the southern district of New York say drug traffickers in the U.S. also routinely sent him gifts including clothes, accessories and car parts in recognition of his influence over the American cocaine trade.
"Mr. Coke is a strongman whose tentacles spread far and wide," said the Rev. Renard White, a leader of a Justice Ministry peace initiative that works in Jamaica's troubled communities. "He has great wealth, benefited from government contracts, and owned businesses doing imports, exports, construction. He has all of these things — and everyone knows it."
The violence has its roots in the 1970s, when political factions armed gangs to intimidate opponents ahead of the 1980 general elections. But the politicians long ago lost control of the gangs. Armed with AK-47s and other assault weapons, they have fought bloody turf wars for control of extortion rings that have provoked a cycle of seemingly endless revenge killings.
Bunting, the opposition party member, accused the government of endangered the lives of police and soldiers by giving Coke so much advance warning. He said the fierce resistance was to be expected considering police have not had a presence for decades inside a community a former police chief calls "the mother of all garrisons."