/ Source: a href="http://www.washingtonpost.com/wp-srv/front.htm" linktype="External" resizable="true" status="true" scrollbars="true">The Washington Post</a
All the police found in the abandoned Cadillac pickup truck were scissors and blood that matched the type of Diego Fernandez de Cevallos, the cigar-chomping political powerhouse who has not been seen again.
Since his disappearance nine days ago, the silver-maned politico, like a character straight out of a Mexican soap opera, has become perhaps even larger than his normal larger-than-life self. He has been booed and hissed by his many enemies, but his unknown fate caused an emotional clutch in the voice of one of his many dear friends, President Felipe Calderón.
When Fernandez, 69, a onetime presidential candidate, was seized from his ranch in the central state of Queretaro, the nervous thrum of speculation began. Was he dead and buried? Or kidnapped for ransom — or a prisoner exchange — by remnants of revolutionary guerrillas, or vengeful narcos, or his political enemies? Many people hope it is just a "normal kidnapping" of a rich man whose family is willing to pay.
His disappearance has rattled the political and business class here, stoking fears that the war against powerful crime syndicates might be escalating to more dangerous heights, where elites become targets for the drug cartels.
News blackout
Because the Mexican attorney general has declared a virtual news blackout, the Internet swirls with vitriol and rumors. A photo appeared late Thursday on Twitter of a bare-chested, blindfolded and bearded man with a sheet of plastic in the background. It looks like Fernandez, but investigators with the federal attorney general's office have declined to comment. It is also difficult to know whether the man in the photograph is alive.
Fernandez's eldest son signaled Friday that the photograph might be proof of life offered by kidnappers when he thanked the government on Friday for its help but asked it to back off.
"We earnestly ask that the authorities stay out of this process in order to help the negotiation," said the statement, signed by Diego Fernandez de Cevallos Gutierrez.
On Monday, federal authorities complied and pulled investigators off Fernandez's mega-ranch, known as "La Cabaña," or the cabin.
On the front pages of Mexican newspapers, Fernandez is known as "El Jefe Diego" — the boss, the lawyer and legislator who for three decades served as the ultimate insider, a godfather of the National Action Party, or PAN, Calderón's center-right ruling party.
Fernandez ran for president as the standard-bearer for PAN in 1994. He was a federal deputy and senator, and an instrumental force behind the scenes in the winning campaigns of Calderón and his trailblazing PAN predecessor, President Vicente Fox. Calderón praised Fernandez as "a key politician in the Mexican transition to democracy."
'Classic abduction'
In an interview on CNN in Spanish, Calderón also said he did not think that the drug cartels snatched Fernandez, which remains a prominent theory. "No, the criminals can send me a very clear message in another way," he said. "I think it's a very sensitive case."
Fernandez remains a controversial figure. While in Congress and a leader of PAN, he also represented some of Mexico's powerful and quasi-monopolistic corporations in lawsuits, and rivals accused him of unfairly using his insider influence with the government. Today, the interior minister is a former member of Fernandez's law firm. A former attorney general is a member of the firm.
"It is a classic abduction. They obviously watched, they planned, they knew what they were doing. The question remains: Did they just kidnap a wealthy man for ransom, or is it political in some way — a message, a threat?" said Ricardo Ainslie, a psychology professor at the University of Texas in Austin and director of the documentary "Ya Basta: Kidnapped in Mexico."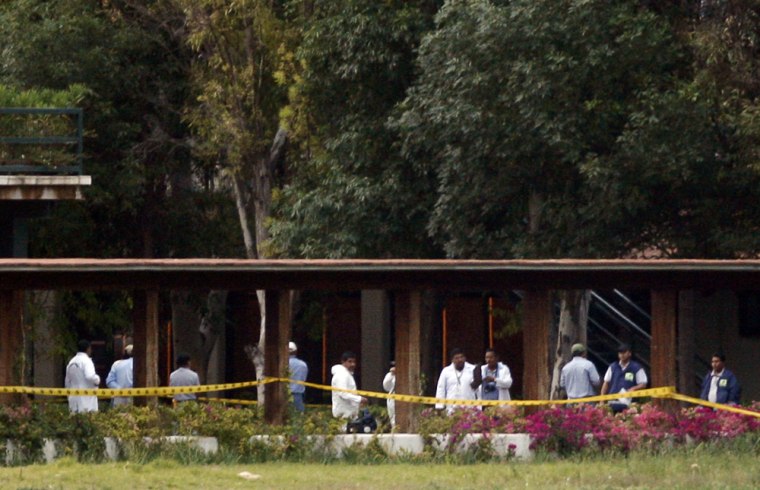 Lydia Cacho, a columnist and human rights activist, wrote in the newspaper El Universal: "Some ask if this can happen to a man such as Fernandez de Cevallos, what awaits the common citizen? Others wonder what kind of power these mafias must have to be able to grab the godfather of PAN, knowing that Calderón will mobilize every available resource to find him."
Mexican authorities have asked for help from the FBI and Drug Enforcement Administration.
"We are going to find Diego," Calderón promised, after his administration announced an extensive manhunt by all federal forces, including the police, army, navy and marines.
"We are deeply worried and sad," said Cesar Nava, the leader of the PAN party. "The hope is that he is still alive, that he will come back safe."
High-impact hits?
Members of the Defense Committee in Mexican Congress recently revealed that the defense secretary, Gen. Guillermo Galván, warned last month that the military expected high-impact hits on the political class by the criminal cartels. He was therefore seeking support for legal reforms that would allow the army to conduct wiretaps and Internet eavesdropping, to cancel mass public events, and to detain suspects for up to 48 hours before delivering them to prosecutors.
The handful of guerrillas still active in Mexico are among possible suspects, but officials have said there is no evidence El Jefe was snatched by armed revolutionaries. A communique from the Popular Revolutionary Army denied responsibility.
The commentary on the Internet includes many voices along the lines of "it couldn't have happened to a nicer guy."
And the disappearance of El Jefe quickly entered popular culture. In a telenovela episode this week, an actor playing a robust lawyer storms into an office waving a newspaper with a blaring headlines about the kidnapping.
"It's official: We have reached the limit; after this, I do not know what will happen!" said the fictional character. "Diego Fernandez de Cevallos!"