/ Source: The Associated Press
A rebound in demand for commercial aircraft lifted April orders for big-ticket goods, further evidence that manufacturers are helping to drive the economic recovery.
Requests for durable goods increased 2.9 percent last month, the Commerce Department said Wednesday. It was the best showing in three months and more than double expectations.
Excluding transportation, orders in the highly volatile manufacturing sector fell 1 percent. But that came after the March figures were revised to show a 4.8 percent jump.
A durable good is a product expected to last at least three years, such as a refrigerator.
U.S. companies are benefiting from rising demand both at home and in major export markets.
There are concerns that a debt crisis in Europe could derail the global recovery. Financial markets have been roiled in recent weeks by fears that the problems facing Greece could spread to other heavily indebted European countries, such as Spain and Portugal.
But economists say the U.S. manufacturing industry may be strong enough to weather Europe's troubles.
" April's durable goods orders figures demonstrate that, despite the fiscal meltdown in Europe, the recovery in the American manufacturing sector is still gathering momentum," said Paul Ashworth, senior U.S. economist at Capital Economics.
For April, the 2.9 percent rise in orders was led by a 228 percent surge in demand for commercial aircraft. The increase reflected strong demand for aircraft manufactured by Boeing Co. It also more than offset a 71.2 percent plunge in March in this highly volatile category.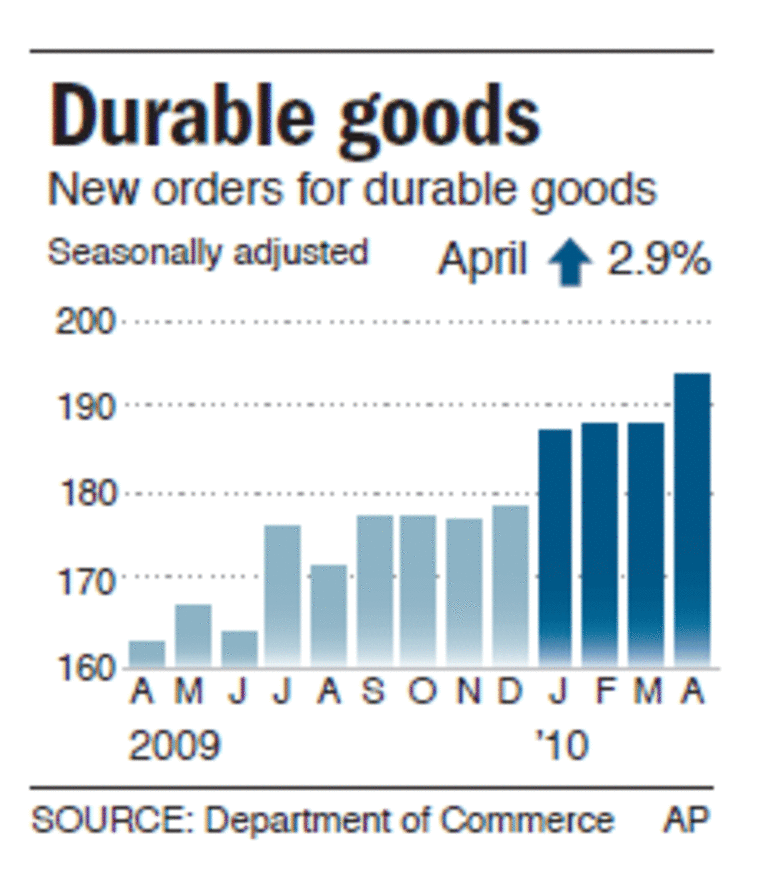 Orders for motor vehicles were up 1.6 percent following an even stronger 4.5 percent gain in March. Automakers continue to dig out of the deep downturn that hit their industry over the past two years. Total manufacturing orders rose 16.1 percent.
The 1 percent drop in orders excluding transportation was a result of declines in a number of areas that had big gains in March.
Primary metals
Orders for primary metals such as steel fell 2 percent. Demand for heavy machinery dropped 5.9 percent after a surge of 10.5 percent in March. Computers fell 3 percent, although orders for communications equipment rose 7.1 percent. Orders for appliances were down 6.9 percent.
Non-defense capital goods excluding aircraft, considered a good proxy for business investment plans, dropped 2.4 percent. But that came after a 6.5 percent increase in March.
The European debt worries have pushed the value of the dollar up 14 percent this year against the euro. That will make American products less competitive in European markets.
There is also concern that the austerity measures that Greece and other European countries are having to implement will dampen demand for American exports and could push Europe back into recession.
At the moment, economists believe the United States will be able to offset weaker exports to Europe with stronger domestic growth, helped by failing oil prices and lower interest rates.
The U.S. economy has been growing since last summer as the country emerges from the worst recession since the 1930s. The overall economy, measured by the gross domestic product, grew at an annual rate of 3.2 percent in the first three months of this year. Economists believe that figure will be revised up to 3.4 percent growth when the new GDP estimate is released Thursday.