/ Source: The Associated Press
Surrounded by metal fences to keep out the curious, the mammoth pit stretching over a city block in the heart of Hanoi contains relics from a sweeping range of history.
It is Vietnam's most important archaeological find, researchers say: Layers of different citadels built on top of each other and millions of artifacts — some as old as 1,400 years, others as new as French colonial times, which ended 50 years ago.
Among the discoveries so far are intricate ceramic fixtures adorned with dragons and birds; countless bowls, plates and vases; brick imported from China; and elaborate drainage systems and stone wells. Storage rooms overflow with other artifacts that appear perfectly preserved, while imprints of an ancient river and lake remain littered with broken objects.
"The ancient citadel for us represents a long period of national history and construction," said lead archaeologist Tong Trung Tin, who hopes it will gain recognition as a UNESCO cultural heritage site.
"It is the center of politics, economics and culture."
Added Vietnamese historian and legislator Duong Trung Quoc, standing above the dig site: "You cannot quantify and qualify the national pride ... I am very proud."
Just getting started
These and other officials, who gave foreign journalists a tour of the fortress site Wednesday, explained how workers in Hanoi began excavating the area near Ho Chi Minh's mausoleum a year ago. Since then, 1,400 laborers, earning $2.60 a day, have scraped and dug 13 feet deep.
In addition to the cultural artifacts, workers also found graves and the bones of two children, between ages 8 to 12, and another skeleton.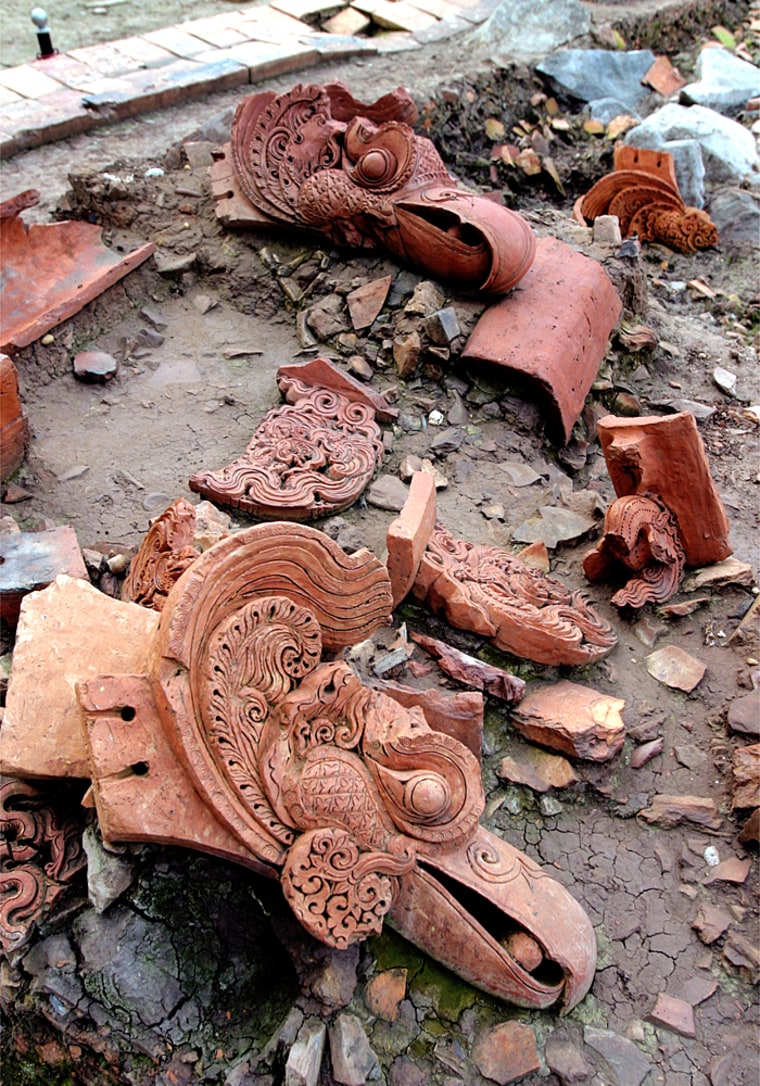 Only a small part of the citadel foundation has been unearthed so far — and archaeologists say they're just getting started.
The excavated area is only 4 acres, and the structure underneath was believed to cover up to 346 acres under the Le Dynasty, during the 15th to 18th centuries.
But while more buildings will be razed for the project, officials say a busy road and adjacent property occupied by the military will likely keep them from uncovering the entire site.
Vietnam's communist government has allocated $2 million for the excavation, with $1.3 million already spent, said Tin, the lead archaeologist.
Several international organizations have expressed interest in paying for further excavation and to protect the site from bad weather, he said. Currently, most of the area remains open or shielded only by makeshift burlap covers.
Tin said wars and occupations kept archaeologists from exploring the site they suspected existed all along. They did not receive approval to clear the land and search for the ruins until a new National Assembly Hall was slated to be built there. A new site for the hall has since been selected.
"The French invaded Vietnam and hired labor to destroy the citadel and rebuild Hanoi," Tin said. "The Vietnamese government's old citadels became a fairy tale, and people forgot it."
Tin said he could not put a dollar amount on the relics recovered so far, but said it is priceless to all Vietnamese.