/ Source: msnbc.com staff and news service reports
Attorney General Eric Holder said Tuesday that federal authorities have opened criminal and civil investigations into the Deepwater Horizon explosion and oil spill.
Holder would not specify which companies or individuals might be the targets of the probe, saying he did not "want to cast aspersions" while investigators come to their conclusions.
He said federal clean air and pollution laws give him the power to open the investigations, which he added had been going on for "some weeks."
Federal agencies, including the FBI, are participating in the probe and "if we find evidence of illegal behavior, we will be forceful in our response," Holder told reporters after meeting with state and federal prosecutors in New Orleans.
The Justice Department has already demanded that the companies involved in the spill, including BP, Transocean Ltd. and Halliburton Co., preserve records related to the accident.
The Coast Guard, for its part, said Tuesday that oil was reported reaching Mississippi and Alabama shorelines. That came after officials widened the region under surveillance to include those states and expanded the no-fishing area to include parts of Florida and Alabama.
Confirmation of the oil came soon after Coast Guard Adm. Thad Allen told journalists of the reports.
Red-brown oil was found on Alabama's Dauphin Island on Tuesday, and local officials closed fishing and posted signs warning against swimming as a precaution.
The Mobile Press-Register said one of its reporters had seen a slick in the Mississippi Sound some three to four miles south of Pascagoula, Miss.
Mississippi Gov. Haley Barbour said oil had reached Petit Bois Island. The strand of oil was just three-feet-wide but two miles long, he added.
"This is the first significant amount of oil residue to hit Mississippi," he said. "While it's the first, it probably won't be the last."
Federal officials on Tuesday also expanded the no-fishing area to 75,920 square miles, or 31 percent of all federal waters in the Gulf. That was a five percentage point increase over Monday.
Crews will aim to capture oil "moving into waters off eastern Alabama and the western tip of the Florida Panhandle, as well as some large patches of sheen moving onto the west Florida shelf and southward to Cuban waters," the advisory said.
This federal closure does not apply to any state waters. Closing fishing in these areas is a precautionary measure to ensure that seafood from the Gulf will remain safe for consumers.
'Aggressively increased surveillance'
Earlier Tuesday, the Unified Incident Command said in a statement that it had "aggressively increased surveillance by air and sea. ... Additional beach support teams have been mobilized on shore to respond as well."
Shorelines along Florida's Panhandle were included in the widened surveillance.
Federal forecasters on Monday had warned that oil could wash ashore in Mississippi and Alabama by Wednesday.
Alabama's Mobile Bay could be covered by a light sheen by Wednesday morning, and then hit Baldwin County shores by noon, forecasters said.
Efforts to create a floating gate of booms at the mouth of the bay failed, but officials are optimistic that skimming equipment can clean up any sheen.
The slick has spread over 100 miles of Louisiana's fragile coast, but until now Mississippi and Alabama had escaped lightly, with only scattered tar balls and oil debris reaching their coasts.
The forecast was a sober reminder that oil from the unchecked spill, broken up and carried by winds and ocean currents, could threaten a vast area of the U.S. Gulf Coast, including tourism mecca Florida, as well as Cuba and Mexico.
Allen also said that BP, in its latest fix attempt, was making its first major cut with super sheers that weigh 46,000 pounds and resemble a giant garden tool. The company will also use a powerful diamond-edged cutter the resembles a deli slicer to try to make a clean cut above the blowout preventer, then will lower a cap over it with a rubber seal.

It could be as many as three days before the oil can be siphoned to the surface, Allen said.
'Triple the manpower,' Obama vows
In Washington, President Barack Obama vowed that if laws were broken in the devastating Gulf of Mexico oil spill, those responsible would be prosecuted and pledged changes to avert future disasters.
Obama, speaking to reporters in the Rose Garden after meeting the co-chairs of a new oil spill commission, said his administration was ready to step up government response to the spill, pledging to "triple the manpower" in the area.
"My solemn pledge is we will bring those responsible to justice," Obama said.
He also said energy giant BP would be held accountable for financial losses from what he called the "greatest environmental disaster of its kind in our history."
Obama said the independent commission investigating the Gulf oil spill will thoroughly examine the disaster and its causes to ensure that the nation never faces such a catastrophe again.
The president said that if laws are insufficient, they'll be changed. He said that if government oversight wasn't tough enough, that will change too. And Obama said if laws were broken, those who were responsible will be prosecuted.
Obama said the leaders of the commission have his support to follow the facts wherever they lead. The commission will be similar to those that looked into the explosion of the space shuttle Challenger in 1986 and the Three Mile Island nuclear accident in 1979.
The spill, which has eclipsed the 1989 Exxon Valdez disaster as the biggest in U.S. history, entered its 43rd day as BP prepared a new and untested plan to use a dome to funnel oil gushing from a well a mile beneath the sea to a tanker on the surface.
The British oil giant's shares sank another 15 percent Tuesday following the failure of its "top kill" attempt to plug the leak Saturday. The company said the cost, so far, of dealing with the spill was some $990 million.
BP's shares have lost more than a third of their value since the oil spill started six weeks ago, a wipeout of about $75 billion.
After previous attempts to plug or contain the well failed, BP is to attempt a new kind of containment cap.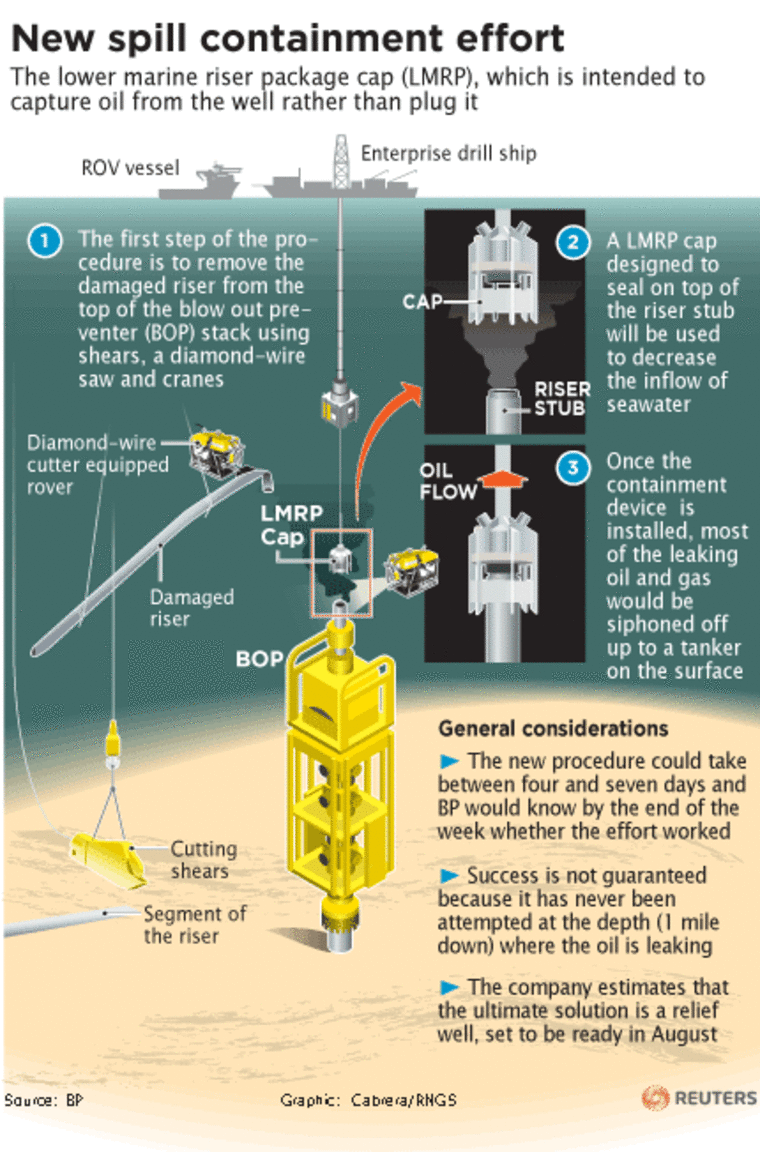 Risks and uncertainties
In a statement issued Tuesday, BP said "preliminary operations" were being carried out to cut away the existing, damaged riser at the head of the pipe outlet on the sea floor and deploy a cap called a lower marine riser package (LMRP).
"All of these operations, including the cutting of the riser, are complex, involve risks and uncertainties, and have to be carried out by ROVs at 5,000 feet under water," it added.
"Systems such as the LMRP containment cap have never before been deployed at these depths and conditions, and their efficiency and ability to contain the oil and gas cannot be assured," the statement said. "It is currently anticipated that attachment of the LMRP cap will be attempted later this week; however, operational delays could impact anticipated timeframes."
BP said it continues to drill two relief wells as part of a longer term plan to control the leak. Its statement said the first relief well had reached a depth of 12,090 feet, while the second relief well was at 8,576 feet. The wells are expected to be completed in August.
The public anger and frustration over the spill poses a major domestic challenge for Obama, who has been forced to admit publicly that the U.S. government and military do not have the technology to plug the leaking well and must leave this to BP and its private industry partners.
Obama, who made his second visit to the Gulf disaster zone Friday, is sending three of his top energy and environmental officials back there this week. He is trying to fend off criticism that his administration acted too slowly in its response to the spill.
In Venice, known as "Tuna Town" for its booming fishing business, the spill dampened business over the U.S. Memorial Day holiday when charters are normally in high demand.
"Just since about last Wednesday, we probably lost 150,000 (dollars) that we didn't take in, you know, fuel, ice, bait," said Bill Butler, co-owner of Venice Marina.
BP said in its statement Tuesday that it had received "approximately 30,000 claims" so far and more than 15,000 payments had been made, totaling some $40 million.
A panel of government scientists known as the Flow Rate Technical Group estimates the well is leaking 12,000 to 19,000 barrels of oil per day.
Raising the stakes even higher, Tuesday is the official start of the 2010 Atlantic hurricane season, which forecasters say may be the most intense since 2005, when Hurricane Katrina ravaged the region and disrupted offshore oil and gas output.
A hurricane churning through the Gulf could drive more oil ashore and force BP and the U.S. government to suspend cleanup efforts.