/ Source: The New York Times
Since 2007, a small group of hard-core activists has repeatedly tried to sail cargo-laden ships into Gaza in an effort to thwart Israel's blockade. But when the Free Gaza Movement teamed up with a much wealthier Turkish organization to assemble a flotilla, it became more than a nuisance, supercharged by the group's money, manpower and symbolic resonance into what Israel sees as a serious and growing threat.
After a botched raid that killed nine activists, an international uproar is intensifying pressure on Israel's blockade. And the movement has hit on a strategy that, even when it fails in its aims, succeeds in tactical terms: The world sees Israel use military force against civilians.
On Tuesday in a bustling neighborhood in Istanbul, the Turkish organization was celebrating a strange success. "We became famous," said Omar Faruk, a board member of the group, Insani Yardim Vakfi, known by its Turkish initials, I.H.H. "We are very thankful to the Israeli authorities."
The group brought large boats and millions of dollars in donations to a cause that had struggled to gain attention and aid the Palestinians. Particularly galling to Israel is the fact that the group comes from Turkey, an ally, but one whose relations with Israel have become increasingly strained.
Israeli authorities say I.H.H. bolsters Hamas, which runs Gaza and which they see as doctrinally committed to destroy the state of Israel. It also charges that the group has links to Al Qaeda and has bought weapons, charges the group denies.
Support from merchant class
The organization is funded entirely on donations, its members said, money that comes from Turkey's religious merchant class, an affluent section of Turkish society that has brought the party of Prime Minister Recep Tayyip Erdogan to power. Inside the group's tidy three-story office building in central Istanbul Tuesday, women in colorful scarves brought money and were given receipts.
Israel's raid of an aid flotilla has sparked protests in several countries.
The group bought three boats, including the Mavi Marmara, the one that was raided, from a company owned by the Istanbul city government for $1.8 million. The boats carried aid that included building materials — cement, tiles and steel, which Israel bans because it says they could be put to military means — worth about $10 million, members said.
Mr. Faruk argues his organization was crucial in helping to project Free Gaza's cause. "We changed the balance," he said.
The Turkish group is a charity, members said, but the Israel Project, a private nonprofit advocacy group, sent an Internet link to journalists with references to what it described as the group's "radical Islamic, anti-Western orientation." The link alleges that the group supports Hamas, in part through a branch it opened in the Gaza Strip, the charity it sends them, and in meetings and speeches by Bulent Yildirim, its leader, and Hamas officials.
Israeli authorities said the group had been raided in 1997 by Turkish authorities, who turned up weapons in one of their offices. Ali Adakoglu, another board member, said there had been a raid on the house of a member in 1997, but he argued that it was politically motivated, since that was the year of a Turkish military crackdown on Islamist groups. He denied that weapons had been found.
"This is an Islamist charity, quite fundamentalist, quite close to Hamas," said Henri J. Barkey, a professor of international relations at Lehigh University. "They say they do charity work, but they've been accused of gunrunning and other things, and their rhetoric has been inflammatory against Israel and sometimes against Jews."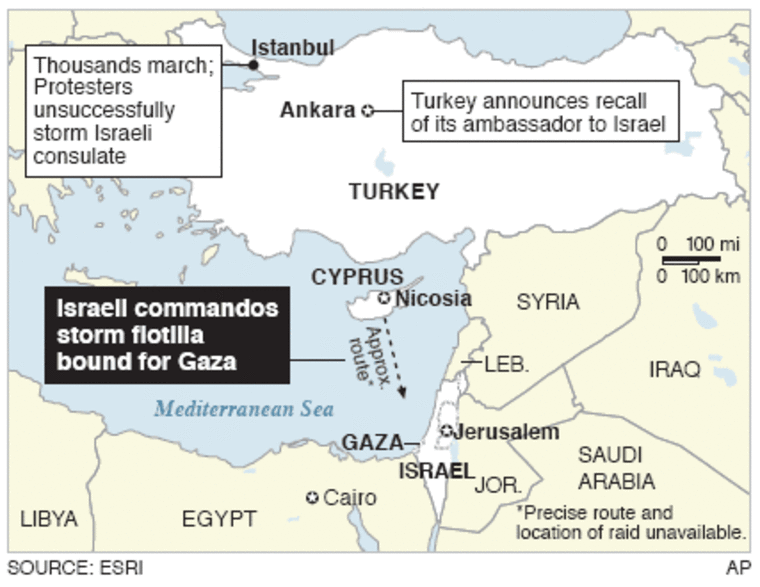 Roots in Istanbul
The organization was founded in the early 1990s, first as a charity for the poor in Istanbul, Turkey's largest city, and later for Bosnian war victims. It now runs charity and relief work in more than 100 countries, including Haiti and nations in Africa, according to the deputy director, Yavuz Dede.
The Free Gaza Movement was formed in September 2006 by a group of passionate Palestinian supporters, most of whom had been barred from ever returning to Israel. The group says it receives most of its money in donations.
"We asked ourselves, what can we do to make a difference?" said Greta Berlin, the group's 69-year-old co-founder and spokeswoman. "We said, 'Let's sail a boat to Gaza.' That was literally how it started."
At first, no one seemed to care much. Five times the Free Gaza Movement sailed from Cyprus, where they are based, to Gaza. Israel ultimately came to believe that a threat was evolving, fearing that ships coming into port could transport weapons. Israeli officials said they feared the prospect of Hamas being as powerfully armed as Hezbollah in southern Lebanon.
The Free Gaza Movement has its roots in the International Solidarity Movement, another organization that sought to take direct action in defense of Palestinians, using nonviolent strategies to impede Israeli military actions in the occupied territories. Members would often act as human shields.
In 2003, an Israeli Army bulldozer crushed to death an American woman, Rachel Corrie, who had kneeled in the dirt to prevent it from destroying a Palestinian home.
Group keeps landing
It took the members two years to raise money necessary to buy the first two fishing boats, maintain and fuel them, Ms. Berlin said. But after that first landing, she said, the group quickly received enough donations to buy a small yacht, which they named Dignity. With the new boat, four more times Israel let the group dock at Gaza.
On the sixth attempt to land in Gaza, Israel decided that was enough. The shift came after Israel invaded Gaza in December 2008, saying it needed to retaliate after thousands of rockets had been fired into civilian neighborhoods.
They loaded the boat with activists and headed to Gaza. It was dark and Ms. Berlin said that an Israeli ship rammed the boat three times, until it retreated to Lebanon. That ship eventually sank when it returned to port in Cyprus.
The group raised more money and managed to buy a small ferry that could hold 30 passengers. This one they called The Spirit of Humanity. They tried three more times, with no success. On their last try, in July 2009, she said, Israel boarded the boat and detained the passengers. Israel never returned the ship, she said.
"We were pretty dismayed because we had no boats and no money," Ms. Berlin said.
She said that former Malaysia officials and the Perdana Global Peace Organization, which describes itself on its Web site as opposed to war, helped them raise enough to buy two yachts and a cargo ship. Then they decided to team up with other groups to stage a multiship flotilla. The movement has grown into a diverse coalition of organizations and activists, often with little in common apart from opposition to the Israeli blockade of Gaza, making it difficult to generalize about its funding, views or radical connections, according to several analysts.
Evan F. Kohlmann, a veteran terrorism analyst with Flashpoint Global Partners in New York, said American diplomats and politicians, Holocaust survivors and leftist writers all have offered their names, time or money to the cause, ignoring or oblivious to the role of others with more militant connections, he said.
Ms. Berlin, the outspoken co-founder, is originally from Los Angeles. She was married for 14 years to a Palestinian, with whom she had two children, and for 14 years to an American Jew. She likes to joke and says that makes her the most qualified "anti-Semite."
But when she is not joking she says that her detractors in Israel are right, that she does not accept Israel as a Jewish state, though she contends that is part of a larger philosophy which opposes all national borders.
"You decide in your life what you are passionate about," she said. "I happen to be passionate about the Palestinians who have had no rights since 1948."
Sabrina Tavernise reported from Istanbul, and Michael Slackman from Jerusalem. Scott Shane contributed reporting from Washington, and Sebnem Arsu from Istanbul.
This story, "Turkish Funds Helped Group Test Blockade of Gaza," first appeared in The New York Times.