/ Source: msnbc.com staff and news service reports
A chemistry and biology professor from the University of California at Berkeley whose research is applied widely in biotechnology has become the first woman to win the prestigious Lemelson-MIT Prize for outstanding inventor.
Carolyn Bertozzi, 43, won the $500,000 prize, awarded annually by the Massachusetts Institute of Technology and the Lemelson Foundation, for her work manipulating processes within living cells to engineer their surfaces and secreted proteins.
The Lemelson-MIT program said insights gleaned by Bertozzi at Berkeley and as director of the Molecular Foundry, a nanoscience research center at the Lawrence Berkeley National Laboratory, have helped efforts to diagnose and treat cancer, arthritis and tuberculosis.
The chemical biologist holds patents including a cell nanoinjector that introduces molecules into living cells, artificial bone materials, targets for tuberculosis therapy and cell microarray platforms.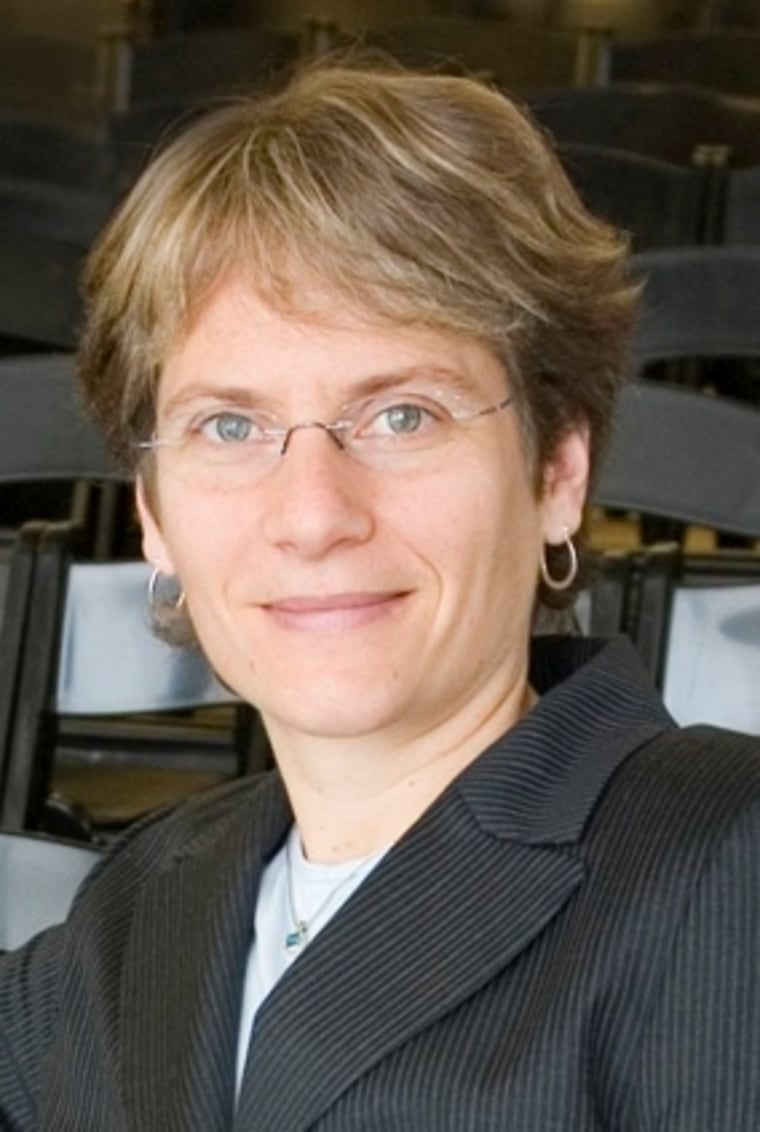 Bertozzi told msnbc.com that the prize recognizes two inventions. One is a method for tagging sugar molecules in the cell so that they can be monitored in non-intrusive ways. Medical researchers have long known that certain sugars are associated with cancer, and thus the ability to identify individual cancer cells could lead to new diagnostic tools and therapies.
The other invention is a method for labeling proteins. "It's basically a technology that allows us to take protein therapeutics and do high-precision engineering of those proteins," Bertozzi said. In 2008 she founded a startup company, Redwood Bioscience, to commercialize the protein-labeling technique. The company recently received a $1 million National Institutes of Health grant as part of the federal stimulus program.
"What these two technologies share in common is a certain type of chemistry, which is kind of what my lab is known for," Bertozzi said.
Her term for the approach is bio-orthogonal chemistry. "It's just a fancy way of saying these are chemistries that are friendly to biological settings," she said.
So what will she do with the $500,000? "Gosh, I really haven't gotten that far yet," she said. "What I will do, obviously, is find ways to increase my entrepreneurial activities."
Some money will no doubt go toward personal needs, but Bertozzi said she also felt extra responsibility to make further scientific contributions because of the prize.
"Basically, in a nutshell, I'm a chemist who wants to develop chemical technologies for the betterment of biomedical sciences," she said. "This kind of makes me feel like this is it. No excuses. I have to go for a Mars shot, not just a moonshot."
This report includes information from msnbc.com and Reuters.