Mercury has come to that big garage in the sky, and there's a convoy behind it of what could be more disappearing brands.
After 71 years, the Mercury brand will vanish from the market with little more than a whimper, by the end of the year. The brainchild of automotive pioneer Edsel Ford, Mercury had become little more than an afterthought on the automotive sales charts in recent years, a costly and irrelevant distraction that company officials, after years of debate, finally decided to do away with.
The move is one more step in CEO Alan Mulally's One Ford strategy which previously resulted in the sale of foreign luxury brands Aston Martin, Jaguar, Land Rover and Jaguar, and will allow the Detroit-based carmaker to put a "laser focus" on rebuilding the struggling Lincoln brand, which has steadily lost ground to luxury leaders like Lexus, Mercedes-Benz, BMW and arch-rival General Motors' Cadillac marque.
The ongoing automotive sales slump has made it increasingly difficult for automakers to maintain brands that don't deliver, say industry analysts. Several other once-solid nameplates, such as Suzuki and Mitsubishi, are struggling and could be pulled, at least in the U.S. market, suggests Jim Hossack, of AutoPacific, Inc. And plenty of others are on life-support in Europe and Asia.
In Mercury's case, even new models like the Mariner and Milan Hybrids failed to generate traction, with sales last year slipping to just 92,000 from the franchise's 1978 peak of 580,000.
Decades ago, when Detroit dominated the market, it could afford to develop separate products for each new division. That was important when a Mercury was billed as a step-up outlet for buyers who wanted something better than a Ford but who couldn't afford a Lincoln. But more recently, the soon-to-vanish brand was stocked with offerings that were little different from Ford division products, except for small details like grilles and badges.
Nonetheless, the cost of supporting an extra brand could add up to hundreds of millions, even billions of dollars annually. Doing away with duplicate brands, suggests analyst Hossack, "simply means fewer mouths to feed," with surviving marques, like Ford and Lincoln getting more and better products.
Similar problems led Chrysler to abandon its Plymouth franchise, and to General Motors' reluctant move to drop its once solid Oldsmobile division a decade ago. Even then, industry analysts contended GM hadn't gone far enough, but until its bankruptcy, last year, GM officials steadfastly refused to take action other weak brands.
GM was ultimately forced to act in order to win the bailout the White House dangled. The automaker agreed to sell off or shutter four of its eight remaining North American marques: Pontiac, Hummer, Saturn and Saab.
Many expected GM to abandon Buick, too, once it emerged from bankruptcy, but the maker felt that would hurt its prospects in China, where Buick sold nearly 500,000 vehicles last year, nearly five times the brand's American volume. Buick is actually having a bit of a resurgence as it launches newer and more stylish models like LaCrosse and Regal, but unless it regains some lost ground, GM may yet have to reconsider its viability.
Over the last century there have been plenty of once-strong nameplates that have vanished from the marketplace, from Stutz to Packard to Plymouth. A sales downturn in the late 1980s took a toll on some foreign brands that couldn't generate enough volume to justify staying in the U.S., among them Renault, Peugeot, Fiat, Alfa-Romeo and Stirling. The latter was the U.S. name for Britain's Rover Group, which imploded a decade ago. Though its Mini and Land Rover operations survived, the company's primary passenger car unit failed, its remnants sold to China.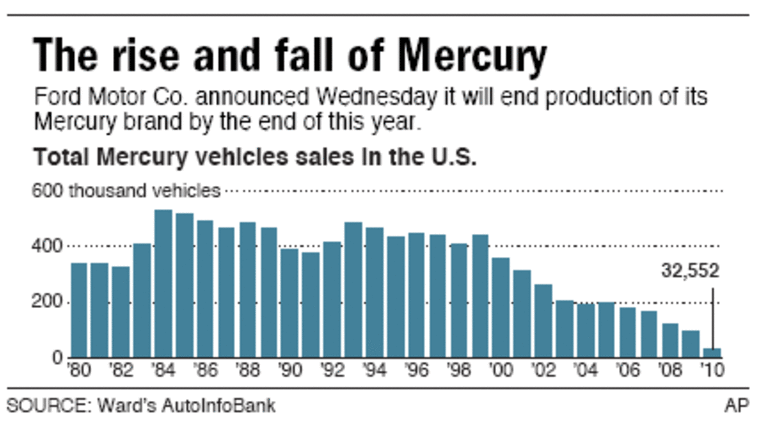 Two of the most vulnerable marques – at least in the U.S. – are generally considered to be Suzuki and Mitsubishi. A decade ago, the latter maker sold 305,000 vehicles in the U.S. By last year, however, that was down to 54,000. As recently as 2007, Suzuki sales were 102,000, but by 2009 that had plunged to just 39,000, despite the launch of the well-received Kizashi midsize sedan.
Suzuki is a major player, especially in markets where subcompacts and minicars are popular, so it would likely survive a decision to pull out of the U.S. Mitsubishi, however, has been on life-support for a number of years, and its long-term fate is less certain.
The possibility of a Ford without Mercury fits with Mulally's One Ford business strategy. But another major maker moving in a very different direction is Volkswagen AG, which has steadily expanded its brand catalogue over the past two decades, covering a range of products from high-line Porsche and Bugatti down to base models Skoda and Seat.
The latter, based in Spain, has been struggling to build volume, however, and recent reports out of Europe suggest the VW board is also considering its options for eliminating the one weak link in the company's otherwise strong brand chain.
One brand that has narrowly dodged the gallows is Saab, for which GM belatedly found a buyer earlier this year, even as it began to shut the Swedish company down. Whether the maker can pull off a true turnaround, however, remains to be seen. Its Dutch owner, Victor Muller, founder of the sports car company, Spyker, acknowledged in a recent interview that he is still searching for the cash that would fund a much-needed product line expansion, though he insists that as an independent maker, Saab's breakeven point should come down sharply, which will give it a good shot at surviving.
Perhaps the biggest shake-out in the auto industry could come in what is now the world's largest market, China. Exactly how many companies operate behind the old Bamboo Curtain is uncertain. Government officials often cite a figure of around 200, though that includes companies producing the most basic forms of transportation.
China's stated goal has been to narrow that down by an order of magnitude. The most likely survivors are generally expected to be companies that partner with foreign automakers — like Shanghai Automotive Industry Corp., or SAIC, which has ties to both GM and VW. But some homegrown makers, such as Geely and BYD, are picking up volume and are intent on becoming industry leaders.
The boom in emerging markets like China, India, Brazil and Russia will clearly impact the face of the industry in years ahead. At least some new names are likely to emerge, including makers like Tesla and Fisker, who hope to benefit from the interest in new green technologies. But it's all but certain that even if Mercury somehow squeaks through, plenty of other brands will disappear.