/ Source: The Associated Press
President Barack Obama was unaware a top aide encouraged a Colorado Democrat to apply for an international development job instead of challenging the candidate whom the president favored in a Senate race, the White House said Thursday.
Press Secretary Robert Gibbs faced fresh questions about another backroom political deal — the first involving a Pennsylvania candidate, now a Colorado hopeful — that put the Obama administration on the defensive. The White House acknowledged that it had contacted former Colorado House Speaker Andrew Romanoff about possible jobs in hopes of persuading him to skip the Senate primary.
Asked whether Obama was knew about the outreach, Gibbs told reporters: "He's not aware of the individual circumstances."
At the same time, Gibbs defended the White House's involvement in primaries as Democrats struggle to maintain their majorities in the House and Senate in a tough political environment.
"I think the leaders of parties have long had an interest in ensuring that supporters didn't run against each other in contested elections," Gibbs said.
Both the White House and Romanoff said there was no job offer. White House deputy chief of staff Jim Messina had outlined three potential jobs for Romanoff, who was determined to run against incumbent Sen. Michael Bennet.
Speaking to reporters in Colorado on Thursday, Romanoff said "at no point was I promised a job."
The situation again called into question repeated promises by Obama to run an open government that is above secret political horse-trading. In appealing to voters this election year, Republicans charge that Obama's promise to change the ways of Washington has given way to the kind of politics he campaigned against.
Just last Friday, the White House acknowledged under pressure that it had turned to former President Bill Clinton last year to approach Pennsylvania Senate candidate Joe Sestak about backing out of a Democratic primary in favor of an unpaid position on a federal advisory board.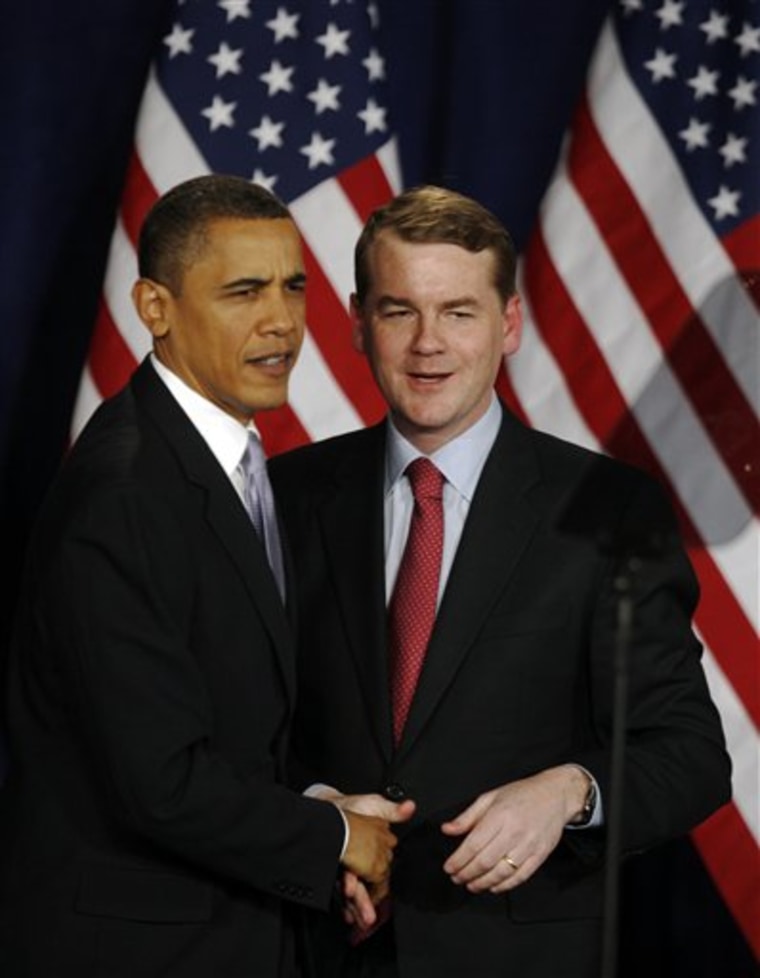 "Clearly there is a quid pro quo process that was put in place by the West Wing of the White House, orchestrated and implemented by (White House chief of staff) Rahm Emanuel," Republican National Committee chairman Michael Steele told Colorado's KRAI. He said the White House "is going to have more explaining to do."

Romanoff on Wednesday night released a copy of an e-mail in which Messina described three federal international development jobs that might be available to him if he were not challenging Bennet for the Democratic Senate nomination.

"He added that he could not guarantee my appointment to any of these positions," Romanoff said in a statement. "At no time was I promised a job, nor did I request Mr. Messina's assistance in obtaining one."

Romanoff said Thursday: "I rejected the overture ... the same day." He said he had remained quiet about his dealings with administration officials because, "I did not want and do not want to politicize this matter."

In a statement early Thursday, Gibbs said Romanoff had applied for a position at the U.S. Agency for International Development during the transition period before Obama took office in January 2009.
Gibbs said Messina "called and e-mailed Romanoff last September to see if he was still interested in a position at USAID, or if, as had been reported, he was running for the U.S. Senate. Months earlier, the president had endorsed Sen. Michael Bennet for the Colorado seat, and Messina wanted to determine if it was possible to avoid a costly battle between two supporters.

"But Romanoff said that he was committed to the Senate race and no longer interested in working for the administration, and that ended the discussion," Gibbs said.

Sestak also declined his offer, and he defeated Sen. Arlen Specter late last month. He said last week he had rejected Clinton's feeler in less than a minute.

The revelations about the administration's political dealings come at the start of former Illinois Gov. Rod Blagojevich's trial on charges of scheming to profit from his ability to fill Obama's old Senate seat. Blagojevich, 53, has pleaded not guilty to 24 counts including racketeering, wire fraud, attempted extortion and bribery. He has denied scheming to sell or trade the Senate seat for personal gains.
Obama's top aides — Emanuel and Valerie Jarrett — were subpoenaed to testify about their role in picking Obama's replacement during private phone calls; no one from Obama's administration has been charged with wrongdoing.

Early on his presidency, Obama tapped a potential 2012 rival, Utah Gov. Jon Huntsman, for the U.S. ambassadorship to China. Huntsman was nominated in May 2009 and confirmed last August.

In a two-page report on the Sestak case, the White House counsel said the administration did nothing illegal or unethical. Republicans weren't appeased.

"Just how deep does the Obama White House's effort to invoke Chicago-style politics for the purpose of manipulating elections really go?" Rep. Darrell Issa asked on Wednesday. Issa is seeking internal White House documents about its political operations in specific races.

Bennet has outpaced Romanoff in fundraising and support from Washington, although party activists attending the state party assembly last month favored the challenger by a margin of 60 percent to 40 percent. The primary is Aug. 10.

Bennet was appointed by Gov. Bill Ritter to fill out the final two years of the term of Ken Salazar, who resigned to become interior secretary.