/ Source: The Associated Press
New claims for unemployment insurance fell for the second straight week, fresh evidence the job market is slowly improving.
And productivity grew at a slower rate in the first quarter of this year than previously thought, suggesting that businesses are reaching the limits of their ability to boost output with fewer workers. That implies they will need to hire more employees.
Other recent economic indicators also signal that employers are adding more jobs, though it may not be fast enough to reduce the unemployment rate.
The reports "haven't screamed strength, but they continue to set an encouraging tone," Jennifer Lee, an economist at BMO Capital Markets, said in a note to clients.
The Labor Department said Thursday that initial claims for jobless benefits dropped last week by 10,000 to a seasonally adjusted 453,000. That nearly matches analysts' forecasts, according to Thomson Reuters.
Still, the declines come after a sharp increase three weeks ago, and claims remain at elevated levels.
Initial claims are closely watched by economists because they are considered a gauge of layoffs and a measure of companies' willingness to hire new workers.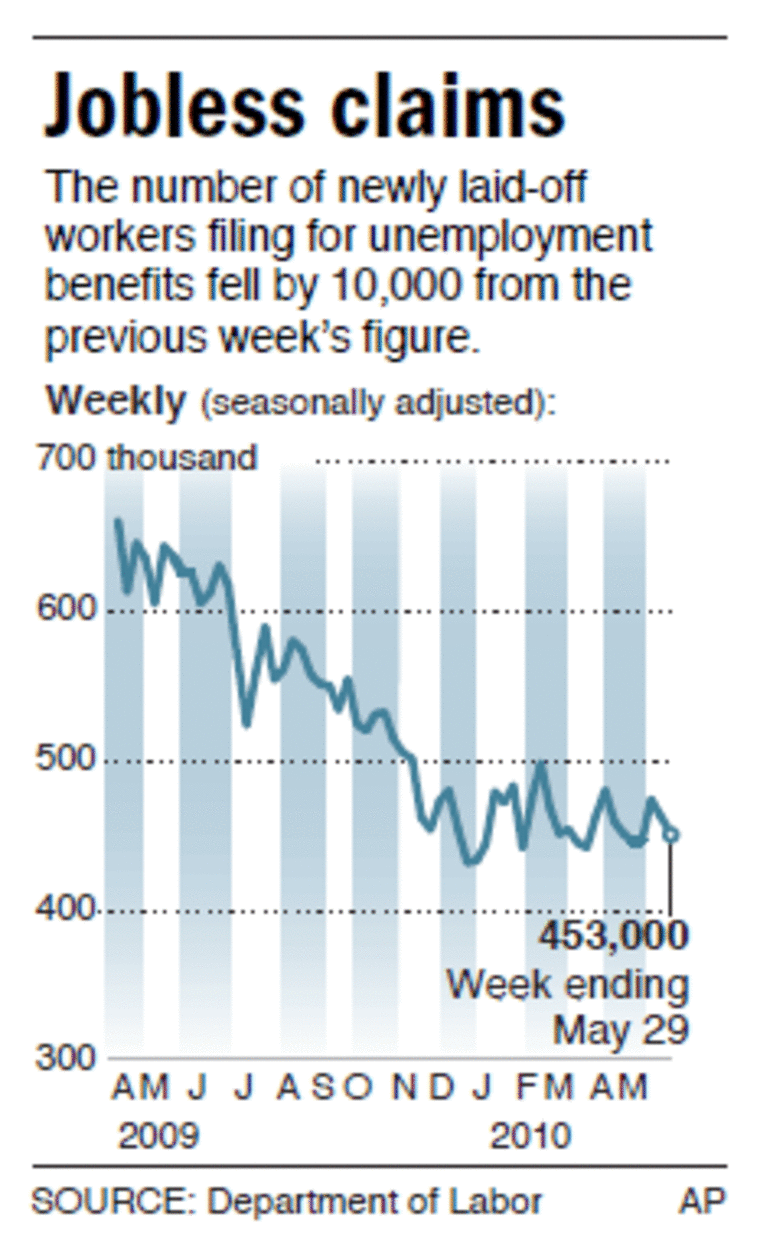 After falling steadily in the second half of last year, claims have leveled off and are now only slightly below the level they were at the beginning of this year. That's raised concerns among some economists that hiring is still sluggish.
But claims are also diverging from other indicators that signal the job market is improving.
A trade group of purchasing executives said Thursday that its members are hiring more. The Institute for Supply Management said its monthly survey found that companies in the service sector are adding jobs for the first time after 28 months of contraction.
And an online employment index compiled by Monster Worldwide, which owns the Monster.com job board, rose slightly in May from the previous month, the company said Thursday. The index edged up to 134 from 133, and was up 16 points from May 2009.
Meanwhile, the government said the four-week average of claims, an indicator that smoothes volatility, rose for the third straight week to 459,000. That's down by only 8,000 from its level in mid-January.
Claims above 400,000 are generally associated with a shrinking economy. But many economists attribute the current high level to another cause.
They say it reflects a greater willingness by laid-off workers to seek unemployment benefits. In a healthier economy, workers who lose jobs expect to find another one quickly and don't necessarily file for jobless aid.
But according to this view, after a deep recession, people who lose their jobs are more likely to request benefits and claims stay elevated even as the economy recovers.
Separately, the department said productivity advanced at an annual rate of 2.8 percent in the January-March period. That is the slowest pace in a year and much lower than the 3.6 percent that the government initially reported a month ago.
While higher productivity raises living standards in the long run, a slowdown from recent large gains could mean companies will need to add jobs in order to keep up with growing demand.
Employers are starting to ramp up hiring as the economy recovers from the worst recession since the 1930s, but not quickly enough to bring down the jobless rate. Unemployment rose to 9.9 percent in April from 9.7 percent the previous month, even as the economy generated 290,000 jobs.
The rate rose partly because nearly a million people began or resumed job searches that month, increasing the size of the labor force.
The number of people continuing to claim benefits rose by 31,000 to 4.67 million, according to Thursday's report. Analysts had expected the total benefit rolls to remain level.
But that doesn't include the 5.4 million people receiving extended benefits, paid for by the federal government. Congress has added 73 weeks of extra benefits on top of the 26 weeks typically provided by states. All told, about 9.8 million people received unemployment insurance in the week ending May 15, the most recent data available.
The claims figures come a day before the Labor Department is scheduled to release the May jobs report. Analysts expect that report to show the economy added 513,000 jobs, the most in 26 years. But most of those positions are likely to be temporary Census workers. The unemployment rate is forecast to fall to 9.8 percent.
The economy is growing, but at a weaker pace than in many previous recoveries. The Commerce Department said last week that the nation's gross domestic product — the broadest measure of economic output — grew at a 3 percent annual rate in the January-to-March quarter. That was much slower than the fourth quarter's 5.6 percent growth.
Some companies are still laying off employees. Hewlett-Packard Co. said Tuesday that it is cutting 9,000 jobs in its technology services division. And chocolate-maker Hershey Co. may cut 600 jobs.
At the same time, rising auto sales have led some automakers to add workers. Chrysler LLC said last month it will hire 1,100 new workers at a plant in Detroit to help build the new Jeep Grand Cherokee. Ford Motor Co., meanwhile, said in May that it will add 170 jobs in two factories near Detroit to make parts for its hybrid cars.