/ Source: msnbc.com news services
A handful of economic reports released Thursday raised hopes for an improving job market with fewer layoffs and more hiring.
Productivity slowed more than initially estimated in the first quarter of the year, a sign that employers are struggling to squeeze more work out of leaner staffs. The lower figure was expected after the government last week revised its growth estimate for the first quarter.
The number of people filing first-time jobless claims dipped for the second consecutive week but remains elevated for the year.
And an index that tracks activity in the U.S. service sector showed job growth in May — the first time in 28 months.
Economists anticipate Friday's employment report will show that 513,000 jobs were added in May. Still, many are approaching the report with caution, noting that a majority of those jobs are expected to be temporary census work.
"The jobs data so far this morning haven't screamed strength, but they continue to set an encouraging tone," said Jennifer Lee, an economist at BMO Capital Markets.
Bernanke's caveat
Federal Reserve Chairman Ben Bernanke cautioned that the persistent scarcity of jobs is a red flag for the recovery, however.
"One particularly difficult issue is the continued high rate of unemployment," Bernanke said in prepared remarks for delivery at a meeting in Detroit to discuss the financing needs of Michigan's small businesses.
Adding to the picture of a slow recovery were reports Thursday showing modest increases in factory orders and retail sales.
Orders to U.S. factories climbed in April, pulled up by a surge in demand for commercial aircraft, the Commerce Department said. But the overall increase was smaller than the uptick in March orders. And when excluding transportation, orders actually fell in April 0.5 percent — the poorest showing in 13 months.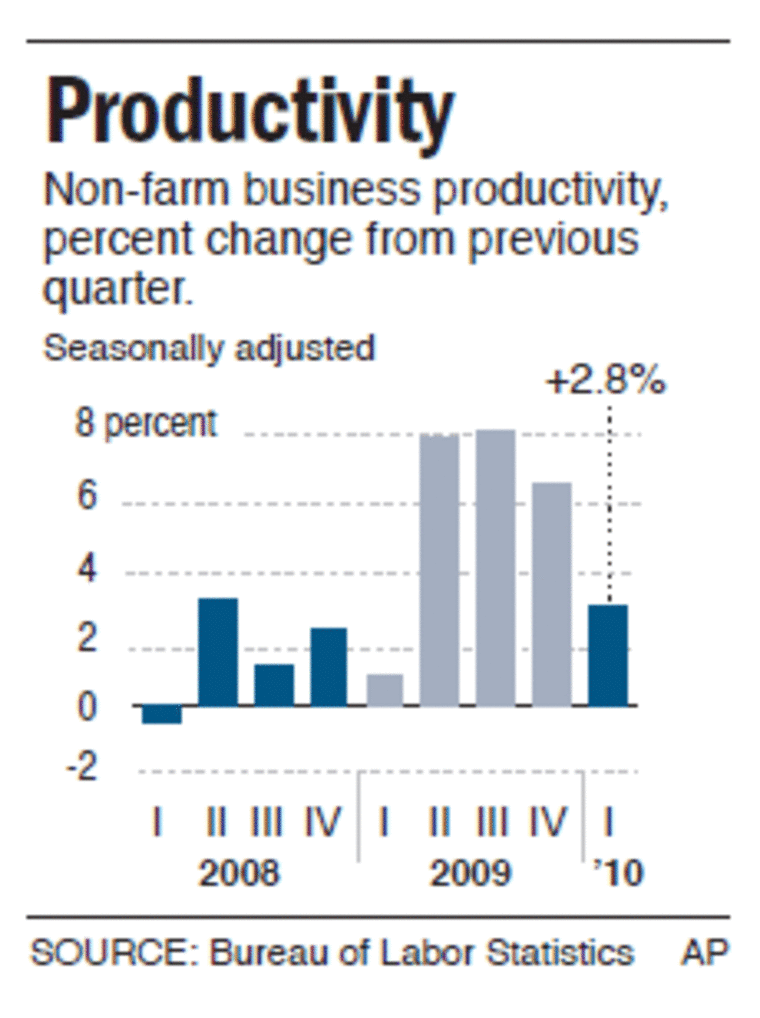 Americans spent with caution in May after a tepid April, according to the International Council of Shopping Center index released Thursday. Cool weather and a quirk in the calendar — a late Memorial Day weekend — dampened May spending. But analysts also cited high unemployment, stock market jitters and the dwindling of government-funded rebates on energy-efficient appliances.
Hiring may pick up if businesses find they've reached the limits on wringing work out of thinner ranks.
Productivity advanced at an annual rate of 2.8 percent in the January-March period, the Labor Department said Thursday. That is the slowest pace in a year and lower than the 3.6 percent rate the government initially reported last month. Labor costs declined, although slower than initially estimated.
The downward revision in productivity reflected the government's revised estimate of total output as measured by the gross domestic product. GDP was revised to show the economy growing at a 3 percent rate in the first quarter, down from an initial estimate of 3.2 percent.
Less output translated into slower productivity growth, which is a measure of the amount of output per hour of work.
A separate Labor report Thursday showed layoffs fell for a second straight week. They dipped by 10,000 to 453,000 last week. Still, the declines come after a sharp increase three weeks ago and claims remain at elevated levels.
Jobless claims are closely watched by economists because they are considered a gauge of layoffs and a measure of companies' willingness to hire new workers.
After falling steadily in the second half of last year, claims have leveled off and are now only slightly below the level they were at the beginning of this year. That's raised concerns among some economists that hiring is still sluggish.
The four-week average, which smoothes volatility, rose for the third straight week to 459,000. That's down by only 8,000 from its level in mid-January.
More hiring is happening in the service sector, which accounts for 80 percent of U.S. jobs excluding farmworkers.
ISM
The Institute for Supply Management, a trade group of purchasing executives, said Thursday that the service sector grew for the fifth consecutive month. And the group said its jobs measure increased, reversing 28 months of contraction.
Employers "are now starting to feel a bit more confidence as far as bringing back some jobs," said Anthony Nieves, a Hilton Worldwide executive who serves as chairman of ISM's non-manufacturing business survey committee.
The service sector has lagged behind the much smaller manufacturing sector in the recovery. Some economists said the level of growth last month wasn't fast enough to help the sector catch up.
"This report was somewhat disappointing in that while continuing to show expansion, there is little upward momentum" in the economy apart from manufacturing, wrote James Marple, senior U.S. economist with TD Bank.
Analysts are hoping that hiring will show stronger gains in coming months. That will provide a boost to household incomes and keep consumer spending growing at a healthy pace. Consumer spending is critical for a sustained economic recovery because it accounts for 70 percent of total economic activity.
Incomes took a battering during the recession. The report on productivity showed that unit labor costs fell at an annual rate of 1.3 percent in the first three months of the year, representing the fourth quarterly drop out of the past five quarters.