/ Source: The Associated Press
The young Dutch man long suspected in a U.S. teen's Caribbean island disappearance was delivered to Peru on Friday to face charges in the murder of a 21-year-old woman found with her neck broken in his Lima hotel room.
Joran van der Sloot told police in Chile — where he was captured on Thursday — that he did not kill Stephany Flores but did say "he met her and at some point they went to a casino," said Fernando Ovalle, a Chilean police spokesman.
The girl's father, Ricardo Flores, told The Associated Press that video cameras tracked the couple as they walked before dawn Sunday to van der Sloot's hotel from the casino in Lima's upscale Miraflores district where they met playing poker.
Flores said he doesn't want the death penalty for van der Sloot, only justice. In Peru, murder carries a prison sentence of up to 35 years.
"I haven't slept since Monday," a devastated Flores, his eyelids heavy and speech slurred, said in an interview at his Lima home. "I'm waiting for him to step foot on Peruvian soil." Then, he said, he'd take a sleeping pill or simply collapse from exhaustion.
Flores, a circus promoter and former race car driver, spoke as the husky 22-year-old Dutchman was being flown handcuffed to the border with Peru, where the Chileans handed him over to Peruvian authorities.
They put a bulletproof vest on van der Sloot, who looked frightened, and took him to a police post for a medical check before continuing on by highway to Lima, where a preliminary arrest warrant was issued for him Thursday.
Extortion charge
Peru's chief Cabinet minister, Javier Velasquez, told Radioprogramas radio that van der Sloot would arrive in the capital on Saturday morning.
The suspect wore the same black-hooded sweat shirt and khaki pants in which he was arrested Thursday in a taxi headed from Santiago toward Vina del Mar on Chile's coast. He has not spoken publicly or even acknowledged reporters who have called questions to him.
Van der Sloot remains the prime suspect in the May, 30, 2005 disappearance — five years to the day of Flores' murder — of Alabama teen Natalee Holloway on the Dutch island of Aruba.
The longtime fixture of TV true-crime shows also now faces criminal charges in the United States of trying to extort $250,000 from Holloway's family in exchange for disclosing the location of Holloway's body and describing how she died. U.S. prosecutors charged van der Sloot with the crime on Thursday, saying $15,000 had been transferred to a Dutch bank account in his name. In the Netherlands on Friday, prosecutors acting on a U.S. request raided two homes seeking evidence in the case, seizing computers, cell phones and data-storage devices.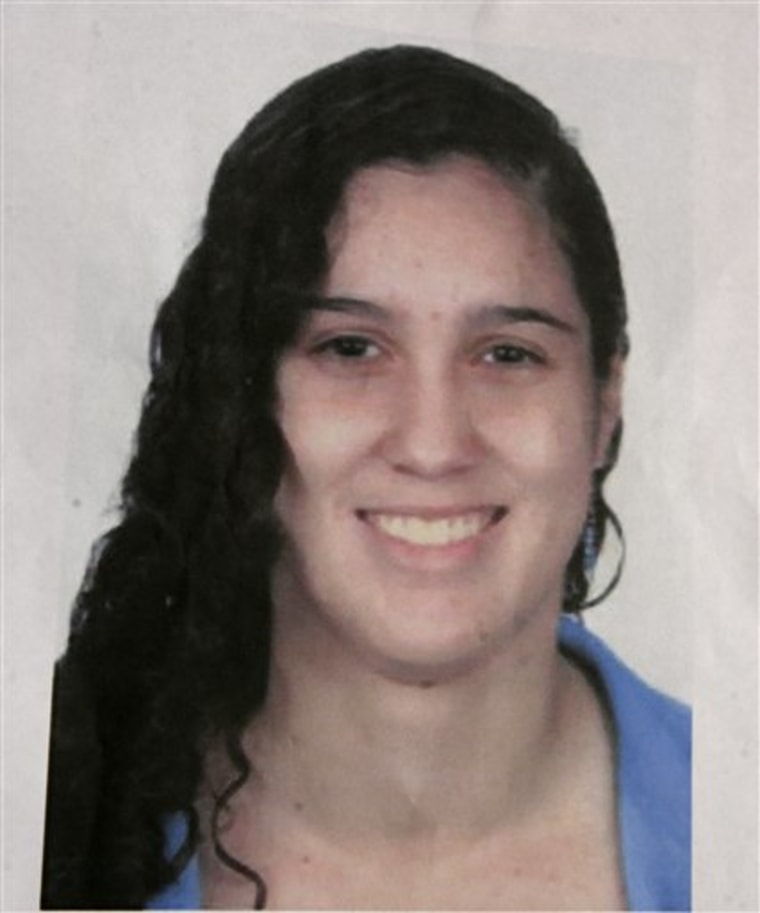 The body of Stephany Flores, a business student with a sunny disposition, was found late Tuesday in the Lima hotel room where van der Sloot had been staying since arriving in Peru on May 14 from Colombia.
She was fully clothed, with multiple bruises and scratches on her body but no signs she had been sexually assaulted, the chief of Peru's criminal police, Gen. Cesar Guardia, told the AP.
A tennis racket was found in the room "that could have been the murder weapon but that's so far not been proven," said Dr. Cesar Tejada, deputy Lima medical examiner.
"My daughter resisted," Flores told the AP in a marble-floored interior porch of his home. "There was violence, resistance to being raped — and there's where she was murdered."
Flores said police wouldn't let him see his daughter's battered body. His oldest son, 35, identified her at the morgue, and the casket was closed at her funeral.
The girl's mother, Maria Elena Ramirez, sat staring into oblivion accompanied by friends and family at a table in the grass-covered back yard. Stephany was the oldest of their three children and only daughter.
Peruvian police say they have video of van der Sloot and Flores together in the casino and on the street and say witnesses saw the two enter the Dutchman's hotel room about 5 a.m. and van der Sloot leaving alone some four hours later.
Flores, 48, buried his daughter Thursday but said he expected her to be exhumed so that DNA tests can be performed.
"Under the fingernails of my daughter there are traces, evidence, that's why they didn't permit her cremation," he said.
Dr. Tejada confirmed that valuable evidence could be found under the girl's fingernails.
Holloway disappearance
Flores said he hopes his daughter's death will help investigators solve not just the Holloway case but others of missing girls in which van der Sloot might be responsible.
Holloway was an 18-year-old celebrating her high school graduation on Aruba when she disappeared. Van der Sloot told investigators he left her on a beach, drunk. That's the last anyone saw of her. Van der Sloot was twice arrested in her disappearance — and twice released for insufficient evidence.
Two years ago, a Dutch television crime reporter captured hidden-camera footage of van der Sloot saying that after Holloway collapsed on the beach he asked a friend to dump her body in the sea. But judges in Aruba ruled it insufficient to re-arrest him. The same journalist, Peter de Vries, reported later in 2008 that van der Sloot was recruiting Thai women in Bangkok for sex work in the Netherlands.
A person answering the phone Friday at the home of the girl's mother, Beth Holloway of Mountain Brook, Alabama, said she was not there and hung up. The girl's uncle, Paul Reynolds, told NBC's "Today" show Friday that the family hopes to see van der Sloot behind bars and the Aruba case reopened. He called the alleged extortion attempt "despicable."
A New York lawyer for van der Sloot, Joseph Tacopina, had no immediate comment on his client's predicament. He said he was not yet able to say whether a Peruvian lawyer had been obtained for the young man.
Flores said he understood van der Sloot, one of three brothers whose Aruba judge father died in February, has been traveling the world playing poker and taking advantage of young women.
Aruba's attorney general, Taco Stein, told the AP that island authorities had not been keeping track of the movements of van der Sloot, who was lately living mostly in the Netherlands.
He said he didn't know how the young man was supporting himself. "He's an ardent poker player and that means every now and again he wins too," Stein said.
In the Lima interview, Flores sat slough-shouldered and dejected as he lamented his daughter's naivete in trusting the "Machiavellian" van der Sloot enough to accompany him to his room.
"She was absolutely innocent. A big baby. Good and without any malice, you understand. She was still a girl," he said. "who didn't know the other side of life, the hard side."
Maybe he wasn't strict enough as a parent, Flores thought aloud: "What happens is that we teach our children the pretty side of life and we don't teach them the other world, the risks that exist."