Planning on traveling this summer in an RV? Historically-speaking, you'll be in very good company.
In 1931, Mae West's Paramount Studios contract included a chauffeur-driven "house car" for the star to relax in while filming movies. In the early 1940s,  aviation pioneers Charles Lindbergh and his wife, Anne Morrow Lindbergh, needed someplace quiet where they could write, so Henry Ford let them use a 1935 house trailer he owned that was equipped with electricity, a stove, an icebox, a bathroom and other "modern" amenities.  And in the '60s and '70s, TV reporter Charles Kuralt famously criss-crossed the country in a motor home while filming his popular "On the Road" features for CBS News.
Today, West's 1931 Chevrolet is just one of the unusual, iconic or prototypical vehicles on display at the Recreational Vehicle/Manufactured Home Hall of Fame and Museum in Elkhart, Ind. The 1935 Stage Coach Trailer Henry Ford loaned to the Lindberghs is parked at The Henry Ford in Dearborn, Mich., as is Kuralt's 1975 Motorcoach.
And if you think it might be a good idea to take a drive to see one or both of these collections, now would be an especially appropriate time. Starting today (June 7), the RV industry is celebrating its 100th anniversary.
A century of RV progress
Drivers began making camping adaptations to cars not long after automobiles were invented. But according to the Recreational Vehicle Industry Association (RVIA), 1910 was when mass-produced vehicles designed specifically for camping first hit the market.
Historian Al Hesselbart says while no production campers or trailers from that first year still exist, the museum does display the towable 1913 Earl Travel Trailer, which is the oldest non-tent travel trailer in existence.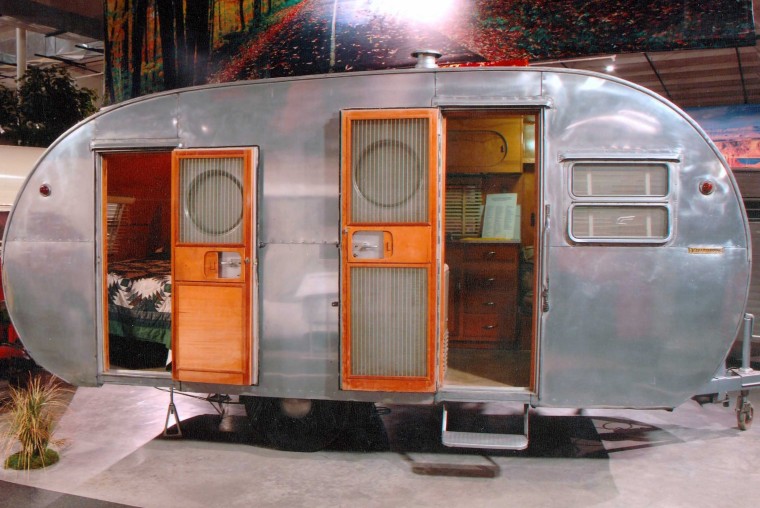 Tour the rest of the museum's collection, and you'll see rare gems that include the homemade motor home based on a 1976 Cadillac Eldorado, a variety of first production units and pristine versions of popular models such as the 1954 15-foot Shasta travel trailer described as a being typical of the "canned-ham" style trailers of the 1950s.
"The earliest towable trailers were basically platforms with tents on top," says Hesselbart, "and for years the bathrooms, even in the fancy units, were really just well-concealed chamber pots. Now the most appreciated amenities aren't microwaves, but surely bathrooms with flush toilets and showers, and thermostatic-controlled heat."
But there's no need to stop there. Many high-end RVs can be equipped with full-size appliances, multiple large-screen TVs, satellite dishes, up to five space-enhancing slide-outs and "floor plans with two bathrooms; one with a full walk-in shower and two vanity sinks, and another half-bathroom for your guests," says Ryan Lee, a spokesperson for the manufacturer Monaco RV.
The price tag for the higher-end units reach $500,000 and above.
Ready to hit the road?
You certainly don't need a $500,000, multi-bathroom motor coach to enjoy a RV-vacation. But if you're going to hit the road, whether the RV is owned or rented, there are some basic etiquette rules the experts would like you remember.
Harry Basch, author of "RV Vacations for Dummies" and "Frommer's Exploring America by RV," says when you're driving, it's important that you not hog the road and that you know the measurements of your vehicle. To avoid getting stuck under bridges, shearing off roof-mounted air-conditioning units and having mishaps on bridges, he urges drivers to make sure to "know exactly how high, how wide and how long your RV is. And how much it weighs."
Sue Bray, a member of the Good Sam Club, the world's largest RV group, says the most important part of the organization's membership pledge "is to pull over to the side of the road, when it's safe, if more than three vehicles are lined up behind you."
In any RV campground, says Mike Gast of KOA, "it mostly comes down to common sense: honor the evening quiet times, which usually begin at 10 p.m., and don't drive over the speed-limit, which is often 5 miles per hour." Gast says it's a good policy to leave your camp site cleaner than when you found it and to always respect another camper's space. "There's nothing more annoying than relaxing at your camp site and having people cut through what is essentially your living room for the night."
Basch adds that it is poor etiquette to rev your RV's engine too early in the morning or to run your electrical generator too late at night. And then, he says, there's that little porch light installed over most RV doors. "It's nice to see where you're going during the evening. But some people leave their porch light on all night and it can shine into someone else's window. Before you turn-in, make sure to turn off your entry light."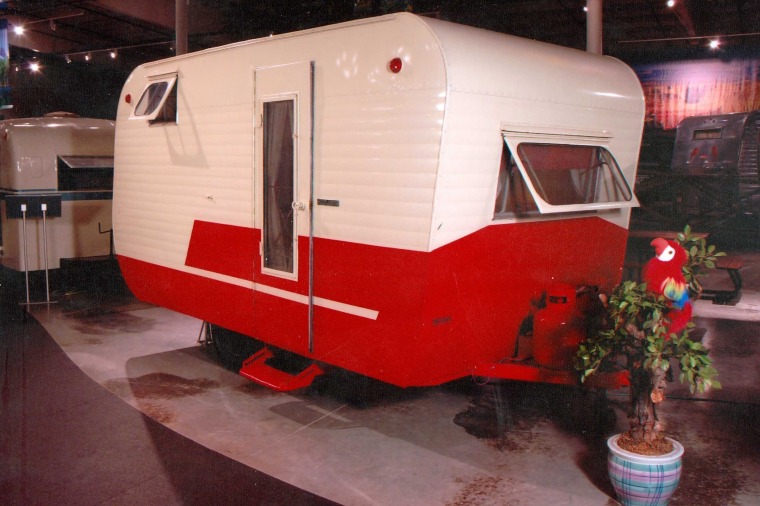 And whatever you do, make sure you learn how to tell the difference between your RV's gray water holding tank, which gathers water that drains from the shower and the sinks, and the black water holding tank, which collects discharge from the toilet. "A lot of people remember the exploding sewage pipe scene in the movie "RV", starring Robin Williams," says KOA's Gast. "That type of explosions doesn't really happen. But make sure you know how to empty those tanks, and in what order. If you're unsure, please don't be afraid to ask."
Harriet Baskas is a frequent contributor to msnbc.com, authors the and is a columnist for USATODAY.com. You can follow her on .