/ Source: The Associated Press
A large natural gas line in north Texas erupted Monday after utility workers accidentally hit the line, sending a column of fire into the air and leaving one worker dead, officials said.
An emergency management official said a utility worker's body was found several hours after the blast.
Authorities searched for the worker by helicopter Monday afternoon following the massive explosion near Cleburne, about 50 miles southwest of Dallas. They couldn't walk through the entire area until making sure the fire was out and there was no danger.
Hood County Emergency Management Coordinator Brian Fine said the worker's body was found Monday night some distance from the blast site. The man's name was not immediately released.
Thirteen other workers who were also at the site were accounted for, and there were no known fatalities, Johnson County Emergency Coordinator Jack Snow  said.
Laura Harlin, a resident of nearby Granbury, said she heard a "huge rumbling" that initially sounded like thunder and then like a tornado because it lasted so long.
"For about 10 minutes, it was so loud that it was like there was an 18-wheeler rumbling in your driveway," she said.
At least seven of the workers went to the hospital following the explosion. Gary Marks, CEO of Glen Rose Medical Center, said two people were treated and released, and four others were in stable condition. One patient was taken to Texas Health Harris Methodist Hospital Fort Worth. Spokeswoman Whitney Jodry did not have person's condition.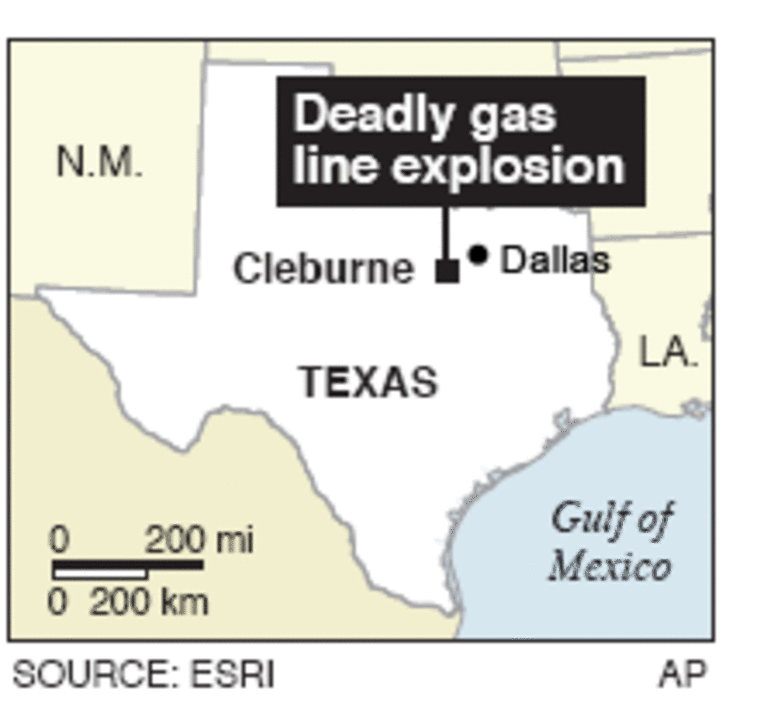 The gas line is owned by Houston-based Enterprise Products Partners LP. Spokesman Rick Rainey said Enterprise's control room immediately identified a break in the line. The 36-inch line was equipped with valves that automatically shut down gas to that section of pipe, and the fire was out about two hours after the explosion.
The pipeline helps carry gas from West Texas across the state to utilities, distribution companies and commercial users on the eastern end of the state. Rainey said the company would work with customers to avoid any disruption to their service from the fire.
The injured workers were digging for Waco-based Brazos Electric Cooperative, Snow said. A message seeking comment from that company was not immediately returned.
The Texas natural gas blast followed one in West Virginia earlier Monday. Seven workers were burned when a drilling crew hit a pocket of methane gas, triggering an explosion in a rural area about 55 miles southwest of Pittsburgh.