There's a traffic jam down on the floor of the factory as dozens of newly completed sedans slowly nudge forward, waiting their turn for shipment to dealers around the world.
Spyker Cars NV Chief Executive Officer Victor Muller has a bemused expression on his face as he looks down the line and does a quick mental count of all the new Saab 9-5s. "That's more than we built all last year," he says, referring to Spyker, the little Dutch sports car company he revived beginning in 1999.
Muller is thinking bigger numbers these days as the new owner of Saab, the Swedish car company that came within a hairsbreadth of failure early this year before being purchased by smaller Spyker.
Founded shortly after World War II by a group of Scandinavian aircraft engineers, Saab has struggled from the very beginning, though the last 20 years of uncertainty were spent as a subsidiary of General Motors.
The U.S. maker had hoped to profit from Saab's reputation for building quirky cars, turning it into a sort of brand counterpoint to its more traditional luxury brand, Cadillac. But Saab got caught up in the same so-called badge-engineering problem as the rest of GM, and its products ended up looking too much like everything else the company produced.
Critics sniffed and potential buyers largely steered clear of Saab showrooms. After reportedly losing billions of dollars on the venture, GM put Saab on the list of brands it planned to close or sell off after it emerged from bankruptcy last July.
A buyer did emerge — a small Swedish manufacturer called Koenigsegg Automotive AB. But even at a bargain-basement price, it couldn't come up with the financing. As 2009 drew to a close, GM ordered Saab to "wind down," dismissing its board, canceling parts orders and shuttering the maker's assembly plant in Trollhattan, an hour's drive north of Sweden's industrial center of Gothenburg.
Muller weighed in last November, suggesting Spyker could find the cash. But by then, GM seemed ready to wash its hands of the seemingly doomed subsidiary. Complicating matters, the U.S. maker told Muller, a Dutch lawyer trained in mergers and acquisitions, that he'd have to make a break from his Russian partner, Vladimir Antonov, before any serious negotiations.
"It was like playing chess on four boards at once," Muller says of the negotiations he had under way, not only with GM, but Antonov, the European Investment Bank and the Swedish government, which had to guarantee a proposed loan from the EIB. Ultimately, tenacity overcame the roadblocks. On Jan.  26, Muller locked down a $400 million package that included just $74 million in cash for GM's stake in Saab, and on Feb. 23 he inked the acquisition.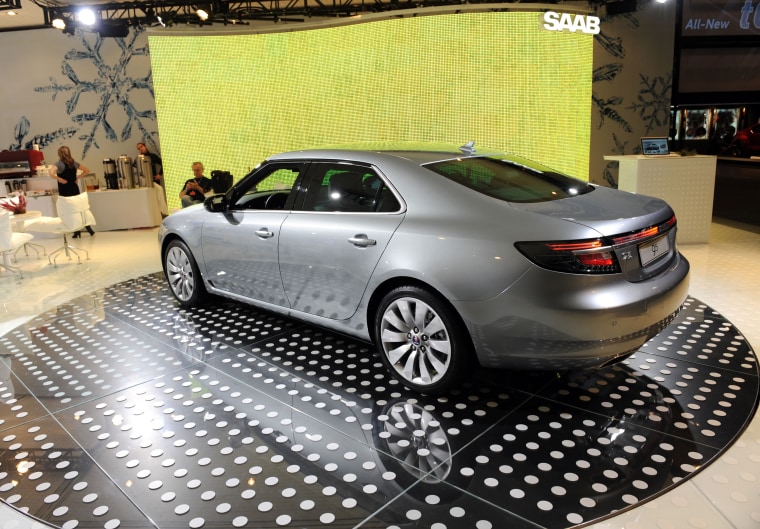 The most immediate challenge was getting the assembly line back into operation and then rushing cars to anxious dealers. Ultimately the line would be idled for seven weeks. It will be the end of June before operations get back anywhere close to normal; the Trollhattan plant is scheduled to produce about 300 cars a day by then.
And there are other challenges.
"Right now, we should have 15,000 cars in dealer hands around the world. We barely have 5,000," says Mike Colleran, CEO of Saab Cars USA. In the U.S., there are fewer than 700 units of the all-new 9-5, which Saab was getting ready to launch just as GM ordered the company to wind down.
That's ironic, says independent auto analyst Dan Gorrell, who calls the new 9-5 arguably the best car to emerge from Saab in decades, and the most distinctive developed under General Motors. The sedan bucks current styling trends, which favor coupe-like luxury sedans, in favor of an angular shape borrowed from the well-received Saab Aero concept car unveiled in 2006.
Muller and company are confident that with the new flagship they can bring annual sales back up into the 120,000 range, or better, a figure that Saab consistently met before the current automotive meltdown. But if GM couldn't make money at that number what prospects does Spyker-owned Saab have?
Muller insists that GM saddled its Scandinavian subsidiary with mounds of unnecessary costs. Saab, he points out, was billed more than $200 million for the failed attempt to produce a small Cadillac based on the Swedish maker's midsize 9-3 model.
"We believe we can bring our breakeven down to somewhere at or around 85,000 units. After that," he insists, "we'll make a lot of money on every car we sell."
Analysts like Gorrell remain skeptical, and point out that the maker can't just rely on the new 9-5 to carry it forward. Saab's chief executive, Jan Ake Jonsson, agrees. He notes that the maker is readying an assortment of new products, including a new crossover-utility vehicle, dubbed the 9-4X, due next year. It will be followed, Jonsson reveals, by a new version of the 9-3. But the real key to a turnaround could be a product that Saab can, for now, only dream of.
Dubbed the 9-2, it would be a compact model designed to compete with the likes of the BMW 3-Series and Audi A4. Jonsson forecasts it would generate at least 30,000 new sales annually and, if Muller's financial analysis is correct, transform a longtime money loser into a very profitable Saab.
The problem is that the company doesn't have the money to develop the planned small car on its own. But Jonsson says he has been approached "by a lot of potential partners."
Partnering, he insists, is the new way of the automotive world, pointing to alliances like the new one between Mercedes-Benz parent Daimler AG and Renault. If he's right, and Saab chooses carefully, it could have a new 9-2 rolling into showrooms by 2014.
But for now, the challenge is simply filling the pipeline with 9-5s. And then the maker has to convince potential customers that it really is back in business for the long haul. The coming months will be challenging ones, Muller admits, though he's confident that this is one Saab story that will have a happy ending.