/ Source: The Associated Press
California Republicans took an historic step Tuesday by nominating two wealthy businesswomen to challenge Democratic icons for governor and U.S. Senate, setting in motion an election season of big-money campaigns and high-stakes in the nation's most populous state.
Meg Whitman, the billionaire former eBay chief executive, easily won the Republican primary for California governor while former Hewlett-Packard Co. CEO Carly Fiorina was nominated to challenge Democratic Sen. Barbara Boxer in the fall.
It is the first time the California Republican Party has put a woman — much less two — at the top of its ticket.
The nomination of the two first-time candidates begins an election season that will pit two deep-pocketed Silicon Valley business stars against stalwarts of the Democratic Party establishment.
Whitman congratulated Fiorina Tuesday night when she took the stage at the Universal City Hilton hotel ballroom.
"Career politicians in Sacramento and Washington, D.C., be warned: You now face your worst nightmare — two businesswomen from the real world who know how to create jobs, balance budgets and get things done."
Whitman, 53, worked on the presidential campaigns of Mitt Romney and John McCain. She has spent much of the primary in tightly scripted appearances and was criticized early on for avoiding detailed questions from political reporters. She advances to face Democrat Jerry Brown, who is seeking the job he held from 1975-83.
In his victory speech to about 200 supporters gathered at a Los Angeles nightclub, Brown took a swipe at Whitman's spending and lack of public service experience.
"It's not enough for someone rich and restless to look in the mirror one morning and decide, 'I want to be governor of California.' We tried that. It didn't work," Brown said, in an apparent reference to Gov. Arnold Schwarzenegger, a Republican who is termed out of office next year.
The opponent Whitman beat Tuesday, state Insurance Commissioner Steve Poizner, is a wealthy Silicon Valley entrepreneur who spent $25 million of his money on his race.
The heated battle with Poizner to win over conservative GOP primary voters forced Whitman to move to the right on issues such as abortion and illegal immigration, moves that could hurt her against Brown in November.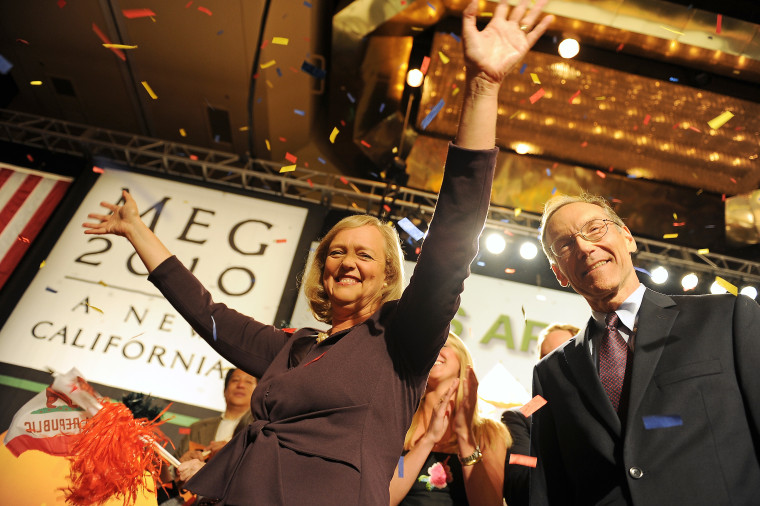 Democrats and moderate independents comprise two-thirds of the electorate in California. Without a serious primary challenger, Brown has positioned himself as a moderate, pledging not to raise taxes and to make the kind of spending cuts that Whitman also campaigned on.
The gubernatorial race promises to be the most expensive in state history.
Whitman has already spent more than $81 million on her primary race, all but $10 million of it her own. She had previously said she would spend $150 million in all on her gubernatorial bid.
Brown will not be able to match Whitman's millions — he has $20 million in the bank so far — but is relying on Democratically aligned independent groups to fund an opposition campaign. Many of those groups are supported by public employee unions who bristle at Whitman's cost-cutting goals for state government. She has pledged to eliminate 40,000 state government jobs.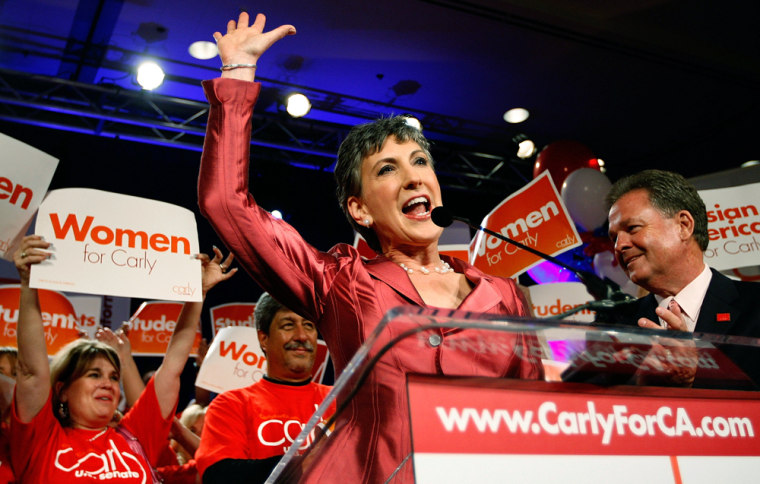 The U.S. Senate race also promises to be a high-dollar affair. Fiorina had spent $6.7 million by late May, while Boxer has $9.7 million cash on hand.
The seat is a top target for Republicans, so both candidates are likely to attract millions of dollars from outside California. Boxer is seeking a fourth term amid an anti-incumbent mood and has acknowledged facing a difficult race.
Fiorina's campaign took aim at Boxer Tuesday night, calling the incumbent "a bitter partisan who has said much but achieved little."
Fiorina beat moderate former congressman Tom Campbell and state Assemblyman Chuck DeVore.
Like Whitman, Fiorina, 55, is a political novice who also appeared on the national stage in the 2008 presidential contest, as an economics adviser to McCain.
Boxer called Fiorina out of step with mainstream California voters. She noted that Fiorina fired thousands while running HP, and in the end got fired herself.