/ Source: The Associated Press
It's looking like a new "year of the woman" in politics.
Eighteen years after a few glass ceilings were broken, hundreds of female candidates have set their sights on Congress, governorships and state legislatures, and a significant number racked up big wins in Tuesday's primaries. Republican women, in particular, served notice to the old boys of the party.
In California, two wealthy businesswomen who had reached the highest ranks of the corporate world, Meg Whitman and Carly Fiorina, captured the GOP nomination for governor and Senate. In Nevada, tea party-backed state legislator Sharron Angle seized the GOP Senate nod and will face Democratic Leader Harry Reid. South Carolina State Rep. Nikki Haley brushed aside allegations of infidelity and an ethnic slur to grab the commanding spot in the GOP gubernatorial runoff.
One of the night's biggest winners was two-term Arkansas Sen. Blanche Lincoln, who scored a narrow victory over liberal Democrat Lt. Gov. Bill Halter in a primary runoff. Joining these women were Roxanne Conlin, who won the Democratic Senate nomination in Iowa, and Elizabeth Mitchell, Maine's Democratic nominee for governor.
Mitchell is the first woman in the nation to serve as both state Senate president and state House speaker.
In 1992, voters sent record numbers of women to Congress — 24 to the House and five to the Senate. Women angered by the predominantly male Senate's questioning of Anita Hill, who had accused Supreme Court nominee Clarence Thomas of sexual harassment, decided to make their point by ousting the men.
That same year, Bill Clinton ran as a change candidate and defeated President George H.W. Bush.

Fast forward to 2010.
Women still rarity
Despite their strides — 17 women are in the Senate, 75 in the House, including the first female Speaker, Nancy Pelosi — politics remains a man's world. That could benefit this year's female candidates as a frustrated electorate has rejected the establishment and sent a few incumbents packing.
"Many woman are running and taking advantage of this moment," said Debbie Walsh, director of the Center for American Women and Politics at Rutgers University. "When voters are looking for something new and something different, women can really fit that bill because they aren't the status quo, they look different."

Again it's a change election — and women represent change.

Two years ago, Sarah Palin was the first woman on a Republican presidential ticket and Hillary Rodham Clinton came tantalizingly close to winning the Democratic presidential nomination.

Today, two women sit on the Supreme Court and a third, Elena Kagan, is likely to join them.

Across the country, female candidates have legitimate shots of winning Senate races in Connecticut, Colorado, Missouri and New Hampshire, and gubernatorial contests in Arizona, New Mexico, Florida and Oklahoma. Many more are seeking House seats and a place in state legislatures.

As of this month, the Center for American Women and Politics counted 23 female Senate candidates, 216 House contenders and 23 gubernatorial hopefuls. Another 26 were vying for lieutenant governor jobs, and 77 for other statewide offices.

Consider the race for the Democratic nomination for an open Arkansas congressional seat. State Sen. Joyce Elliott, the chamber's Democratic majority leader, beat state House Speaker Robbie Wills in a runoff. She's black in a state with deep-seated racial tensions. But she shrugs of the notion that she can't win.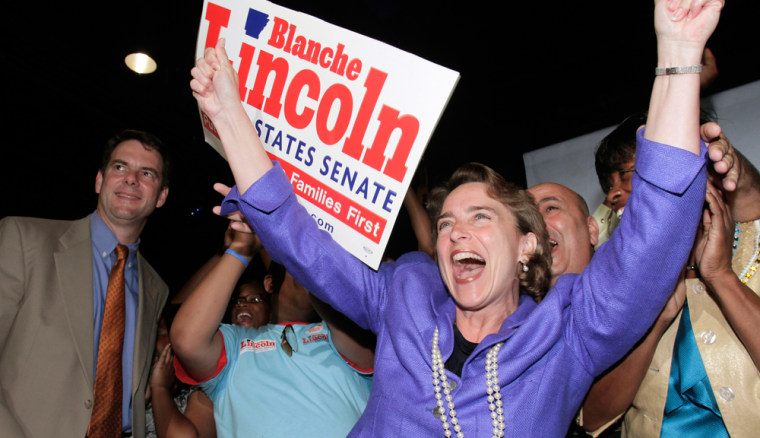 "This is no normal year. People are more open to my message than they might be closed-minded to my race," Elliott has said.

That may be the case for gender as well.

In some cases, Tuesday's victors have been climbing the political ladder for years and decided to seize the opportunity for higher office as voters crave change.

Whitman, a former chief executive of eBay, faces former Gov. Edmund G. Brown Jr., who is seeking a return to the office he left in 1983. Fiorina, a former Hewlett-Packard CEO, faces Democratic Sen. Barbara Boxer, who was elected to the Senate in the class of 1992.

Challenging incumbants
The Republican women are running as first-time candidates against veteran politicians and casting themselves as outsiders in a year when voters despise insiders.

"Career politicians in Sacramento and Washington, D.C., be warned: You now face your worst nightmare — two businesswomen from the real world who know how to create jobs, balance budgets and get things done," Whitman said.

Nodding to women backers, she added: "This gal is on a mission. And I am all in."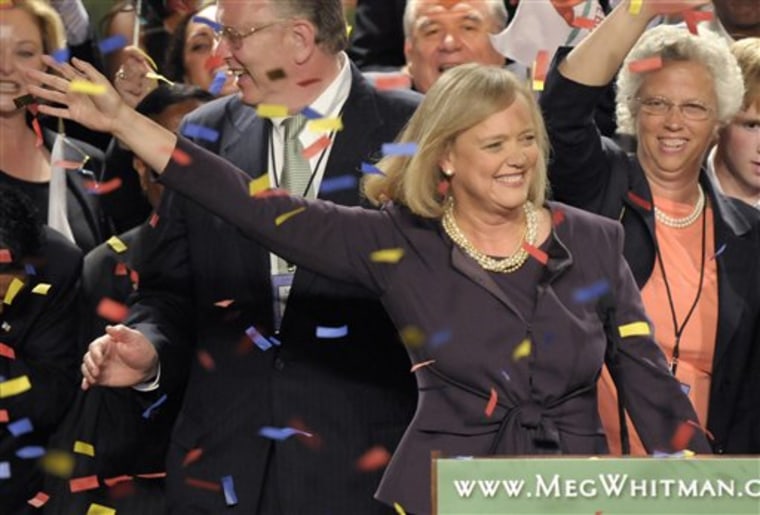 It was the first time the California Republican Party has put a woman — much less two — at the top of its ticket.
Responding to Fiorina's triumph, EMILY's List, which backs female candidates who support abortions rights, launched a website supportive of Boxer, calling her "a fierce advocate for protecting women's freedom and liberty."
In South Carolina, Haley's rise was stunning given the state's poor record of electing women. It ranks 50th in the nation for the percentage of women in the state legislature, and there are no women in South Carolina's Senate, the country's only all-male chamber.
Haley, who is of Indian descent, came from behind in polls to outpace three male rivals but, without a majority of votes, heads into a June 22 runoff.
Her rival, Rep. Gresham Barrett, rolled out a TV ad Wednesday that called him "a Christian family man who won't embarrass us" — a jab at both Haley's Sikh-turned-Methodist religion and the claims of infidelity that she denies.
Palin had endorsed Fiorina and Haley, a lift to their candidacies.
If these women prevail in November, year of the woman will be the oft-repeated phrase. Just don't tell Sen. Barbara Mikulski, D-Md.
"Calling 1992 the Year of the Woman makes it sound like the Year of the Caribou or the Year of the Asparagus. We're not a fad, a fancy, or a year," she once said.