/ Source: NBC, msnbc.com and news services
President Barack Obama personally offered condolences Thursday to family members of the 11 workers who died in the Deepwater Horizon rig explosion, acknowledging their "unimaginable grief" and assuring them that he will stand with them.
The meeting came on a day when government-appointed researchers said as much as twice the amount of oil than previously thought may have been spewing into the sea from a busted undersea well in the Gulf of Mexico.
The administration also announced that it has invited BP chairman Carl-Henric Svanberg to meet with Obama next week and that BP has agreed to speed up payments to people whose livelihoods have been impacted by the spill.
Obama was joined at the closed White House meeting by Interior Secretary Ken Salazar; energy and climate adviser Carol Browner; senior adviser Valerie Jarrett; and Coast Guard Adm. Thad Allen, the federal official overseeing the response to the Gulf spill.
"The president ... told them that he, the first lady and the entire administration are behind them and will be there long after the cameras are gone as they go through their unimaginable grief," a White House statement said. "He also said that while offshore drilling is a part of our nation's overall energy strategy, he simply could not go forward with new deepwater drilling until we have the proper safety measures in place to ensure that a tragedy like this never happens again."
Keith Jones, a lawyer from Baton Rouge, La., whose son, Gordon Jones, was among those killed in the April 20 blast, characterized the meeting as "sedate without being somber." The younger Jones, who inspected mud that was pumped up from the deep-sea well, left behind a wife, Michelle, and sons, a 2-year-old and a month-old baby. Obama held the baby, Maxwell Gordon, who will never know his father.

"He said he hadn't done that in nine years, held a baby that size," Keith Jones told reporters on the White House driveway afterward.
Asked about Washington's perceived lack of anger against BP, Jones said, "I haven't perceived a lack of passion on the part of the president. As a matter of fact I think he's had pretty strong words for BP in the past weeks and it's not the presidents job to pick sides and prejudge, in my opinion."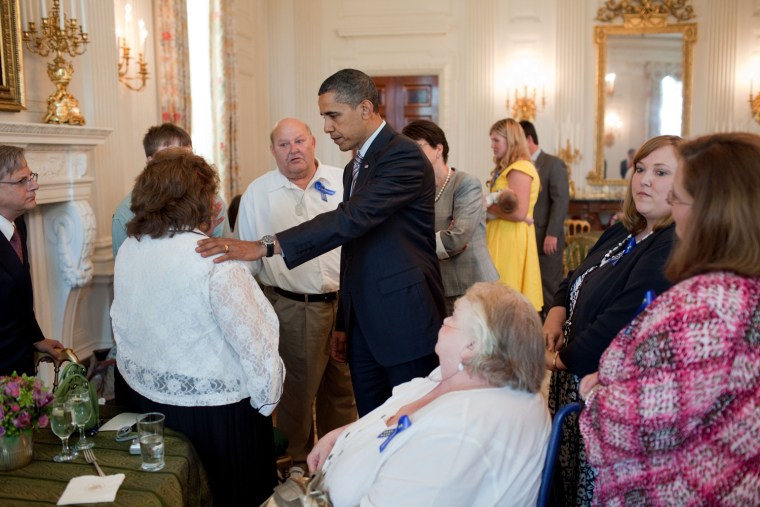 In addition to meeting with Obama, family members came to Washington Capitol Hill to lobby members of Congress to make sure laws such as the Death on the High Seas Act are updated to ensure that victims' families are fairly compensated. DOSHA covers any death occurring beyond three nautical miles from the shore of any state; it allows victims' relatives to sue for damages in district courts.
"We can't get our boys back. We can clean up pelicans. We can clean up fish and they will live. They will continue to live. We cannot do that for our family members we lost," said Billy Anderson, father of victim Jason Anderson. "We can't wipe the oil off of them and wash them with soap detergent and get them back. So please, let's look at this through the right way."
Bigger than thought
Meanwhile, researchers studying the flow of oil from the blown-out said much more oil than previously estimated may have been spewing into the Gulf.
U.S. Geological Survey Director Marcia McNutt said that as many as 50,000 barrels — or 2.1 million gallons — of oil may have been flowing daily from the well before the riser pipe was cut on June 3 so BP could put a containment cap over the gusher
The government has previously estimated that 12,000 to 25,000 barrels of oil — or 504,000 to 1.05 million gallons a day — had been leaking from the well before the riser cut.

Scientists are still working on an estimate of how much oil has been gushing from the well after the riser cut.
BP said it plans to boost its ability to capture the gushing oil by early next week as the Obama administration announced that the oil giant agreed to speed up payments to people whose livelihoods have been washed away by the spill.
Fishermen, property owners and businesspeople who have filed damage claims with BP are complaining of delays, excessive paperwork and skimpy payments that have put them on the verge of going under as the financial and environmental toll of the seven-week-old disaster grows.
Under federal law, BP PLC is required to pay for a range of losses, including property damage and lost earnings, and the company has disputed any notion that the claims process is slow or that it has been dragging its feet.
Tracy Wareing, of the National Incident Command office, said administration officials raised a "pressing concern" during a meeting Wednesday with BP executives about the time the company has been taking to provide relief payments.
She said the company would change the way it processes such claims and expedite payments. Among other things, it will drop the current practice of waiting to make such payments until businesses have closed their books for each month.
Allen, in a letter Thursday, invited Svanberg and "any appropriate officials from BP" to meet Wednesday with senior administration officials. Obama will participate in a portion of the meeting, the letter said.
In other developments:
Congress approved legislation to make more money available to the Coast Guard to pay for its response to the spill. The bill that now goes to Obama removes the $100 million limit that the Coast Guard can spend on the spill from a government trust fund used to pay cleanup costs. The Coast Guard would run out of money to fight the spill next week if the spending cap were not lifted, said Democratic Rep. James Oberstar, chairman of the House of Representatives Transportation Committee.
Florida's attorney general demanded an immediate $2.5 billion escrow payment from BP for damages, citing a report that says the spill will seriously harm the state's economy.
Louisiana politicians are rushing to the defense of the oil-and-gas industry and pleading with Washington to bring back offshore drilling — now. State officials contend that drilling is safe overall and that the moratorium is a knee-jerk reaction.  "For God's sake, don't finish us off with a moratorium," Louisiana Attorney General Buddy Caldwell said this week.
Discussions as far away as 1,500 miles are beginning about what municipalities should do if gobs of goo start appearing on their beaches. Folks in the Hamptons in New York, where two local beaches were rated among the Top 5 in the country, gathered Thursday to discuss contingencies for their communities.
British lawmakers urged Prime Minister David Cameron to get Obama to tone down his stinging criticism of the oil company, complaining that the hostile rhetoric will have severe implications for pensioners with nest eggs in the company.