/ Source: The Associated Press
For more than two decades, pork has been known as "The Other White Meat." Now industry insiders think it's time the meat got a new reputation.
The National Pork Board plans to replace its ubiquitous advertising slogan with something officials hope will improve stagnant sales. The slogan, first launched 23 years ago, was successful in rebranding the meat as a dinnertime favorite.
"It did its job, for sure, back in 1987. It was phenomenal," said Ceci Snyder, the Des Moines-based board's vice president of marketing. "It really changed minds."
Television commercials featured the slogan and showed pork surrounded by other healthy foods to illustrate how pork had fewer calories than one would think. But over time, Snyder said, people forgot what the tagline meant, and it doesn't seem to have helped sales, which for decades have hovered near 50 pounds a year for the average American.
Chicken, by contrast, has grown from roughly 55 pounds per American in 1988 to more than 83 pounds per American in 2008.
"We don't think flat is acceptable," Snyder said.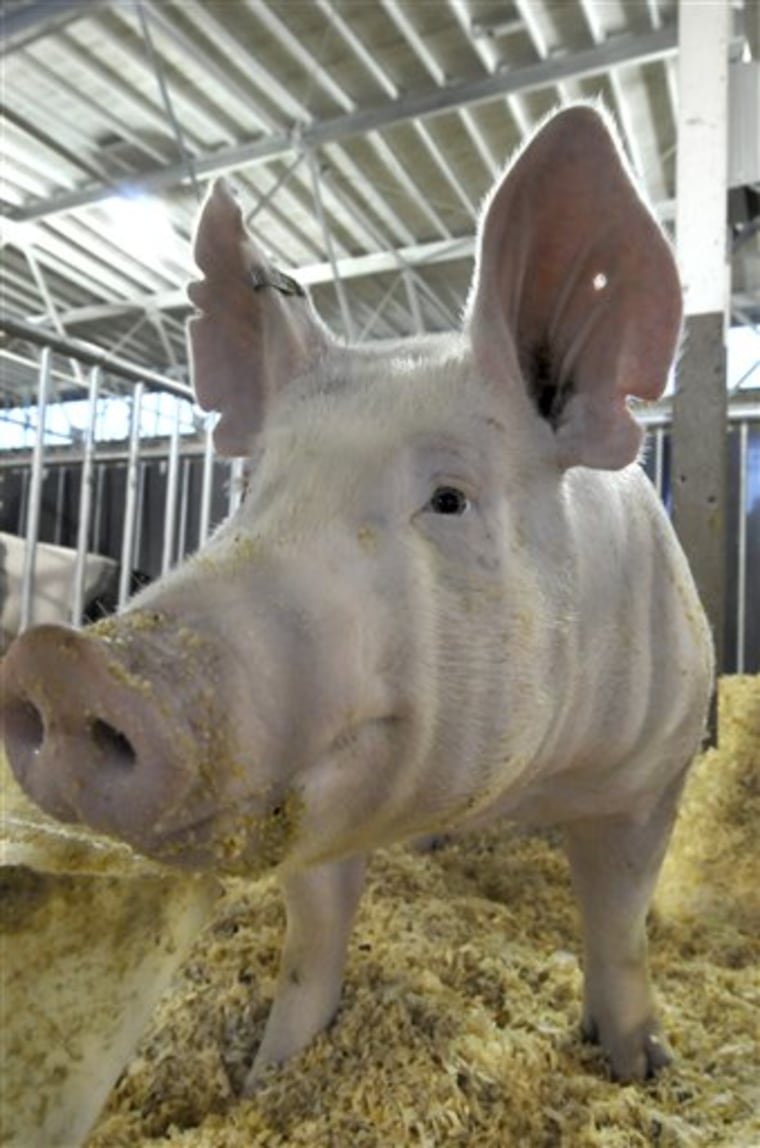 The slogan was developed in 1987 to change public perception of a product many viewed as a fatty meat you shouldn't serve to guests. It was meant to tout pork's nutritional value and versatility, and to align it more with chicken than beef.
"I don't think anybody could have imagined it would become as iconic as it has become," said Mark Williams, who helped develop the slogan. He's now managing partner of the Chicago-based marketing consultant Motus Group.
Snyder said the board won't completely drop "The Other White Meat" as a marketing tool, but it will no longer be the focal point of the group's advertising efforts. The launch date for a new branding campaign is March 2011.
The move was puzzling to some, such as Drew McLellan, who heads the Des Moines-based advertising agency the McLellan Group. A tagline is intended to create a connection between a product and the consumer, not drive sales.
McLellan said he think companies get bored with their advertising and change their branding without realizing how strongly a well-known tagline resonates with costumers.
He compared "The Other White Meat" to Alka-Seltzer's "Plop-Plop, Fizz-Fizz" and the Oscar Mayer Weiner song.
"Most companies would kill to have a tagline like 'The Other White Meat,' which is so recognizable with their product, and these guys are throwing it away," McLellan said.
But Thomas Vogel, a professor of marketing and communications for Emerson College in Boston, said that by rebranding itself, the pork industry can get a stronger handle on the current market and better reflect what customers respond to today.
He also argued that companies afraid of taking risks are potentially missing out on new opportunities.
"What's worse than taking a big risk is not doing anything and not getting any consumer reaction," Vogel said.
Snyder said a new branding strategy and tagline would stand out to consumers.
"We really need identity that catches people's attention," she said. "Being the (other) white meat is just blending into the background."