/ Source: The Associated Press
A Utah man set to be executed by firing squad said Thursday he is remorseful and wants a state parole board to spare his life so he can help troubled kids avoid the kind of problems that landed him on death row.
Ronnie Lee Gardner told the Utah Board of Pardons and Parole he and his brother are trying to develop 160 acres in northern Utah for an organic farm and residential program for children. He said he's earned about $1,300 selling prison artwork and crafts — handmade baby booties and handkerchiefs — to start the project. He even tried to enlist Oprah Winfrey in the cause two years ago.
Gardner, 49, said he had been working quietly on his idea for the "Back to Basics" program for about 10 years. He said he is a changed person and wants to help prevent kids from traveling down a path to violence and criminal activity.
"I think I'm the perfect example of what you shouldn't do," Gardner said, testifying for about two hours as part of his effort to persuade the board to reduce his sentence for murder to life in prison.
'Really remorseful'
Gardner said he spends some of his time now counseling other inmates, including a 16-year-old boy incarcerated for an attempted murder.
He said he is "really remorseful" for his crimes and acknowledged there was no reason for him to have killed bartender Melvyn Otterstrom or attorney Michael Burdell. He has tried to apologize to the victims' families, he said.
Gardner was sentenced to death for Burdell's fatal shooting during a botched escape attempt in 1985. An accomplice slipped Gardner a handgun as he headed to court on charges of murdering Otterstrom a year earlier. He pleaded guilty in that case.
The board's job is to decide whether there is any reason to grant clemency, or any reason that the death penalty is an inappropriate sentence.
The hearing continues Friday and a decision is expected Monday, five days before Gardner is set to be executed. Utah law allowed him to chose a firing squad rather than lethal injection because he was sentenced before 2004, when lethal injection became the state's default execution method.
Three of the five board members would have to vote for clemency for Gardner's sentence to be commuted.
Other attempts to save himself
Gardner has employed several other legal efforts to save himself since a state judge in April signed his death warrant.
Gardner's attorney, Andrew Parnes, asked the Utah Supreme Court earlier this week to vacate the death sentence and order a new sentencing hearing. It was unclear when the court would rule.
Parnes contends that mitigating evidence about Gardner's troubled youth — early drug addiction, physical and sexual abuse and a dysfunctional family life — was not heard in state court. At Thursday's hearing, Parnes presented three statements from jurors who sentenced Gardner to death indicating that the evidence might have produced a different sentence.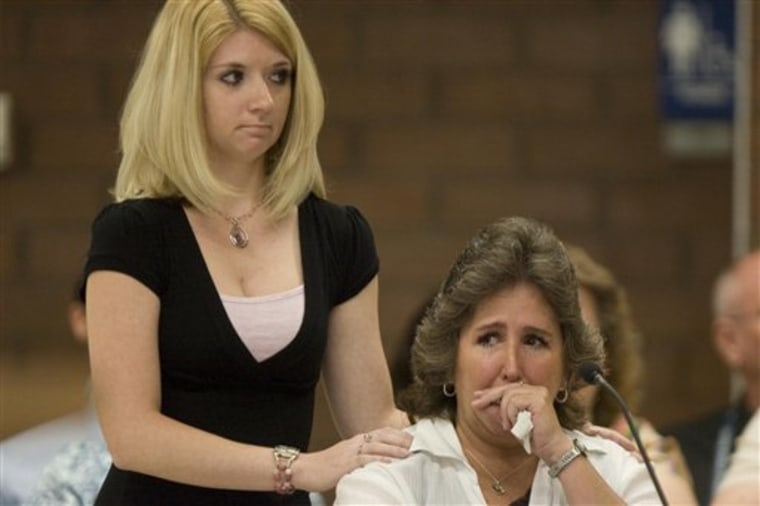 Members of the parole board have spent a month poring over thousands of pages of records documenting Gardner's life, criminal history and behavior during his nearly 30 years in prison.
Board member Jesse Gallegos noted Gardner had long been a problem inmate — instigating a riot, stabbing another prisoner and attempting multiple escapes, one of which was successful.
Gallegos said it was hard to know if he was sincere or simply appearing to change so he could avoid execution.
"I was a nasty little bugger, I admit to it," Gardner said. "I'm not changing to save my life. I've changed because I needed to change."
He said his personal transformation began around 1999, when attorneys were working with him on a federal appeal. That's when Gardner first began talking with psychologists, began to understand how his past behaviors and started to change.
"It wasn't a big religious experience, it was just time to grow up," he said.
Friends of victim: Spare him
Friends of Burdell also asked the board to spare Gardner's life. They said the lawyer opposed the death penalty and Gardner's death would be meaningless.
"Michael would not have wanted Ronnie Lee killed, executed," said a tearful Donna Nu, of Mesa, Ariz., who was engaged to Burdell. "I'm asking you to honor Michael's wishes."
But Utah Assistant Attorney General Tom Brunker said Gardner is a cold-hearted killer who "earned his death sentence for an unflagging history of violent crime."
Relatives of Otterstrom and bailiff George "Nick" Kirk, who was injured in Gardner's courthouse escape attempt, called on the board to let the death sentence stand.
"Gardner has hurt so many people. He has never shown any compassion for any of his victims, so why does he deserve compassion?" Kirk's daughter, Tami Stewart, said through tears. "The agony and toll he placed on my father deserves justice and that it be given."
Utah's parole board has rarely held commutation hearings. Only 14 men have had ever had death sentences commuted — the last in 1962. Only two hearings have been held since 1977, according to records kept by a Weber State University criminal justice professor.
Utah has 10 men on death row. The last execution was by lethal injection in 1999. Utah last used the firing squad in 1996.