/ Source: The Associated Press
At the same time they are venting their fury on BP over the Gulf of Mexico spill and its calamitous environmental effects, Louisiana politicians are rushing to the defense of the oil-and-gas industry and pleading with Washington to bring back offshore drilling —now.
As angry as they are over the disaster, state officials warn that the Obama administration's temporary ban on drilling in the Gulf has sent Louisiana's most lucrative industry into a death spiral.
They contend that drilling is safe overall and that the moratorium is a knee-jerk reaction, akin to grounding every airplane in America because of a single crash. They worry, too, that the moratorium comes at a time when another major Louisiana industry — fishing — has been brought to a standstill by the mess in the Gulf.
"For God's sake, don't finish us off with a moratorium," Louisiana Attorney General Buddy Caldwell said this week.
The oil-and-gas industry is the backbone of the Louisiana economy, bringing in billions of dollars in revenue for the government and accounting for nearly one-third of the nation's domestic crude production.
It took a heavy blow when the government imposed a six-month offshore drilling moratorium in the wake of the spill that has sent upwards of 50 million gallons of oil into the Gulf in the biggest environmental disaster in U.S. history. The government imposed the ban while it reviews the safety of deepwater drilling in light of the BP disaster.
Louisiana lawmakers have railed against the moratorium, saying it could put more than 100,000 people out of work, shutter businesses and destroy livelihoods. A bill asking the administration to shorten the moratorium passed the Legislature unanimously.
But persuading the administration to take such action could prove to be extraordinarily difficult at a time when globs of oil are fouling marshes and beaches, images of oil-soaked birds are a fixture in the news and no apparent end to the spill is in sight.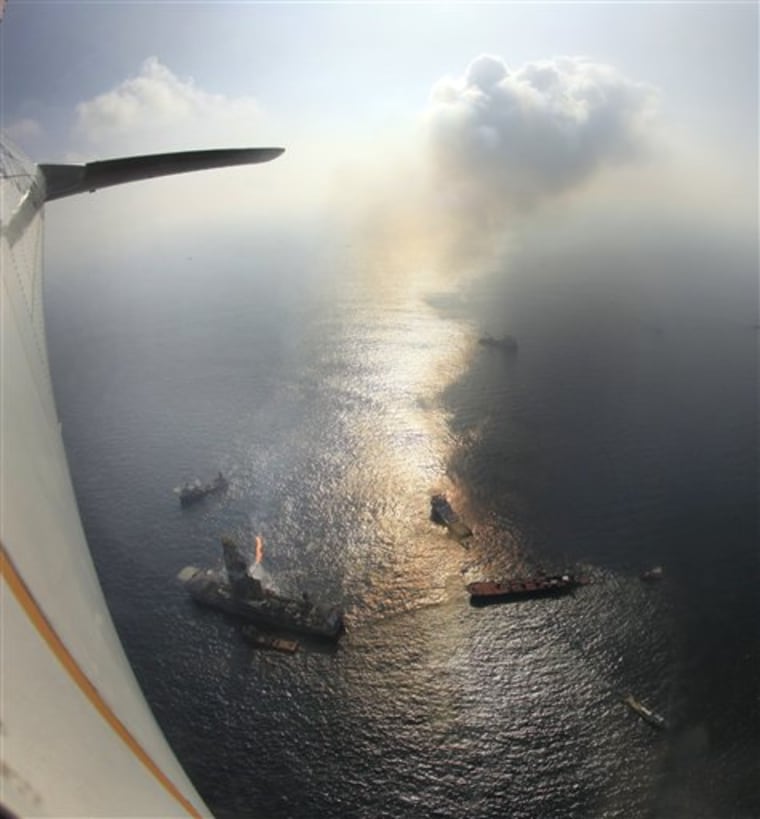 Interior Secretary Ken Salazar has acknowledged the potential damage to energy companies and their employees and promised a Louisiana senator the administration would demand that BP compensate businesses for their losses.
The moratorium put a halt to the 33 deepwater exploratory rigs in operation in the Gulf in addition to all new deep-sea drilling permits. Platforms that are already producing oil along with rigs in shallow waters are allowed to remain in operation.
"Every one of these deepwater wells employs directly hundreds of people and indirectly thousands," said Sen. Mary Landrieu of Louisiana. "This is one company. This is one well. It's a terrible situation and no one is making light of it, but what I'm saying, as strongly as I can, to this president is the economic analysis is devastating to many companies, thousands of companies.
BP hopes that it can stem the flow of oil soon and remove some of the heat that has been put on the company and energy industry by politicians, the American public and investors, who have dumped BP stock and driven its price down to the lowest level in 14 years out of fear that the spill could spell the company's ruin.
Trade groups estimate that the 33 deepwater rigs idled the moratorium employed 5,900 to 9,200 people. Rig workers earn up to $1,800 per week, so that amounts to a loss of tens of millions dollars in salaries. In addition, those jobs support an additional 26,000 to 46,000 industry workers.
"It's going to put us out of business," said Glenn LeCompte, owner of a Louisiana catering company that provides food to offshore rigs. "My payroll probably runs about $150,000 a week. That payroll is going to disappear."
Gulf communities already are seeing the livelihoods of thousands of fisherman, property owners and tourism workers jeopardized by the spill. Fishing and tourism contribute $10 billion to Louisiana's $210 billion economy, while energy contributes $65 billion.
"Those two things, fishing and oil, coexist together and form a way of life down here," said Jefferson Parish Council Chairman John Young.
The Energy Department estimates that 25 million barrels of oil production will be lost in 2011 because of the six-month moratorium. That's less than what the country burns in two days, but production will drop even more if the ban is extended to a year or more, as a number of analysts expect.
Many of the drilling jobs could end up going to Brazil, which recently discovered numerous oil fields off its coast. Brazilian oil company Petrobras wants to tap those fields but lacks the rigs.
"They're licking their chops saying, 'We'll take them'" from the U.S., said industry analyst Collin Gerry.
Barry Graham, general manager of Barry Graham Oil Service LCC, which operates 21 petroleum support vessels from Alabama and Louisiana, said he is hoping to avoid layoffs among his 150 employees.
"It's like sitting here waiting for the storm to approach," he said. "You sit and wait for a hurricane when you get the news it's coming. That's what this feels like — just waiting to get hit."