/ Source: a href="http://www.washingtonpost.com/wp-srv/front.htm" linktype="External" resizable="true" status="true" scrollbars="true">The Washington Post</a
Alvin M. Greene never gave a speech during his campaign to become this state's Democratic nominee for Senate. He didn't start a Web site or hire consultants or plant lawn signs. There's only $114 in his campaign bank account, he says, and the only check he ever wrote from it was to cover his filing fee.
Indeed, in a three-hour interview, the unemployed military veteran could not name a single specific thing he'd done to campaign. Yet more than 100,000 South Carolinians voted for him on Tuesday, handing him nearly 60 percent of the vote and a resounding victory over Vic Rawl, a former judge who has served four terms in the state legislature.
"I'm the Democratic Party nominee," Greene says in the interview at his father's home on a lonely stretch of rural highway in central South Carolina. "The people have spoken. The people of South Carolina have spoken. The people of South Carolina have spoken. We have to be pro-South Carolina. The people of South Carolina have spoken. We have to be pro-South Carolina."
Things have gotten even stranger since Greene's win. First, the Associated Press reported that he faces felony obscenity charges for allegedly showing pornography to a University of South Carolina student last November. Greene says he's not guilty. Then the state's Democratic Party chairman called on him to withdraw from the general election. House Majority Whip James E. Clyburn (D-S.C.) — who has questioned whether Republicans may have planted Greene in the race — is calling for federal and state investigations. A spokesman for Republican Sen. Jim DeMint (S.C.) called that notion "ridiculous," and Greene dismisses suggestions that he is anyone's pawn.
The whys of Greene's victory are as mysterious and baffling as his mysterious and baffling candidacy. Some explain it away as a fluke attributable to his name coming before his opponent's alphabetically. There's no way to know whether large numbers of Republicans crossed over to vote for the weaker of the Democrats, because voters don't register by party in South Carolina's open primary system.
The pinballing controversies barely faze Greene. He says he has no intention to withdraw and is challenging DeMint to a September debate "on a major network."
Greene lives with his ailing 81-year-old father, James Greene, on the outskirts of Manning, a crossroads town of 4,000 ringed by truck stops, motels and fast-food restaurants. He has no cellphone and no computer, except the one at the public library.
"I check my e-mail, like, it varies, maybe — I'm more, I mean — two or three times a week," he says. "I prefer the telephone. I'm a little old-fashioned. I prefer the telephone. That's the easiest."
Greene, a solidly built 32-year-old with a close-shaved head, sighs heavily as he speaks, pausing often during meandering monologues. Wearing a green T-shirt from a 1993 family reunion, he taps his fingers, alternating between staring at the floor and covering his face with both hands.
He sits on a folding metal chair at a patio table set on the linoleum floor of his father's wood-paneled living room. Above him, a ceiling fan with a bare bulb hangs motionless in the heat. Piles of magazines and mail clutter a desk. The house is dark except for a lone, dim lamp and the glow of the muted television. His father — who says he's a kidney dialysis patient still recovering from open-heart surgery four years ago — lies on the couch, a step away from his son, occasionally moaning in pain or interrupting Greene to say he's veered off subject.
The University of South Carolina confirms that Greene graduated in 2000 with a degree in political science. The Pentagon confirms that he served in the Army, and in the Army and Air Force national guards. Although Greene has not boasted of winning awards, the Pentagon says he was granted the Air Force Good Conduct Medal, National Defense Service Medal, Global War on Terrorism Service Medal and Korean Defense Service Medal.
Where it gets hazy is Greene's discharge from the Army in August 2009, six months before the end of his three-year commitment, according to the Pentagon. The Pentagon does not confirm whether service members are discharged honorably or dishonorably. Greene says he "was honorably discharged from the Army, but it was involuntary. Things weren't working out. . . . Same thing happened in the Air Force. It's a long story in both services."
He first thought of running for the Senate two years ago, he says, while stationed in Korea as an Army supply specialist. "I thought he was crazy," says his older brother, James Greene Jr.
Greene says he put up his own money in March for the $10,400 campaign filing fee, an assertion that many in South Carolina doubt. At that time, it was not widely known that he had been charged with obscenity. Still, he says, Carol Fowler, the state's Democratic Party chairman, tried to talk him out of running, saying he wouldn't be able to afford the staff required.
"She told me, 'Think about this. If you change your mind before filing closes, you could get a refund,' " he recalls. Fowler's spokeswoman confirmed Greene's account.
A campaign flier lies on the table. "Satin green," he says proudly. "It's pretty. I like that." Greene won't say who printed it or where it was distributed. He cautions that it's his only copy and should be handled with care. Asked how many fliers were printed, he says "hundreds," then pauses.
"Maybe thousands. Hundreds. Maybe a hundred. I don't know exactly."
Before Election Day, he says, almost no one paid attention to him. Now he's swamped. Phone calls repeatedly interrupt the conversation — reporters, television producers, fans. Greene rises to take each call, responding politely, if at times impatiently. One man, who says he's a political strategist from Dayton, Ohio, calls to offer guidance.
Minutes later, someone is on the line saying, "I'm so glad you won" and complaining about "trumped-up charges." Shortly before 11 p.m., Greene's brother — who lives next door — arrives at their father's small ranch-style house to catch the local news.
Greene "shining a negative light on our state" is the lead story. The news report says he has not entered a plea or been indicted in connection with the obscenity charge. Greene asks: "I have not been indicted? Indicted? What does that mean?" His brother explains that a charge and an indictment are different things. He nods.
"I'm on the not-guilty side of things," Greene says. "I have to be. I mean, I mean, I mean. I have no comment, I mean." Greene's attorney, a public defender named Spencer S. Beckman who served as an intern for former senator Ernest F. Hollings (D-S.C.), declined to be interviewed. Greene is at first reluctant to talk about the charge. But once he starts, he goes on at length.
"It can go away," Greene says. "Just think about a charge. It can be dropped by the solicitor. It can be dropped and erased like it never happened. . . .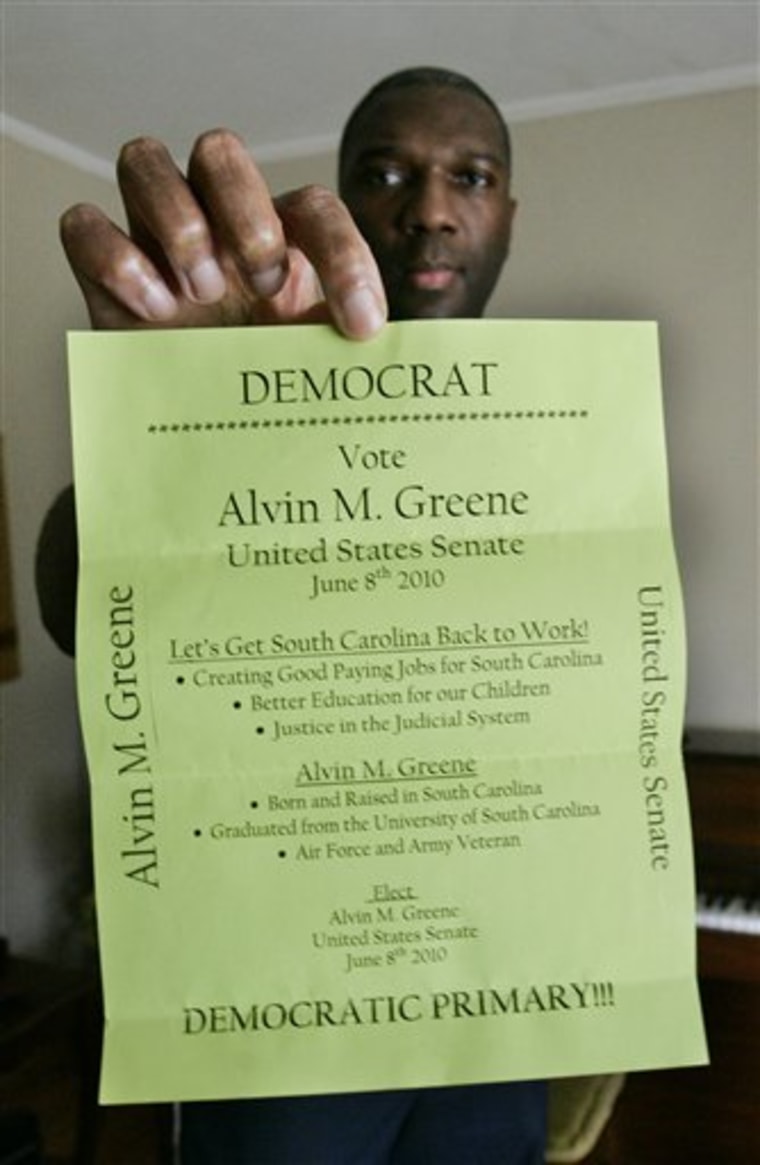 "Folks should be given a chance to correct themselves. Somebody could just be trying to get somebody in trouble. You see, somebody, you know — you just can't work around somebody. It's hard. I'm just trying to talk about something, frankly. I'm just trying to talk from my perspective. People should be friendly. I mean, leave it alone."
Greene and his brother question the timing of the revelation of the charge, and James Greene Jr. predicts that the long-stalled case will be set for trial before the November election.
In a telephone interview from her Charleston home, Greene's accuser — Camille McCoy, 19 — says she didn't know that Greene was running.
"I really wish I'd known before the election, so I could have said something so that people would have known who they were voting for."
She says Greene asked her to look at pornography on his screen at a computer lab in a University of South Carolina dormitory and suggested, "Let's go to your room."
Now her mother, Susan McCoy, wants Greene to withdraw from the race. And one other thing: "We want this guy to crawl back under the rock he came from."
Research editor Alice Crites and staff writer Garance Franke-Ruta in Washington contributed to this report.