/ Source: The Associated Press
A leaked pipeline sent oil spilling into a Salt Lake City creek, coating geese and ducks and closing a park, officials said Saturday as they started a cleanup effort expected to last weeks.
At least 400 to 500 barrels of oil spewed into Red Butte Creek before crews capped the leak site. Nearly 50 gallons of crude oil per minute initially had spilled into the creek, according to Scott Freitag, a Salt Lake City Fire Department spokesman.
"Our real concern is keeping people safe, and keeping the oil from reaching the Great Salt Lake," he told the Deseret News.
Chevron determined the pipeline broke at 10 p.m. Friday, and police and fire crews were notified of it shortly before 7 am. Saturday.
Damage assessment under way
Officials were unsure of the cause of the leak, near the University of Utah campus, or the extent of the spill's environmental impact. Mayor Ralph Becker said drinking water for residents was not affected.
"Our fire teams have capped the site and will work to determine the damage and the best course of action," the mayor said in a statement.
The state Division of Water Quality was onsite assessing damage and will issue a violation notice against Chevron, Gov. Gary Herbert said in a release. The governor said he was monitoring the spill, which he called "devastating."
Chevron says it will pay
Chevron spokesman Mark Sullivan said some residual oil was still leaking and the cleanup likely will take "weeks."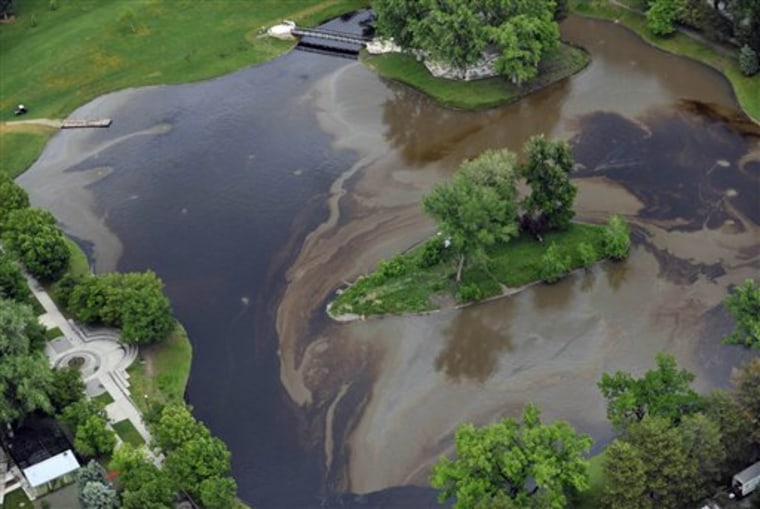 "We're taking full responsibility for any financial damage, environmental damage, safety concerns, impacts on health and cleanup," Sullivan told the Salt Lake Tribune.
Crews were using absorbent booms and creating dams to contain the spill, but officials said some oil had flowed as far as four miles to the Jordan River, and into a pond in the city's Liberty Park, near where residents reported dead fish.
Saving the birds
A crew was trying to collect and take birds to Hogle Zoo cleaning stations and other facilities, said Brad Park, zoo spokesman.
About 150 birds have been identified for rehabilitation, said Jane Larson, Hogle's animal care supervisor. About 75 percent are Canada geese.
"A lot of them are just coated from about the water line, but there are a number of birds that started preening and have oil completely covering their bodies," said Tom Aldridge, migratory bird coordinator for the Utah Division of Wildlife Services.
Several ducks also were affected.
The underground pipeline flows to Salt Lake City from Colorado and feeds the city's oil and gas refineries.
Employees at the Veteran Affairs Hospital first noticed oil in the stream just before 7 a.m. Officials then traced the spill to the pipe near Red Butte Garden. Freitag said the pipeline was shut off about 7:45 a.m.