/ Source: The Associated Press
It's barely 5 a.m., and last night's sliver of moon still hangs in a charcoal sky as Dave Marino eases the 24-foot bayboat from the dock and into the flat, dark waters of the canal leading toward the Gulf of Mexico.
The air hangs thick with the vapors of the bayou, but for now it's cool — the ideal start for what should be a perfect day in the life of a fishing guide: chasing speckled trout in the morning, redfish in to the afternoon.
"I'm 41 years old and that's the way it's always been," says Marino, a lifelong fisherman who started his own charter business in Myrtle Grove, La., to relieve the stress of his primary job, fighting fires.
This morning, though, there'll be no escaping reality. The waters at the end of the canal have all been put off limits to fishing. Marino's usual charter customers have canceled or stopped calling. And today he is motoring out in search of oil.
With every sunrise, the sheen rippling from BP's gaping Deepwater Horizon wellhead drifts closer to Marino's corner of paradise. And the slick, he's discovered, is close behind.
"My concern is that it's going to tip the balance to where it's too much to overcome," Marino says. One hand on the wheel, he points to the baitfish called pogies jumping from the water, and to the grassy shallows where redfish longer than a man's arm feast on shrimp. "What happens when you tip the point to where there's more death than life?"
The question is beyond any simple answer. But the dread and uncertainty embedded in Marino's query hangs in the air all along the coast, where the Associated Press traveled four Gulf states — and explored states of mind — more than seven weeks after BP's rig exploded, killing 11 men and starting the spill. The three-day trip traced the arc of the jigsaw coastline, moving from west to east like the spreading oil, from Louisiana bayous to Florida beach enclaves.
Across more than 500 miles, you hear scores of stories — the testimony of people whose lives are intertwined with the Gulf's ecology and economy, transfixed by its allure and frightened by its apparent limitations. Travel this route and you'll meet up with a new opinion or emotion around every bend. Not all agree on who's to blame, or even if blame should be cast.
But you can be sure of at least one thing. Even in places that have seen no sign of oil, the spill is on everybody's mind, commanding attention in a way few other events ever can. It is redefining life on the Gulf, upending routines and reframing expectations.
In a moment of intense uncertainty, everyone agrees on that.
'I'm going to move'
By 6 a.m., we've passed a raft of commercial fishing boats in the canal, their crews loading a fresh supply of oil containment boom, and entered the broad expanses of Barataria Bay. To the unaccustomed eye, it is a marvel of nature unspoiled, except for the oil platforms and pumps dotting the horizon. A porpoise vaults from the water. On tiny Queen Bess Island — circled in boom — hundreds of pelicans, ibises and terns keen from the mangroves. But Marino wants us to study the water.
"This is all an oil sheen that you're in," he says.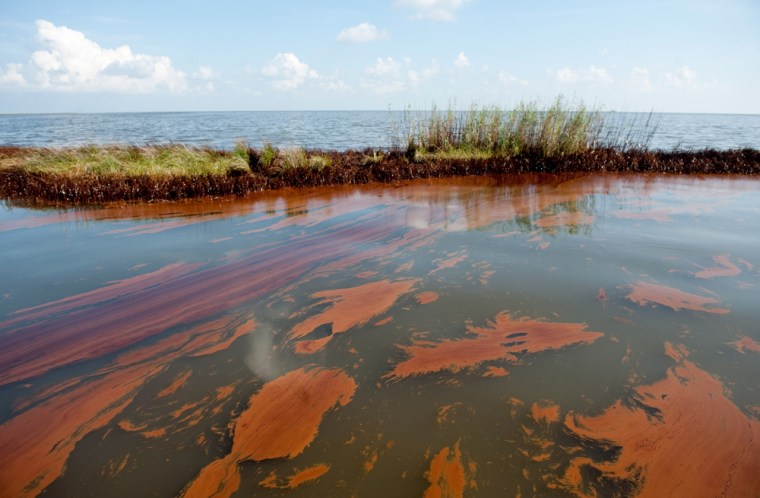 Soon, it becomes easier to see. When a breeze blows over open water, it's supposed to ripple. But the sheen acts like a blanket, holding the water flat. Atop heavy sheen, the horse flies that have been nipping at our legs depart and most of the dragon flies vanish. Marino, who often watches birds hunt for clues to where the fish are, points out how few gulls and egrets are in the water.
Farther out, the smell kicks in, slightly sweet, like tar, but stronger. Then, just south of Bay Jimmy, we find what we've been looking for. A slick roughly the size of a school bus lies thick across the water like pancake batter, the color of chocolate fondue. There's no boom in sight and no cleanup crews. In the middle of the spill floats a lump roughly the size of a serving platter — a dead Kemp's Ridley sea turtle.
Marino calls the GPS coordinates into the Plaquemines Parish emergency operations center, before heading back in.
"Another 45 days, it's going to be on top of all of us. That's when I'm going to move. I can't expose my family," he says as the boat nears the dock. Still, he's not ready to let go.
"You know what I want?" he says. "I want you come to come back in a couple of years when we're fishing again and let me take you fishing and catch a big gigantic redfish. That's what I want everyone to see. I just wish I had the certainty that would be soon."
By now, it's 11:10 a.m. and time we get a move on. Back up Highway 23, we pass a sign posted on the shoulder: "Damn BP! God Bless America!" At noon, we drive aboard the Plaquemines Pride, a ferry that crosses the Mississippi River, and pay the $1 toll, then continue north to Village del 'Est, where the Kajun Burger Restaurant shares a parking lot with the Vietnamese Radio Network and Thanh Bihn Tailor.
This town is removed from the Gulf, but it is home to scores of Vietnamese shrimpers, who live here but keep their boats moored south. There was a time when they'd load up on supplies here to stay on the water for weeks. The oil has put a stop to that.
"Everything's slowed down. We have no fishermen," says Hoang Duong, manager of 99 Supermarket, a purveyor of lemon grass stalks, canned lychees and other Vietnamese staples.
"People don't want to spend that money anymore. They're just afraid," he says. "A lot of fishermen come in and tell me, 'I don't know when we'll get out there. We're sitting around, doing nothing.'"
Back on the road, with a roast pork bahn mi sandwich wrapped to go, we head up U.S. 90 about 16 miles to the narrow neck of land running between immense Lake Pontchartrain on our left and smaller sibling Lake St. Catherine on the right. Both are connected to the Gulf and lined with homes on stilts, many of them weekend fishing getaways with names like By-U-Self and Margarita Villa.
Just before the Fort Pike Bridge, a sprawling aluminum shed housing a bar called Big Al's welcomes passersby with a promise of free boiled crabs on Wednesdays. Ask though and you'll hear they've replaced some of the crabs with crawfish, because fishing restrictions have limited the once plentiful blue claw catch. Behind the bar, that's only the start of Jodi Jackson's worries.
Her husband, Kevin, is a crabber. They were counting on the proceeds from this year's catch to finish building a home to replace the one stolen by Hurricane Katrina. But with boats crowding into limited waters, his catch is down by 80 percent. Fumes she blames on the oil have sent her to the hospital for nausea. She worries most, though about the man she's loved since she was 14.
"We've been married 30 years and I've never seen him like this. He can't even watch the news. It gives him panic attacks," Jackson says. "All he keeps saying is, 'We're ruined, we're ruined.'"
Jackson heads to the end of the bar to refill a customer's beer. And, with the clock nearing 5 p.m., another state beckons. "Welcome to Mississippi," the sign at the state line announces. "It's like coming home."
'Finding scapegoats'
Down Lower Bay Road, wet swimsuits and beach towels fill the railings on the stairs in front of a small whitewashed church. They belong to 35 teens and 16 adults, here on a mission trip from Klein United Methodist Church in the Houston suburb of Spring, Texas, and just back from a late day dip in Mississippi Sound, separated from the Gulf by Louisiana's toe.
They've returned refreshed, but wondering what to make of black streaks in the sand out in the water. It reminds Gene Ebans, the church's music director, of the spill. But he's troubled as much by how people have reacted to it, as the oil itself.
"I think we ought to learn from it. I don't think we ought to stop drilling... I mean, come on, we can send guys to the moon, but we can't do this?" he says. "As a 35-year-old guy with three small kids, America doesn't have a vision anymore. We can't create one. Instead, we're too busy finding scapegoats and playing politics."
A few miles farther along the coast, at Bay St. Louis, the spill is also on Ralph Brou's mind as he watches granddaughter Leah Elliott, 4, ride her bike around the playground behind the old red brick city hall. Brou moved here 29 years ago from New Orleans, lured by the town's peacefulness and beaches that provide a perfect vantage point to watch the pelicans. Now, he wonders, how much of this will he be able to pass along to Leah?
"We haven't told her anything" about the spill, he says. It'll probably stay that way unless the beach is closed to swimming and an explanation becomes impossible to avoid.
"I was going to buy fishing rods for her and her brother this summer. I may have to reconsider that plan," Brou says.
From somewhere, a clock tower chimes, signaling that a long, but glorious day along the Gulf is drawing to a close.
"OK, Baby. It's time to go," Brou calls to Leah. He scoops her up and lowers her through the window of his pickup, puts her bicycle in the back, and drives off in the quitting-time light.
It's Tuesday, seven weeks to the day since BP's drilling platform went up in flames. The morning dawns bright and hot over the Mississippi Coast.
Halfway down the West Side Pier in Gulfport, Jay Bates is celebrating his first morning back at home after weeks on the road installing water meters, casting a pair of lines for flounder. Twenty years ago, he came down here from southwest Indiana's farmland to help a friend move and ended up falling in love with a woman and with the shoreline.
Now, baiting a hook with his right hand while holding a Pall Mall with the left, he ponders the spill. On one hand, he says, he dreads the damage it could do to the bay he treasures. On the other, there's a lot to be said for oil.
"I can't say the oil rigs are a bad thing. What would we do without oil? And that makes some of the best fishing out there. Big fish love hanging around those rigs," he says. "It's a choice we have to make. We have to be to gas-guzzling Americans that have to have the stuff."
A few minutes later, one of Bates' rods bows and he reels in a big flat fish. "Me and my dog Bubba, we're fixing to have flounder tonight," he says.
We drive on to Biloxi and over the bridge to Ocean Springs. Down a street shaded by live oaks, Genie Martz is staffing the desk at the Walter Anderson Museum of Art, which showcases the work of a man whose eccentricities were matched only by his love for the local environment and whimsical way he captured its wildlife.
Anderson, who died in 1965, filled the walls of the community center next door with swooping pelicans, ascending herons and leaping porpoises. Today, the museum houses the little rowboat he used to venture the 10 miles out to Horn Island offshore, where he loved to draw and paint. It's solitary beaches are now reportedly the landing site of tarballs.
"We're all just sick about it," says Martz, who nevertheless is sticking by plans to return to her native Pensacola, Fla., soon for a few days at the beach.
If Anderson was still alive, would he be able to turn the other cheek, particularly to the photos of pelicans covered in oil?
Anderson "had a thing about birds and when he was drawing them I believe he really felt he was one," Martz says. "He'd be really devastated..."
Just past noon, Martz is off to meet her sister for lunch. We pull in to the BP station on U.S. 98 to top the tank. ("I know that BP's at fault and they aren't handling it right," says Anna Breal, who's filling her Honda CRV at the adjoining pump. "But what I can do? I need gas.")
'Seafood Capital'
Farther east, we turn down Highway 188 to Bayou La Batre, "Seafood Capital of Alabama."
On Shell Belt Road, the employee parking lots at processing plants like Sea Pearl Seafood are mostly empty and on the adjoining bayou, fishing boats like the Miss Verline and the Sea Goddess sit idle because of the ban on fishing.
But in front of Bayside Oyster Co., six high school and college students are laboring at the base of an 8-foot-high hill of oyster shells, pouring them into burlap coffee bags. The plant is closed, its 30 workers sent home, but owner Wayne Eldridge is adept at finding other opportunities. The bagged shells will be dumped in the bay to build breakwaters, as part of a contract with the Nature Conservancy. Eldridge's construction company has also been hired by state and local officials and BP to deploy boom and trained workers to handle hazardous materials. Before the spill, he employed 50. Last week, thanks to the cleanup, he was supervising 700.
Still, without fishing and shellfishing, Bayou La Batre could run dry, he says.
"The question is how long before you can go back fishing?" Eldridge asks. "The answer is, how long before they can stop the leak? And then, what's the environmental damage? Look at Alaska 20 years later."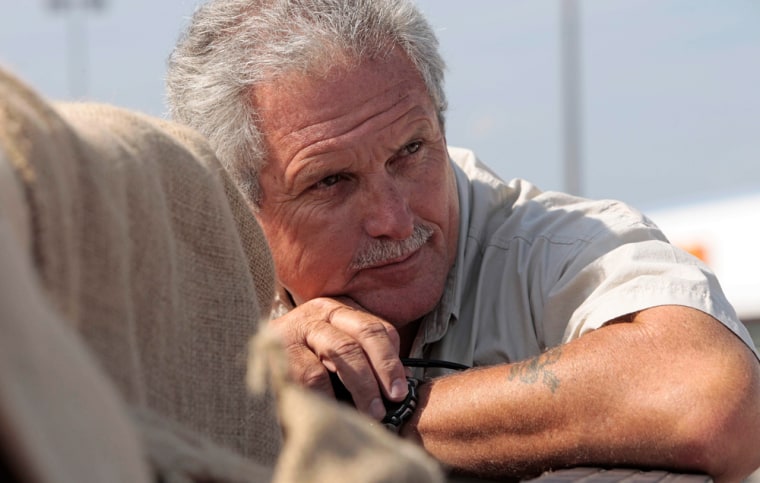 At least Eldridge feels good about his own prospects. Down the coast in Gulf Shores, Ala., the spill is all the talk inside American Legion Post 44, but the mood is weighed down with worry and anger.
"Who's going to come down here if you can't get in the water and you pay more for your seafood than you do at home?" says Les Linton, a guitarist and singer hired to perform tonight. If that happens, he says, jobs like his will vanish. He climbs to the stage and launches into the evening's opening number, a Jimmy Buffett number that begins, "Mother, Mother Ocean, I have heard you call ..."
Tuesday night at the post usually brings in 125 to 150 people for $10 prime rib dinners. Tonight, there's maybe 50 or 60 in the house, which post leaders blame on worried diners cutting back. BP only gets a portion of the blame.
"You know I'm a former Marine. I served my country and it really just pisses me off to see the heads of our country cowering down," says Ken Craddock, 60, the sales manager of a retirement community here. "I was raised on the ocean. I love all that it brings — the beauty, the glory, the feast. But we have to give back. And right now it's being taken away."
Another Gulf sunrise. John Smylka was up at 4:30 a.m. to run. Now, at 6, he's striding the beach at Gulf Shores, eyes cast downward, holding a clipboard in one hand and a GPS in the other, fulfilling his "civic responsibility" as part of a volunteer corps deputized to search for oil on the beaches. So far, he's found nothing.
"You know we'll survive it (the spill), but it'll take a long time," says Smylka, 63, a former University of Alabama criminal justice professor, now partly retired. "I just hope that we learn from it — that we're not infallible and that there's more to life than making money."
Five pelicans twirl in the sky overhead, paralleling the beachfront condo towers, as we set out on the final day of our journey.
Shortly after 8:30, we cross into Florida, and not long after, a roar fills the sky: the Navy's Blue Angels, flying practice maneuvers. Hundreds of Gulf visitors stand in the lot of the National Naval Aviation Museum, on the base outside Pensacola, marveling at this demonstration of what human beings can do when they command technology.
"You see things like this and you think these guys can zoom through (the air) and they can't even fix an oil leak?" says Brent Chanley, who is visiting from Jasper, Ind.
"We're the most powerful country in the world and it doesn't seem like enough is happening," says David A. Cook, a home remodeling contractor from Jonesboro, Ark., stopping for a cigarette break just beyond the shadow of a retired F-14A jet fighter.
"I'm even considering coming down here and volunteering to help. I mean, everybody's got to pull together and do something."
But in downtown Pensacola, trial lawyer Mike Papantonio is not in nearly as judicious a mood. He knows exactly who to blame for the spill — and he's ready for blood.
Papantonio has made a career pursuing big corporations in court. In West Virginia, his firm won a $283 million verdict against DuPont for pollution from a smelting plant. He's chased ConocoPhillips Co. for contaminating Panhandle groundwater. And now he is after BP. But first, he says, Americans have to get past what he sees as a naive sentiment — our national "Kumbaya moment" — that the answer to the spill is to put recrimination aside and join hands.
So, he's paying for an airplane to fly over Pensacola Beach pulling a banner reading "Prosecute BP." He also says he plans to file suit against the company on behalf of the region's property owners.
Papantonio, seated beneath a huge chandelier, points toward a statue at the other end of his sumptuous office, whose windows look out to the waterfront. It is a Spartan warrior, drawing his sword to take on the Barbarians.
"I tell people that this is what we do all the time," he says. "Should we be terrified that BP is in our backyard? No. We pull out our sword and go after them."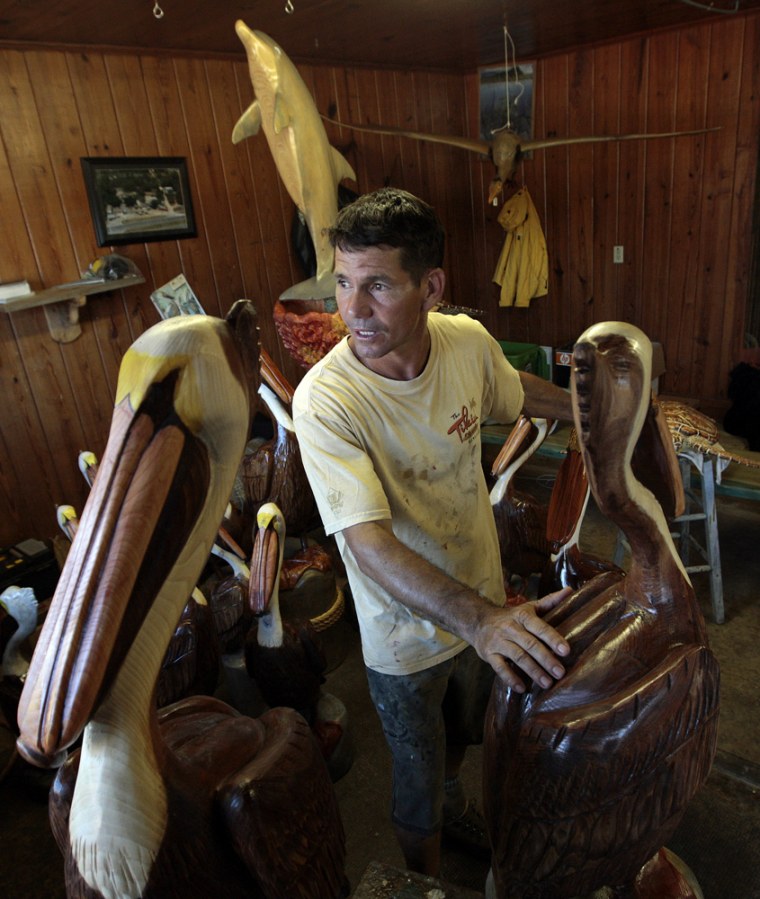 Thirteen miles down the road, Charlie Knight also wields a blade to battle the effects of the spill. But his is a chainsaw.
"Pelican sale," reads the sandwich board alongside the highway fronting Knight's business, Palm Tiki Wood Sculpture. Knight carves lifelike sculptures of many types of Gulf wildlife — turtles, fish, porpoises. But pelicans — hacked from cypress logs, standing about waist high and priced at $250 to $350 — are his mainstay.
Now, he worries, the spill could drive away the tourists who buy most of them. In some ways, that might not be the worst thing. Knight says he's been thinking of a change of scene for years and maybe this will be the catalyst he needs to leave the Gulf Coast.
Then again, who knows? Maybe the spill, will "be good for business. Pelicans are in the news once again, making headlines," he says, just as a Chevy Suburban pulls into his lot — with Louisiana tags, he notes, a hopeful sign. The pelican is the state bird there. In the end, it's no sale to the Suburban folks, but as they pull out a Ford Explorer pulls in to check out the sculptures.
Back on Highway 98, the afternoon traffic leads through Fort Walton Beach and on to Destin, which bills itself as the "world's luckiest fishing village." Tourists, though, are its biggest catch.
Out in front of A.J.'s Seafood & Oyster Bar, the digital sign promises a raw oyster happy hour and casual waterfront dining. Then the message changes tack.
"Obama Get Your Butt Off The Bench and Get In the Game," it flashes. "Our Governments Job Is To Protect Our Coastline!"
Inside, A.J.'s owner Alan Laird rails profanely, angry that he can't get Washington to listen. Laird owns six restaurants employing 550 people. He figures for the state and federal taxes he's paying, he deserves better than being told that BP will cover the damages.
"Right now I don't know what BP owes me. I know my government owes me a hell of a lot more than what they're doing," he says. "It's just a matter of when the luckiest fishing village in the world's luck runs out, because right now that oil is lying 13 miles offshore."
It's tempting to stay for a cold drink. But the day is drawing nearer to an end and we still have one more stop. So we jump back on to Highway 98.
Shopping centers give way to forest, before we find our turnoff, following an elbow in the road down to the quaint confection known as Seaside. When it was built in 1981, the town's gables and cupolas, bike paths and front porches, set out to evoke a time when neighbors knew neighbors and all was good in the world. It became so popular, housing prices soared.
But the town, and its neighboring community of Watercolor, retain what many more heavily developed stretches long ago set aside — a gentle relationship with the Gulf coastline. An hour before sunset, families speckle the beach, searching for crabs, building sandcastles. The air grows cool, and the orange sphere in the distance descends toward the horizon.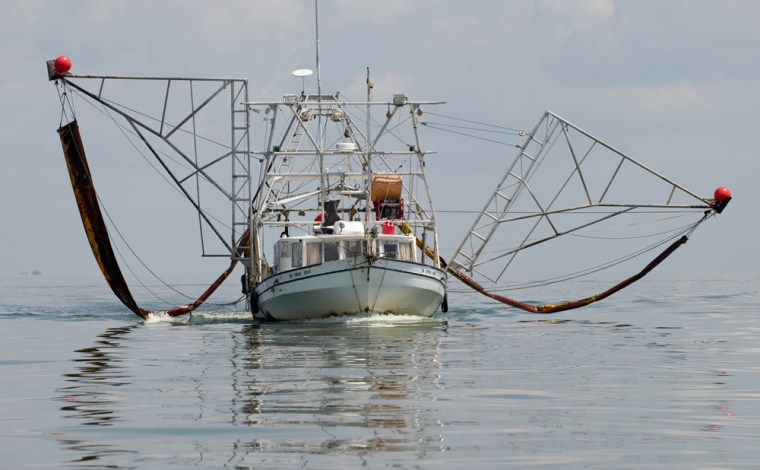 "This is it. This is the best part of the day here," sighs Joe McPherson, a retired research physicist. He and wife Vicki, smile at each other from matching striped folding chairs, savoring the sunset. For 10 years, they've been coming here from Plano, Texas, each summer and again in the fall. This weekend, their son's family will join them. The place has become so special, the McPhersons like to think that maybe one day their grandchildren will come here with their own families.
And yet, for all the beauty and peace of this moment, they can't help but feel wistful. What will happen to this stretch of paradise if the oil comes?
"We keep telling ourselves, let's enjoy every single day," Joe McPherson says. "Because, well, you never know."