/ Source: The Associated Press
Standing behind barbed wire with other Uzbek refugees, the woman tearfully raised her hands in a Muslim prayer Monday for her dead husband. She had left his body at their burned-down house in southern Kyrgyzstan while fleeing ethnic riots that reduced much of a major city to ruins.
"He's lying there unburied," lamented the woman, who identified herself only as Khadicha, a doctor in her 50s, as she waited in a no-man's land to cross into Uzbekistan.
She is among tens of thousands of minority Uzbeks who have fled the deadliest violence Kyrgyzstan has seen since the two ethnic groups fought over land 20 years ago as Moscow lost its grip on the former Soviet republic in Central Asia.
In the southern Kyrgyz city of Osh, three miles (five kilometers) from the border with Uzbekistan, gunfire pierced the air and fires raged for a fourth day. Officials said 138 people were killed and nearly 1,800 wounded since the violence began last week, but an Uzbek community leader said at least 200 Uzbeks had already been buried, and many bodies had not been recovered from charred homes and businesses.
The United States and Russia, which both have military bases in northern Kyrgyzstan — away from the violence — worked on humanitarian aid airlifts, as did the United Nations.
The U.N. Security Council late Monday condemned the violence in Kyrgyzstan and called "for calm, a return of rule of law and order, and a peaceful resolution of differences." The council, in a press statement, noted the need to support the urgent delivery of humanitarian assistance and expressed support for the efforts of Secretary- General Ban Ki-moon and regional organizations "to deal in an appropriate way with the situation."
Camps to handle refugees
Uzbekistan hastily set up camps to handle the flood of refugees, most of them women, children and the elderly. They were hungry and frightened, with accounts of Uzbek girls being raped and Kyrgyz snipers shooting at them as they rushed to the border. Aid workers said many had suffered gunshot wounds.
Kyrgyzstan's interim government, which took over when former President Kurmanbek Bakiyev was ousted in an April uprising in the impoverished country, has been unable to stop the violence and accused Bakiyev's family of instigating it to halt a June 27 referendum on a new constitution. Uzbeks — a minority in Kyrgyzstan as a whole but whose numbers rival the Kyrgyz in the south — have backed the interim government. Many Kyrgyz in the south have supported Bakiyev.
Kyrgyz security chief Kenishbek Duishebayev said Monday evening on television that Bakiyev's younger son, Maxim, was arrested earlier in the day in Britain when he flew into a Hampshire airport on a private plane. Britain's Home Office said it could not comment for legal reasons.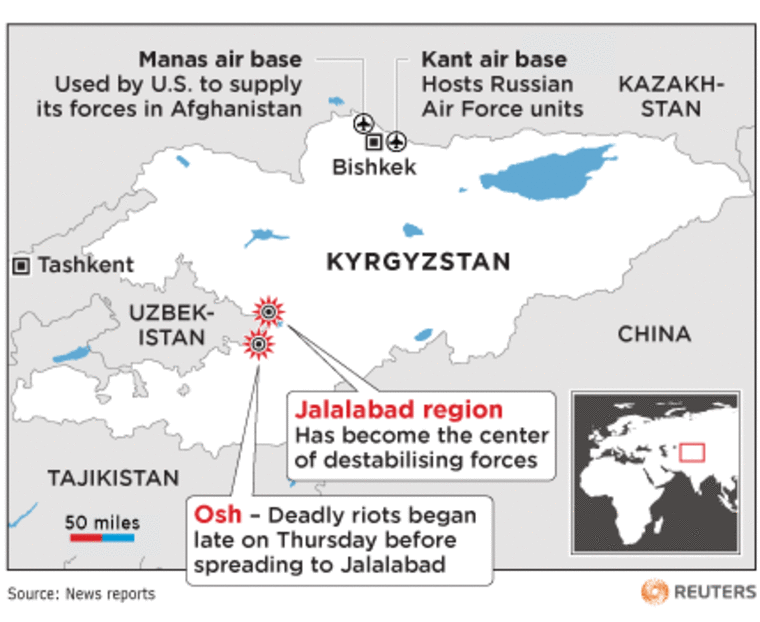 Prosecutors, who placed him on an international wanted list in May, allege that companies he owned avoided almost $80 million in taxes on aviation fuel sold to suppliers of the U.S. air base near the capital of Bishkek that is a crucial supply hub for the coalition fighting the Taliban in Afghanistan.
The violent protests that led to President Bakiyev's ouster were fed by anger over corruption permeating his extended family, which grew wealthy and powerful under his rule. The new government has been under pressure to bring them to justice.
'Well-known person' stoking violence
The government said earlier it had arrested a "well-known person" suspected of stoking the violence, but gave no other details. Suspects from Tajikistan, Afghanistan and Kyrgyzstan were also detained and claimed to have been hired by Bakiyev supporters, government spokesman Farid Niyazov said.
The new leaders had hoped to seal their political and democratic credentials with the referendum, but the likelihood of that vote taking place looked slim.
From self-imposed exile in Belarus, Bakiyev has denied any role in the violence. Speaking to reporters Monday, he again blamed the interim government for not preventing the rioting and called on the Moscow-dominated Collective Security Treaty Organization to send in troops. The new Kyrgyz government asked Russia to send troops, but the Kremlin turned down the request.
Representatives of the CSTO, which includes Kyrgyzstan, met in Moscow and agreed to offer aid to Kyrgyz law enforcement agencies, Russian news agencies said. The aid could include helicopters, military vehicles and fuel, the Russian general secretary of the organization was quoted as telling President Dmitry Medvedev. The reports made no mention of sending troops.
Jallahitdin Jalilatdinov, who heads the Uzbek National Center, told The Associated Press that at least 100,000 Uzbeks were awaiting entry into Uzbekistan, while another 80,000 had crossed the border. The Uzbek government said 45,000 had already been registered.
The refugees were in about 30 camps, said Pascale Meige Wagner, head of operations in Central Asia and Europe for the International Committee of the Red Cross. "The conditions are very difficult," she said in a statement. "The authorities were prepared for about 20,000 to 30,000 coming in, but we are far above this figure."
The ICRC said one of its aid workers visited five refugee camps in the eastern Uzbekistan city of Andijan on Sunday and saw about 40 men with gunshot wounds.
'This is a very dangerous situation'
Khadicha, wearing a Muslim headscarf and a traditional long dress, was among 400 refugees caught in no-man's land near the Uzbek village of Jalal-Kuduk. She carried only a small purse with her documents.
U.N. High Commissioner for Human Rights Navi Pillay expressed alarm at the violence and urged authorities to protect all citizens.
"It seems indiscriminate killings, including of children, and rapes have been taking place on the basis of ethnicity," Pillay said in a statement.
"This is a very dangerous situation, given the ethnic patchwork in this part of Kyrgyzstan, as well as in neighboring areas of Uzbekistan," she said. "It has been known for many years that this region is a potential tinder box, and for that reason it is essential that the authorities act firmly to halt the fighting — which appears to be orchestrated, targeted and well-planned — before it spreads further inside Kyrgyzstan or even across the border into neighboring countries."
The fertile Ferghana Valley, where Osh and Jalal-Abad are located, once belonged to a single feudal lord, but was divided by Soviet dictator Josef Stalin among Uzbekistan, Kyrgyzstan and Tajikistan, rekindling old rivalries.
In June 1990, hundreds were killed in a land dispute between Kyrgyz and Uzbeks in Osh, Kyrgyzstan's second-largest city, and only the quick deployment of Soviet troops quelled the fighting. A year later, the Soviet Union collapsed, and new tensions rose between Uzbekistan and Kyrgyzstan over distribution of water for irrigation, natural gas and electricity.
The influx of refugees to the Uzbek part of the Ferghana Valley could worsen high unemployment and poverty in the overpopulated region.
'There is nothing to fear'
Uzbeks make up 15 percent of Kyrgyzstan's 5 million people and are generally better off economically, but they have few representatives in power and have pushed for broader political and cultural rights. Both ethnic groups are predominantly Sunni Muslim.
Few police or troops were seen on the streets of Osh, a city of 250,000. In the Anoshin neighborhood, a unit from the national police academy was working with representatives of the Uzbek and Kyrgyz communities to restore calm.
"I'm telling all the Uzbeks there is nothing to fear," Kyrgyz representative Orunbai Suleimanov told AP Television News. "I'm not going to touch anyone even with my finger and the others will behave like this as well."
Food and water were scarce after armed looters smashed stores, stealing everything from TVs to food. Cars stolen from ethnic Uzbeks raced around the city, most crowded with young Kyrgyz wielding sharpened sticks, axes and metal rods.
In the mainly Uzbek district of Aravanskoe, an area of shops and restaurants, whole streets were burned to the ground. In one smoldering building, an AP photographer saw three charred bodies.
Hundreds gathered at Osh's central square to get on buses for the airport. Gunmen have made the road from the city to the airport too dangerous to tackle alone.
Osh Police Chief Kursan Asanov told AP that 950 foreigners — mostly Russians, Pakistanis, Indians and Africans — have been evacuated since disturbances began, as well as Uzbek and Kyrgyz residents.
Mosque converted into hospital
In the village of Sura-Tash, ethnic Uzbeks converted a mosque into a makeshift hospital. Health workers treated anyone who came in with wounds from beatings or ordinary conditions such as heat exhaustion and diabetes. Vodka was used to sterilize medical equipment and powdered plaster was melted down to use as casts for broken limbs.
Some Uzbeks said the Kyrgyz attackers seemed to have the support of the military.
"Many people have died, snipers fired from more than one kilometer away, and organized gangs followed the military as they drove in with armored personnel carriers," said Lutsalla Khakimov, a doctor working at the mosque. "This was organized, they wanted to start a war."
As the clashes continued, desperately needed aid began trickling into the south. Several planes arrived at Osh's airport with tons of medical supplies from the World Health Organization. Trucks carried supplies into the city with an armed escort. The ICRC said one planeload of medical supplies had been flown to Osh and 12 more would be arriving in coming days.
The U.S. had a shipment of tents, cots and medical supplies ready to fly to Osh from its Manas air base in Bishkek, the U.S. Embassy said. The air base said it had also gathered food and fuel that would be delivered to Osh.
The State Department said the U.S. has committed $600,000 in immediate humanitarian assistance and identified an additional $200,000 in medical and emergency supplies that will be distributed.