/ Source: The Associated Press
New England ports see a bright spot on the horizon as they prepare for what they expect will be a record number of cruise ships during the tourism season this year.
New England and eastern Canada have been growing in popularity among cruise lines, and this year could be the busiest yet with passengers who are drawn to the region's beauty, culture and history.
Maine ports are expecting 335 cruise ship calls this year, up from 281 last year. Ports in the Canadian Maritimes and in Newfoundland are projecting 467 calls, 84 more than in 2009. Boston is anticipating a record 300,000-plus cruise ship passengers to pass through its port.
"The last two or three years we've really spiked," said Charlie Phippen, harbor master in Maine's Bar Harbor, which expects 119 cruise ship visits, compared to 39 the year Phippen started his job 11 years ago. "This has gotten to be a well-established cruise ship region."
The cruise line industry has been growing worldwide for decades, from under 4 million passengers in 1990 to more than 13 million in 2008, according to the Cruise Lines International Association Inc. The Caribbean is the top destination by far, followed by the Mediterranean, Europe and Alaska.
Success is measured in "bed days," the number of days passengers are aboard a ship, and those have been relatively flat or down in recent years in the Caribbean, Alaska, western Mexico and Hawaii.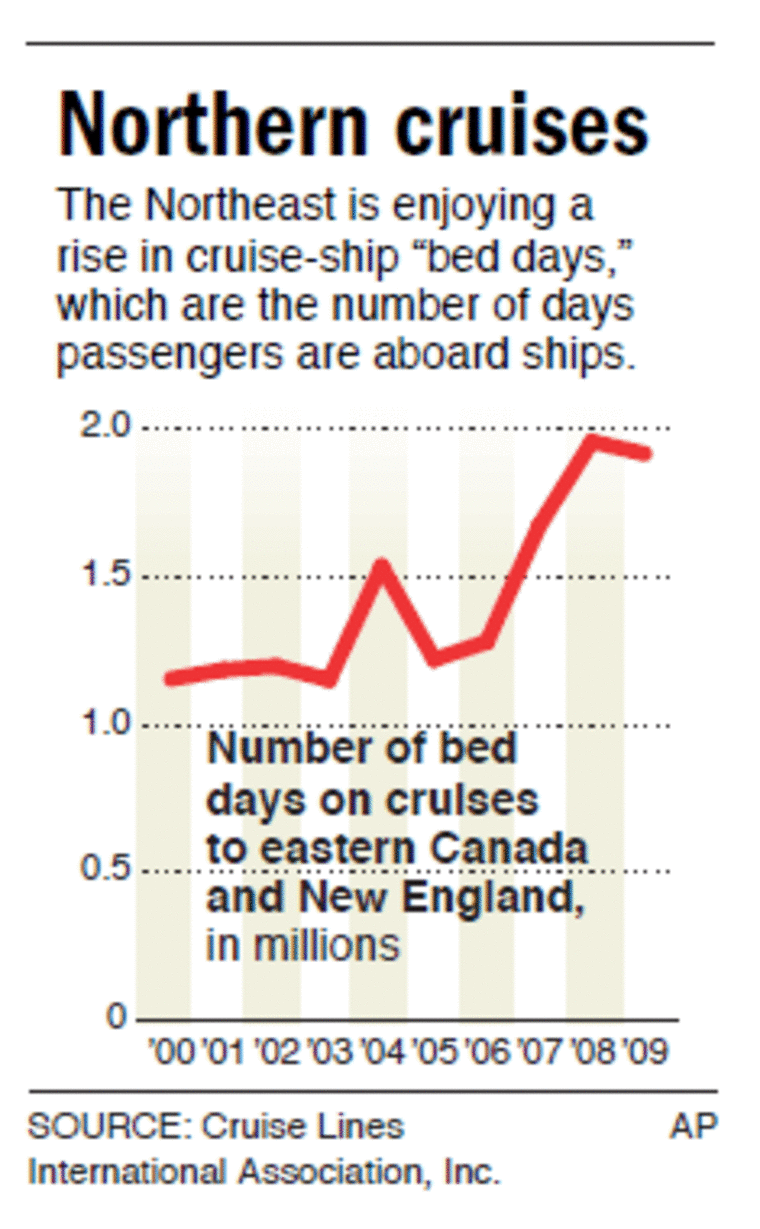 At the same time, the number of bed days on cruises in the New England-Maritimes region has jumped 60 percent, from 1.17 million in 2005 to 1.87 million in 2009, according to the association.
The region still represents a small slice of the overall industry. By comparison, passengers in 2009 spent about 31 million bed days on cruises in the Caribbean, 17 million in the Mediterranean and nearly 7 million in Alaska, the cruise line organization says. Still, New England-Canada over time has made a name for itself as a popular cruise destination.
Karen Laverdiere of Acworth, Ga., has gone on Caribbean cruises for years, but she and her husband decided on a New England cruise last October for a change. Their Princess Cruises ship sailed from New York and made stops in Maine, New Brunswick and Nova Scotia.
"I enjoy going to the Caribbean, but part of me wanted to see something new," Laverdiere said.
Nowadays, New England and Canadian ports receive regular visits by some of the world's largest cruise ships — 1,000 feet long with more than 3,000 passengers — from the largest cruise line companies, such as Royal Caribbean and Carnival.
Many of the large ships begin their journeys in New York — and Boston to a lesser extent — and visit ports in Maine, New Brunswick, Nova Scotia, Newfoundland and Prince Edward Island. Some make their way down the St. Lawrence Seaway to Quebec City and Montreal.
Cruise ship companies have been expanding their fleets, allowing them to send more vessels to New England, said Amy Powers of CruiseMaineUSA. Perhaps more important, cruise ship terminals have been expanded and improved in New York and Boston.
New York City recently invested $250 million to expand and upgrade its Manhattan cruise ship terminal and to build a new one in Brooklyn. Boston has spent millions to upgrade its port terminal.
The improvements in New York have drawn cruise ships and passengers from the Northeast who can drive there to embark on a New England cruise, saving on airfare they'd have to spend to take a cruise elsewhere.
"There's a giant market waiting to be tapped without the cost and inconvenience of air travel," said Bob Sharak, executive vice president of marketing for Cruise Lines International Association.
New York anticipates 195 cruise ship calls at its Manhattan terminals this year, up from 135 last year, said Thomas Spina, the city's director of cruise operations. The number is expected to grow to more than 225 next year.
"The New England-Canada market is a large part of that growth," Spina said.
September and October remain the peak months for cruise ship trips, but more ships are now showing up in the region in July and August and earlier. Holland America Line wants to send a ship, the 720-foot Maasdam, to Bar Harbor in April, the earliest a cruise ship has ever visited.
And passengers are spending money when they come ashore, benefiting local businesses.
An economic impact study has shown that cruise passengers spend $80 to $110 each when their ships stop in Portland, said city spokeswoman Nicole Clegg. At that rate, the 75,000 passengers who visit this year are expected to give a $6 million to $9 million boost to the economy.