"Crisis," suggests Chrysler CEO Sergio Marchionne, "can bring the best out of a company and its people." Or so he'd better hope.
In recent years, Chrysler has lurched from one crisis to another, culminating in its 2009 declaration of bankruptcy. Now, a year after its emergence from Chapter 11 protection, the smallest of the Big Three makers remains a company on life support.
But there are signs that Chrysler is beginning to breathe on its own once again. Sales took an unexpected upturn in the last two months, and the automaker reported an equally unanticipated first-quarter operating profit. With a critical product development program just beginning to get underway — the imminent launch of the 2011 Jeep Grand Cherokee — Chrysler is hiring again, after years of slashing its work force to what many observers described as an unsustainable level.
"Rather than yield to pessimism, our organization has moved forward with a renewed sense of purpose to succeed. Through hard work and tough choices, we made significant progress during the past 365 days," proclaimed Marchionne, in a letter to Chrysler employees sent a few days ago to mark the anniversary of the company's emergence from bankruptcy.
Despite the Italian executive's confidence, though, Chrysler has plenty of challenges,  including the need to reimburse the U.S. Treasury for the billions of dollars invested in the automaker as part of its post-bankruptcy bailout last year.
The launch of the Grand Cherokee underscores the challenges the maker faces. The original version of the sport-utility vehicle transformed the American automotive market, kicking off the light truck boom of the 1990s and positioning Jeep as the dictionary definition of an SUV. But in recent years, a series of Jeep offerings have largely failed to generate much enthusiasm, or sales, a problem faced by virtually every Chrysler product introduced since mid-decade.
Since taking control of Chrysler last year, the Italian automaker Fiat — also chaired by Marchionne — promised a massive product redevelopment effort. The spigot will open slowly, however.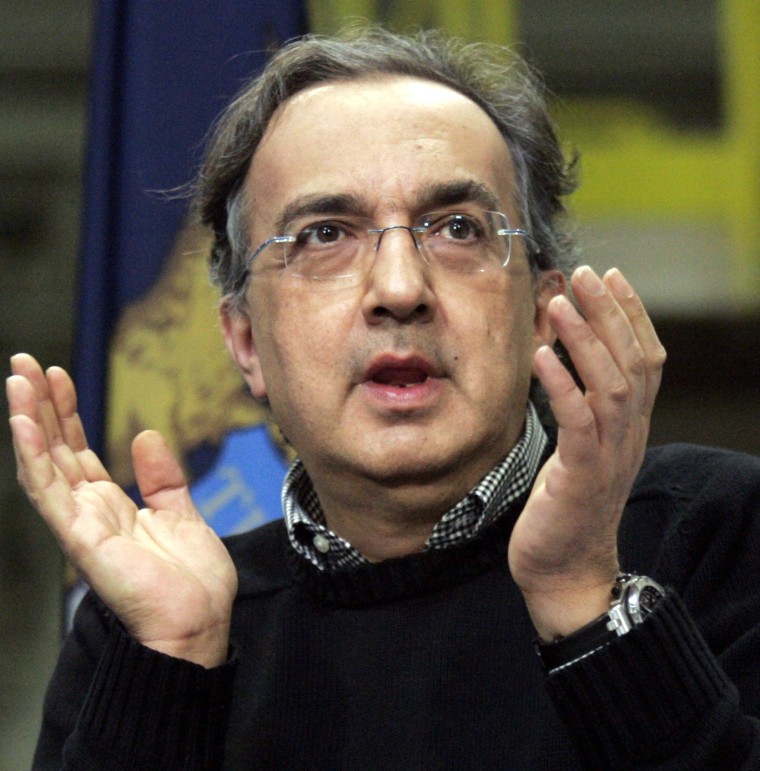 The 2011 Grand Cherokee is the only major launch of this year, with potential buyers having to wait until 2012 and even 2013 before the trickle turns into a real flow of offerings enhanced by the partnership with Fiat.
Nonetheless, Grand Cherokee could give Chrysler a much-needed boost, and Marchionne and company are counting on it. The maker announced plans to hire or bring back 1,100 workers to expand production at the Jeep assembly plant a few miles outside downtown Detroit.
Chrysler also plans to create another 1,600 jobs in product development, including some senior positions, such as head of powertrain development. That underscores the complaint made by one top staffer who lamented earlier this year, "We don't have the resources to develop the products we need, even if we rely on help from Fiat." The executive asked not to be identified by name.
Even with the new additions, though, Chrysler is a shadow of its former self, as a walk through its sprawling headquarters and product development center in the Detroit suburb of Auburn Hills, Mich., reveals. The once pulsing complex isn't quite a ghost town, but it doesn't take long to realize just how many offices are now empty. Worldwide, Chrysler's total employment stood at 49,034 at the end of March, down from 82,284 on Dec. 31, 2006.
Even if Chrysler were to rebuild itself, the odds are that it will be significantly downsized going forward, stresses analyst Joe Phillippi of AutoTrends Consulting. Like its competitors, it has had to learn to do more with less, whether developing, building or marketing its products. And it now has Fiat, which is providing many of the underlying platforms that will be used in Chrysler products.
The good news is that like its cross-town rivals, the smallest domestic maker is now considered to be as lean as the best of its foreign rivals. Even in 2008, the annual Harbour Report, a measure of factory floor productivity, showed Chrysler reaching the same level of efficiency as Toyota's North American operations. The concessions it has received from the United Auto Workers Union are expected to put it well ahead of the Japanese giant in efficiency — or at least it could be, if Chrysler can boost the utilization of its assembly plants closer to capacity.
Other surveys have been less kind. Chrysler has repeatedly scored mid-level or worse when it comes to quality in recent years, It has often been scolded by the influential Consumer Reports magazine, which ranked some of its models, such as the midsize Sebring, at the bottom of its chart last year. Marchionne insists Chrysler is taking aim at such problems, and the closely-watched J.D. Power Initial Quality Survey, due out later this week, will be a significant indicator. It didn't help the automaker's reputation to announce two major recalls this month.
As part of the five-year plan Marchionne outlined last November, the entire Chrysler product line-up will be updated or completely replaced, and the maker will even push into new segments with models like the American version of the Fiat 500 microcar.
In his annual "Car Wars" survey and forecast, Bank America Merrill Lynch auto analyst John Murphy predicts Chrysler's share will continue to slide — dropping 2 percentage points, to just 6.9 percent of the American market by 2013. That's barely half Chrysler's peak during the last decade.
Chrysler could make up those losses if Marchionne succeeds with his plan to grow the maker abroad, where it has long struggled to even reach annual volumes of 250,000. A central element of that strategy is to pair Chrysler with Fiat's Lancia and Alfa Romeo brands, and to tap Fiat's large global distribution network, especially in regions like Europe and Latin America.
Even a smaller Chrysler could be a financially stronger company, analysts concur, and the automaker's most recent figures suggest that is happening as it reaps the benefits of its bankruptcy-led weight loss. In his letter to employees, Marchionne noted Chrysler's $143 million first-quarter operating profit, which he credited to such things as "price discipline (and) reduced costs."
Nonetheless, he conceded, there is "a very long road ahead in our drive to rebuild our business." Most observers believe Chrysler's planned public stock offering is even further down that road than General Motors, which went through its own bankruptcy last year.
The launch of the Jeep Grand Cherokee will be the first real opportunity for Chrysler to show it's on the way back. Whether buyers believe it will be the real test.