/ Source: The Associated Press
Soldiers battled gunmen for nearly an hour Tuesday on the outskirts of the popular tourist town of Taxco, killing 15 suspects as escalating bloodshed puts June in line to become the deadliest month yet in Mexico's drug war.
Troops investigating suspicious activity came under fire from gunmen holed up in a house, the Defense Department said. It said no soldiers were hurt in the 40-minute shootout. Twenty guns and two homemade explosives were recovered, it added.
The battle in Guerrero state came one day after 12 federal police officers were killed in an ambush in neighboring Michoacan state, a stronghold of drug activity. It was unclear if the two shootouts were related.
Taxco police, who spoke on condition of anonymity for security reasons, told The Associated Press that the men killed Tuesday were suspected of being tied to Edgar Valdez Villarreal, a reputed U.S.-born capo known as "La Barbie." Mexican security forces have detained several alleged Valdez henchmen recently.
The shootout in Michoacan was blamed on La Familia, a different cartel from the one Valdez allegedly leads.
City becomes a battleground
Taxco, popular with foreign visitors because of its colonial architecture and more than 2,000 silver shops, has increasingly been the scene of cartel turf battles. Two weeks ago, authorities discovered 55 bodies in an abandoned Taxco silver mine that was being used as a dumping ground for apparent victims of drug violence.
With a recent surge in drug-related violence, President Felipe Calderon posted an impassioned Internet essay this week defending his strategy for confronting the cartels. He vowed that the thousands of troops and federal police battling cartels will not back down.
On Tuesday, his government announced some of its toughest restrictions ever on dollar cash transactions to fight money laundering that fuels drug traffickers.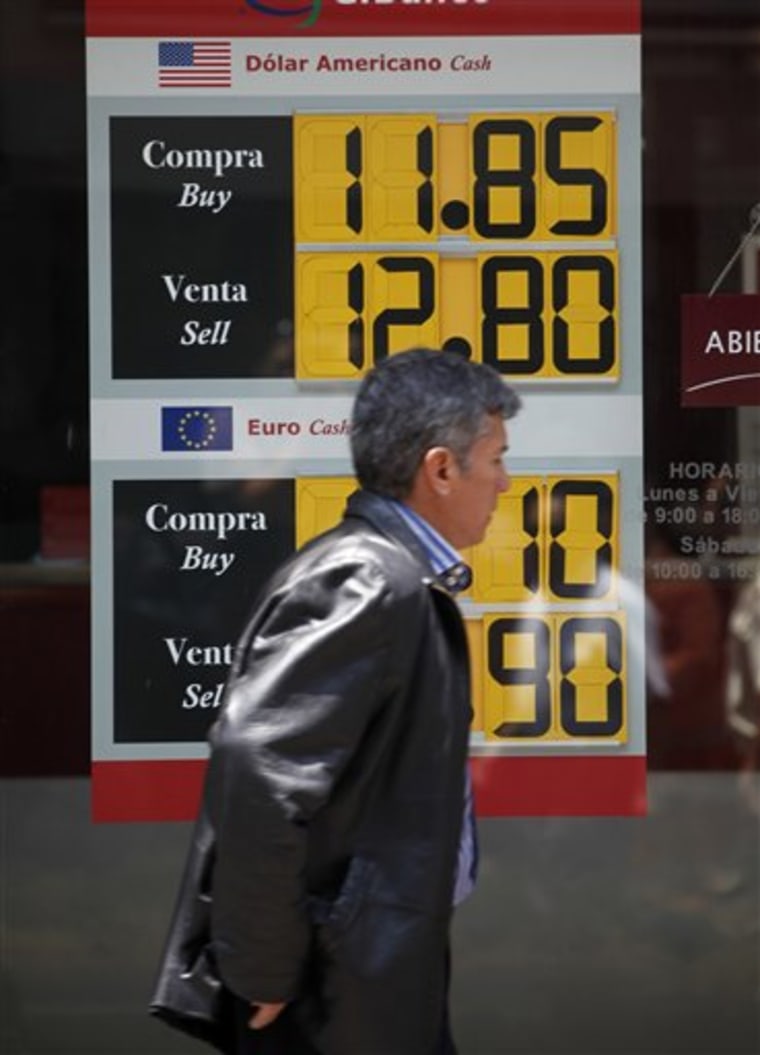 Tourists and Mexicans without bank accounts will be limited to exchanging a maximum of $1,500 for pesos each month under the new rules, Finance Secretary Ernesto Cordero said. The measure is meant to help stem the flood of about $10 billion a year in suspicious cash flows possibly linked to drug trafficking.
The influx of suspect U.S. dollars has also apparently contaminated legitimate Mexican businesses, according to the banking industry.
"The problem is in the formal, legal economy, where we have seen an unusual increase in transactions carried out in dollars," Luis Robles, vice president of the Mexican Association of Banks, said at a news conference.
In recent years, banks have seen an excess of about $10 billion in dollar deposits and transactions that cannot be explained by normal business activity, he said.
The bank association said tourists would not be inconvenienced by the measure because most use debit or credit cards for most purchases. Mexicans working abroad now use electronic transfers for 96 percent of the money they send home, it said.
There will be no restrictions on people using pesos to buy dollars.
Finance secretary: More measures ahead
The last time Mexico imposed strict restrictions on dollars was during the 1982 financial crisis, when it imposed exchange rates, transaction restrictions and froze some dollar accounts.
Cordero, the finance secretary, said Mexico plans other initiatives for the future, such as making it harder to use cash in large transactions such as the purchase of cars and houses.
"Measures will be put in place to restrict and regulate many of the sales transactions that are carried out, not just in dollars but also in pesos, for things like real estate," Cordero said. "This is a very important step."
The billions in suspect dollars have bought the heavy weaponry that drug gangs are using in attacks on police, such as the ambush Monday that killed 12 officers in Michoacan.
Federal police anti-drug chief Ramon Pequeno blamed the attack on the Michoacan-based La Familia, a cartel that has become notorious for bold assaults on federal security forces. Police described the attack as a planned ambush in which cartel gunmen blocked a road with a bus and opened fire on a police convoy with assault rifles.
Also Monday, gunmen killed three federal officers in the northern city of Chihuahua, and inmates at a prison in northern Sinaloa state used guns apparently smuggled inside to kill 21 prisoners in what officials said appeared to be a dispute between gangs. At least eight more inmates were later stabbed to death in apparent reprisals at the same prison.
The dozens of deaths on Monday and Tuesday followed a particularly bloody pair of weeks. Last week, gunmen killed 16 people in one day in the northern city of Ciudad Madero, and attackers burst into a drug rehab center in Chihuahua and shot 19 men to death.
Drug violence has killed more than 22,700 people since late 2006, when Calderon took office. Mexican officials attribute much of the bloodshed to turf battles between drug cartels, but the gangs are increasingly turning to attacks on police and prosecutors.