/ Source: The Associated Press
Nevada Senate nominee Sharron Angle, a tea party favorite who describes herself as a conservative's conservative, left the Republican Party at the height of the Reagan revolution and became a Democrat for at least several years, government records show.
Documents on file with the Humboldt County, Nev., clerk's office show Angle was a registered Republican until June 1984, when she changed her party registration. According to the records, she remained a Democrat at least until March 1988, when she moved from Winnemucca to Tonopah, another rural community in Nye County.
Angle has given no hint of her Democratic past on the campaign trail. She invoked President Ronald Reagan's name on the night she captured the GOP nomination to challenge Senate Majority Leader Harry Reid, and been a relentless critic of the Obama administration.
Campaign spokesman Jerry Stacy said Angle switched parties to work for a conservative Democrat who was running for state Senate. He said Angle voted for Reagan in 1980 and 1984.
"She's always been conservative," Stacy said. "She switched parties to help run the (Democrat's) campaign."
Angle has vaulted to prominence on an agenda that calls for lower taxes and smaller government. She has called for phasing out Social Security, eliminating the Education Department and repealing the 16th Amendment that established the federal income tax.
"While Harry Reid is busy tearing down Sharron Angle, the Republican Party is proud to have her as our nominee," Republican National Committee spokesman Jahan Wilcox said in a statement.
Nevada registration records show that Angle was a member of three, and possibly four, political parties since the 1970s and she might have left the GOP for more than a decade.
In Angle's home county of Washoe, registrar Daniel Burk said she registered in February 1996 as a member of the conservative Independent American Party. About a year later, in March 1997, she changed her party affiliation to Republican.
According to its website, the Independent American Party was founded in 1967 by former Republican activist Daniel M. Hansen, who believed the GOP was growing "too corrupt and socialistic."
The party supports limited government and traditional values, and its platform calls for ending the Internal Revenue Service, cutting taxes and regulation and renegotiating the North American Free Trade Agreement.
Janine Hansen, a sister of the founder who sits on the party's national committee, said Angle was a member in the 1990s. Later, when Angle was a legislator, Hansen said she worked with her on education and tax issues.
"We believe in limited constitutional government, just like she does," Hansen said.
In 1994, when Angle was living in Tonopah in Nye County, she was registered as a member of the Independent Party, the clerk's office said. But officials there cautioned that the records might be incomplete.
Angle was in Washington on Tuesday, where she courted Republican lawmakers and left it to them to answer for her.
Angle, who shocked the Republican establishment in a come-from-behind primary victory last week, joined GOP senators at their weekly luncheon, part of a Washington trip that included sessions with leading conservatives. She rushed out without answering questions from some two dozen reporters who followed her as she exited the Capitol to a waiting car.
"She just said she was going to work hard and was looking forward to the opportunity," said Sen. Johnny Isakson, R-Ga., who described her as articulate during a brief exchange at the closed-door luncheon.
Since she captured the Senate nomination, Democrats have worked overtime to portray Angle as too far out of the mainstream to defeat the four-term Reid.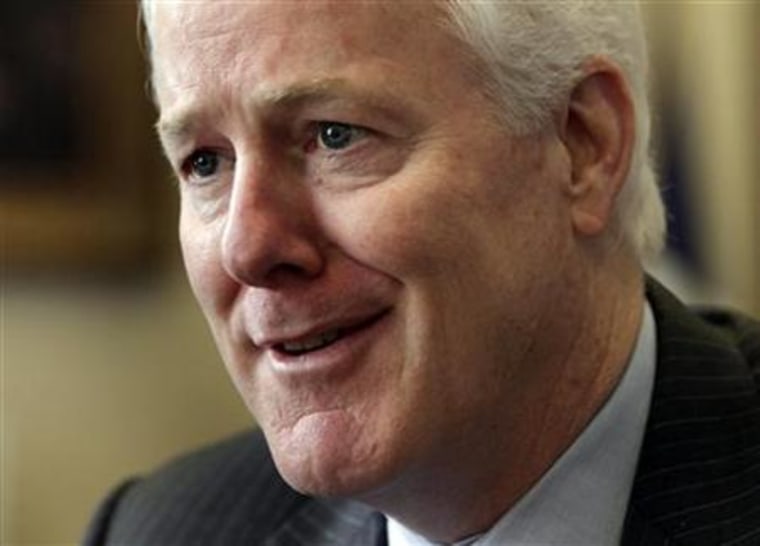 Sen. John Cornyn, the chairman of the National Republican Senatorial Committee, said Democrats are trying to create doubts about Angle and shift the attention from Reid.
"If you've got an approval rating like Harry Reid, of course you're going to try and change the focus, but this is really a referendum on Senator Reid," Cornyn said.
National Republicans are promising to help bankroll her campaign. Reid is on track to raise $25 million to defend his seat, and Angle's campaign banked $1.2 million through mid-May, the most recent figures available.
Her campaign said she has raised more than $700,000 in online donations alone since the primary. She hired Indiana-based Prosper Group Corp., the online fundraisers who helped Massachusetts Sen. Scott Brown raise $12 million over the Internet.
In a boost for Angle, a political committee advised by President George W. Bush's former political adviser, Karl Rove, is running an ad statewide that blames Reid for backing the costly stimulus plan while 180,000 Nevadans remain jobless.
Angle has said repeatedly she supports phasing out Social Security over time, calling it "a broken system without much to recommend it." She has not offered a detailed plan but said seniors now collecting benefits would not be cut off. Younger workers would be shifted to private retirement accounts, an idea similar to what former President George W. Bush proposed six years ago, only to see it flop.
On Monday, Angle appeared to backpedal. Asked by Fox News Channel's Sean Hannity about criticism that she wanted to phase out Social Security, Angle said, "It's nonsense."
"I want to save Medicare and Social Security," Angle said, according to a transcript of the program. "What we need is to make our senior citizens feel secure once more with their own Social Security and Medicare. But going forward, we need to personalize that program in a way that the government can't go in and raid it anymore."