/ Source: The Associated Press
A private researcher who has labored for years to identify the remains of U.S. service members declared missing in action during World War II says he has matched seven MIAs with the remains of unknowns and he expects to match as many as 19 more within a week.
Ted Darcy's list of five Marines and two sailors missing since the 1944 Battle of Saipan may not sound long. But his announcement Tuesday — the 66th anniversary of the battle's opening day — was remarkable, considering the military's average of confirming 72 such matches annually from all U.S. wars.
Darcy, a retired Marine Corps gunnery sergeant from Fall River, Mass., has helped bring home three WWII MIAs since 1991 from burial sites in the Philippines, Hawaii and Newport, R.I. Now he is accelerating his work using computerized databases filled with information he painstakingly entered from two sets of government documents: those containing physical descriptions of MIAs and those containing autopsies of slain service members buried as unknowns.
He hands over his findings to the military, which then tries to verify his work.
It sounds simple, but the identifications are the fruit of 20 years' labor by Darcy, who says he's determined to bring home thousands of missing WWII fighters.
"If I can bring home 4,500 American MIAs, I'll be a happy camper," he said in a recent interview at the Washington National Records Center, a federal repository in Suitland, just east of the nation's capital.
Soft-spoken, with a thatch of curly, salt-and-pepper hair, Darcy, 59, runs a business, WFI Research Group, that digs up details of decades-old battles for other WWII researchers at $50 an hour. But he doesn't charge MIAs' families to find their loved ones, usually buried anonymously in distant cemeteries under white marble crosses inscribed, "Here rests in honored glory a comrade in arms known but to God."
The Associated Press isn't naming those identified by Darcy unless they have been officially confirmed.
There are nearly 88,000 American MIAs, including 78,000 from WWII, according to the Pentagon's Defense Prisoner of War-Missing Personnel Office. Darcy says he has located the remains of nearly 9,000 unidentified WWII fighters, and he hopes to put names to at least half of them.
He forwards his findings to the military's Joint POW/MIA Accounting Command, or JPAC, at Hickam Air Force Base, Hawaii. The unit, charged with recovering the remains of missing service members, includes forensic anthropologists, archaeologists and other experts who scientifically verify the identities of those they find themselves or locate through information provided by others.
The process can include DNA analysis — something Darcy doesn't do — and can take months or years, said Maj. Ramon Osorio, of JPAC.
The military appreciates tips from people like Darcy, said Larry Greer, spokesman for the Pentagon's POW-MIA office.
"It's not always correct, but that's OK," Greer said. "We don't want to turn our back on an occasional hit or two that might give us a leg up on zeroing in on a particular case."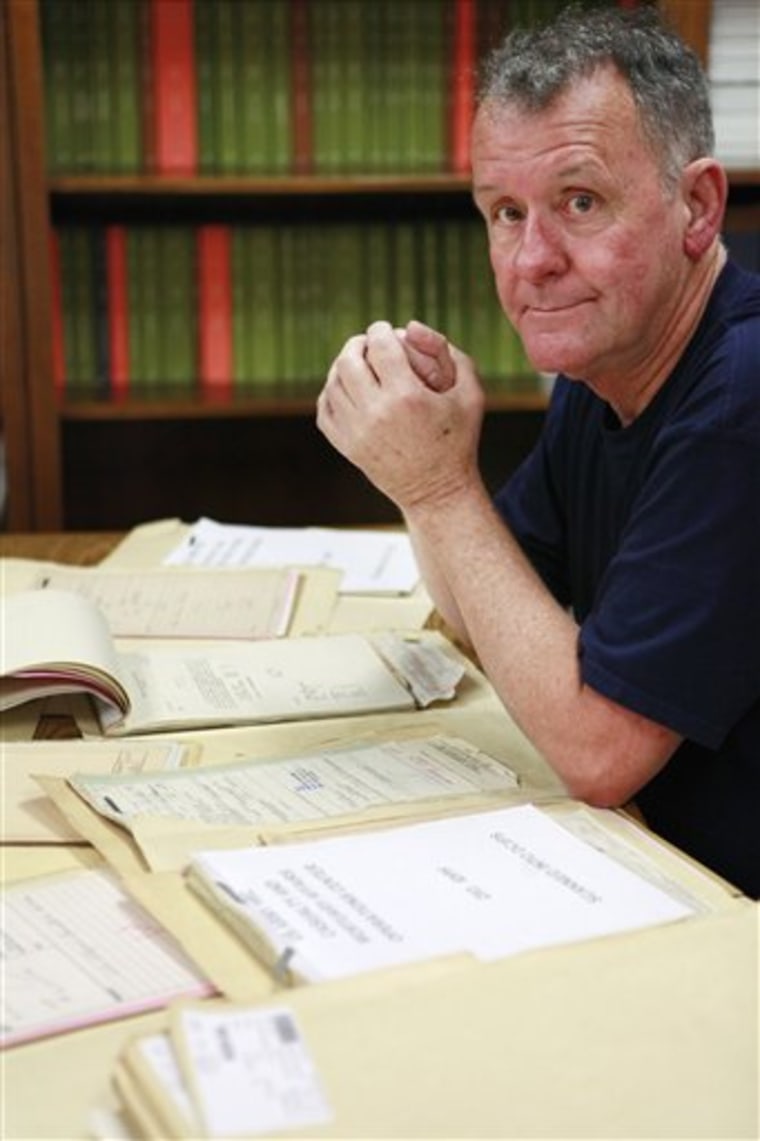 Darcy, impatient with bureaucracy and what he perceives as military indifference to WWII cases, aims to put more cases in the pipeline. The Battle of Saipan is the first test of his computer-matching abilities. With 70 unknowns and 141 MIAs, it is among the smallest of 29 battles he plans to analyze.
He began with Saipan because he had already gathered information about the battle while working to successfully identify Lt. Woodie Lackland McVay Jr., a Navy pilot from Mobile, Ala., who was shot down over the Pacific island on Feb. 22, 1944. The military verified the match in May 2009, nearly three years after Darcy first contacted McVay's family.
Darcy looks to match details such as race, dental records, shoe size, height, weight, broken bones and even wedding-ring inscriptions from unidentified bodies. If 90 percent of the factors match, he contacts the subject's family members to gather more details.
As he closed in on McVay's case, Darcy had matched every detail but one: a discrepancy in the dental records. The pilot's MIA file showed him missing an upper right tooth in the sixth position. The autopsy of his suspected remains showed a neighboring tooth missing. Darcy said he showed the records to a forensic dentist who determined from an arcane notation that one of the neighboring teeth had drifted toward the gap and been misnumbered by a technician.
"It was one of those little quirky things that had to be worked out," Darcy said.
McVay's granddaughter Elizabeth Huff helped Darcy with some of the details. She said she sometimes wondered during the process whether finding out what happened to McVay was worth the pain she knew it was causing his remarried, 89-year-old widow to recall details about her first husband.
"But when my grandfather's body came off the plane at Pensacola, she whisked right past me, rushed right up to the coffin and patted it up and down. I knew right away I had done the right thing," Huff said.