/ Source: The Associated Press
Lebanon has been conquered and colonized many times over in the last three millennia. Among the famous invaders: Alexander the Great, Babylonian king Nebuchadnezzar and the Muslim warrior Saladin.
Others include Persians, Romans, Egyptians, Christian Crusaders, Ottoman Turks, the French and English in World War I and, more recently, Israelis. Lebanon's rival Christians and Muslims also upset the peace, most notably in the 1975-90 civil war.
Many invaders left monuments and other remnants of their civilizations that can be visited in day trips from Lebanon's urbane capital, Beirut. You can go east to the Roman ruins at Baalbek, north to the Crusader-era Citadel of Raymond de Saint-Gilles that looms over the city of Tripoli, south to the much fought-over Beaufort fortress, or northeast to the towering Cedars of Lebanon, and be back in Beirut in time for dinner. Lebanon is a tiny country — 135 miles long and about 50 miles wide — and all of these sites are within 60 miles of Beirut.
The National Museum in Beirut is a good place to get a picture of the parade of conquerors who've marched in and out. Artifacts run from prehistoric stone tools to statuary, coins, jewelry and mosaics from the bronze and iron ages, the Greek and Roman eras, and Byzantine and Arab rule.
Jabail-Byblos, 22 miles north of Beirut on the Mediterranean coast, offers an example of how archaeological sites in Lebanon often contain layers of history as one conqueror supplanted another. Here you will find a variety of ruins from the Persian, Phoenician, Greek, Roman and Crusader eras. The sarcophagus of a king, Ahiram, who died around 1000 B.C., has an inscription in Phoenician linear script, the father of alphabets. But there are also Byzantine-era mosaics from 2,000 years later.
Another example is Beaufort Castle, 47 miles southeast of Beirut, which sits atop a cliff about 2,000 feet above sea level in southern Lebanon, commanding a view into both Israel and Syria. The Crusader king Fulk seized the fortification in 1139, Saladin took it back for the Muslims in 1189, and the Israeli army captured it from Palestinian guerrillas in 1982.
A massive complex of Roman ruins at Baalbek, near the Syrian border, is just 55 miles east of Beirut, but getting there takes about two hours on a zigzag road over a mountain range and across the Bekaa Valley.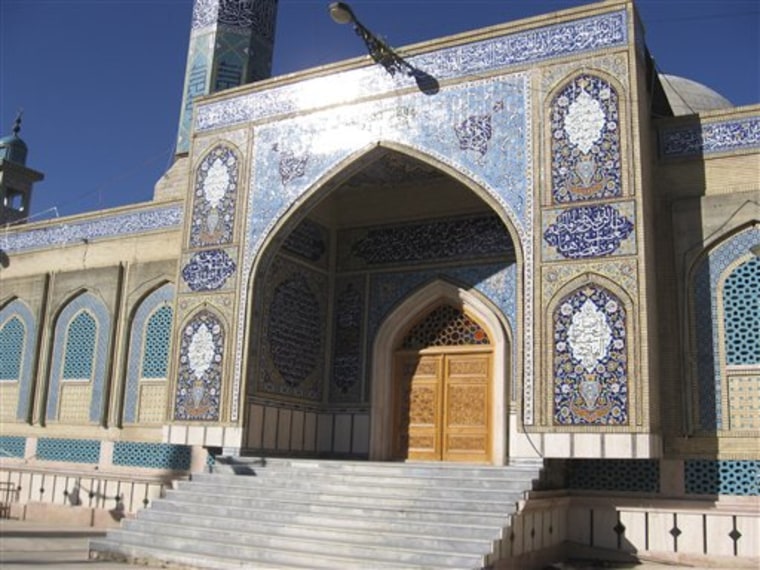 Once you arrive, a monumental staircase leads to two courtyards, one of them hexagonal. Another set of steps takes you to the Temple of Jupiter, whose six remaining columns (there were once 54) are said to be the world's largest — 65 1/2 feet high and more than eight feet in diameter.
Next door is the Temple of Venus, also called the Temple of Bacchus, the god of wine, because of the vine leaf motif on some wall carvings. It is one of the world's most complete remaining Roman temples. One of its famous features is the keystone at its entrance — which slipped two yards below the adjacent doorway stones during a 1759 earthquake.
The 19th-century explorer Sir Richard Burton ordered a brick structure built under the keystone to keep it from falling when he was Britain's consul in the Syrian capital Damascus. In 1901, a German archaeological mission managed to raise up the keystone, though it still seems to sit precariously between the doorway stones on either side.
The complex was built mostly in the second and third centuries, but it was a place of worship earlier under the Romans and Greeks and later under Byzantine Christians and Arab Muslims.
Here, Phoenicians worshipped the god El, his son Baal-Haddad — Baalbek means the lord of the Bekaa Valley — and the fertility goddess Astarte. The Greeks replaced those with their equivalents, Zeus, Hermes and Aphrodite, and the Romans in turn with Jupiter, Mercury and Venus.
The Byzantine emperor Theodosius later tore down part of the Temple of Jupiter, using the materials to build a church honoring St. Barbara in the Great Courtyard. Muslim rulers turned the site into a fortress with towers and defensive walls.
Some temple columns were quarried at Aswan in southern Egypt, barged along the Nile River and Mediterranean, then dragged by slaves over the mountains. During Byzantine rule, eight rose-red columns from Baalbek were shipped to Constantinople, now Istanbul, to be used in building the famous church of Hagia Sophia.
Hassan Zaim, a guide at Baalbek, described how various conquerors destroyed the work of previous rulers to put their own stamp on the temples, comparing this to struggles among religious sects and militias in modern Lebanon.
"It's all power and money. The man is the man," Zaim said.
Signs of political competition among Lebanon's sects can even be found on the road outside the temples. The main party here, the Shiite Muslim Hezbollah movement, has decked out lampposts with yellow banners showing the party symbol: Allah in Arabic script with an image of an AK-47 rifle.
The same symbol was seen on a T-shirt sold by a peddler who approached one of Zaim's tour groups. He had the shirt in one hand, and coins in the other.
"Ancient coins?" he asked. "Hezbollah T-shirt?"
Back in Beirut, conflicts and contrasts between old and new are evident as well.
Women's dress ranges from the briefest of miniskirts to full Muslim regalia in which all is covered but the eyes. And with its Christian heritage, Lebanon produces wine and a licorice-flavored alcohol called arak that can be sampled while partaking in Beirut's famously frenzied nightlife. Arabs from staid neighboring countries often criticize Lebanon for its sinful ways while less publicly enjoying its pleasures.
Beirut is also undergoing a massive real estate development as it tries to regain its traditional role as a meeting point between the Arab and Western worlds. New hotels are springing up and parts of the old downtown have been beautifully restored or redeveloped in the prewar Ottoman and French colonial style. But a shopping mall called Beirut Souks, which sells Dior and Armani luxury goods, bears little resemblance to the Old Mideast souks, which were marketplaces known for brass, carpets and spices.
Simpler ways to experience Beirut include the coffee shops on Hamra Street, west Beirut's main drag; the views over the sea from the pine-covered campus of the American University of Beirut; or a walk on the seaside Corniche where Lebanese gather to sip cups of thick coffee bought from roadside vendors.
But for the ancient sites, head out from the city. Anjar, 36 miles east of Beirut, offers remains of a walled city built by the Umayyad dynasty that ruled the Muslim world from the Syrian capital Damascus in the seventh and eighth centuries.
Beiteddine, 30 miles southeast, is a palace complex in the Chouf Mountains, built in 18th and 19th centuries. Sidon, 25 miles south, is a coastal city with two Crusader castles, ruins of a Phoenician temple, a Great Mosque converted from a Crusader church, and a restored 17th century "khan" or inn.
In Tripoli, 50 miles north, the hilltop Citadel of Raymond de Saint-Gilles contains elements from the 12th to 16th centuries. The coastal city, famous for its Arab sweets, also has historic mosques, khans, religious seminaries and bath houses.
Near Tyre, 50 miles south of Beirut, is an archaeological site with a Roman necropolis, a triumphal arch and a Hippodrome, or arena, used in the filming of the epic film "Ben Hur."
And to see one of the few remaining stands of the famous cedars of Lebanon, head 40 miles northeast, near Bcharre, a picturesque mountain village with a museum honoring the famous Lebanese-born poet Khalil Gibran.
Back in Beirut, despite the redevelopment, the center of the prewar city remains a barren lot. In Martyrs Square, a statue honors heroes executed in 1915 for fighting for independence from Ottoman Turkey. A close look at the statue reveals bullet holes from civil war battles.