Banging balls at a suburban driving range next to a freeway with work calls distracting you every five minutes sounds great, sure.
But maybe the only thing your game needs is a change of zip code. Sometimes you just need a change of scenery, a second opinion and some world-class facilities to get your game back on track.
From coast-to-coast in the United States and a few abroad, here are some golf schools worth making a trip for.
Grant Rogers and the Bandon Dunes Academy, Oregon
Thanks to the debut of Bandon Dunes on Oregon's southern coast, you don't have to go to Great Britain for pure links golf anymore. And even better news, the practice facility is better than just about any facility you'll find overseas, with a 30-acre practice center and numerous chipping and putting greens — all fescue turf — designed to practice the shots you'll need on the golf course.
Don't expect too much technical instruction. Grant Rogers, Bandon's director of instruction, takes a more mental approach. Rogers is sure to play a few holes with everyone in his schools and show them just how creative and outside-the-box you can be with hitting shots on the links. He even carries a special putter he hits off the tee, often.
Final exam: Pacific Dunes demands plenty of creativity and a mastery of playing wind shots to score well. And you'll want to steer plenty clear of the bunkers.
Academy details: Visit BandonDunesGolf.com for academy dates, or schedule your own group, private and playing lessons.

Jim McLean Golf Schools at El Camaleon Golf Club in Mexico
The newest of the Jim McLean Golf Schools in the Mexican Riviera Maya, you'll receive state-of-the-art video instruction in McLean's signature "Super Stations."
It's hosted at Mexico's only PGA Tour stop, El Camaleon Golf Club, and you'll probably be staying in the Fairmont Mayakoba, a spacious and exotic resort that will lure you into its spa in the afternoon after banging balls all day — or ease the muscles with a cool drink along the canals or beach at night.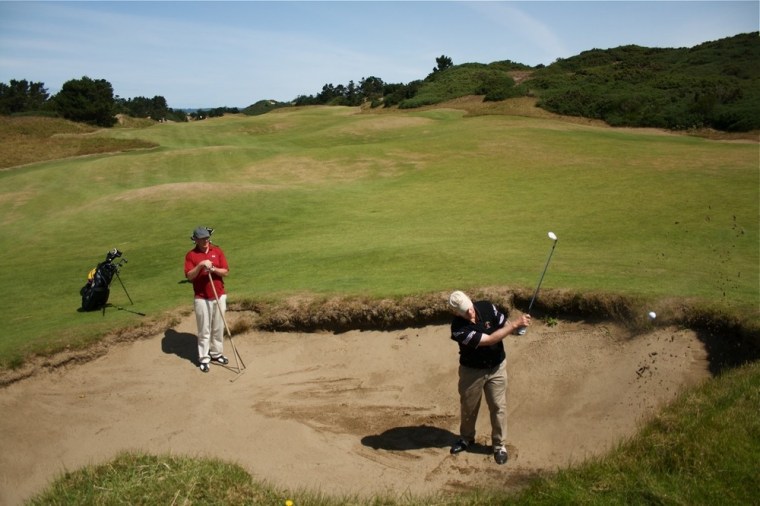 Final exam: The Riviera Maya is full of new championship golf courses, but the El Camaleon onsite, playing through dense mangrove forest amidst the coastal winds and host to Mexico's only PGA Tour event, will be your greatest challenge.
Pinehurst Resort Golf Academy
Director of Instruction Eric Alpenfels heads a team that is especially well researched in what's effective with students, and they utilize their findings at the new instruction center built in 2006 at the main Pinehurst clubhouse.
Utilizing a maximum 4-to-1 student-to-teacher ratio, they specialize in efficiency of practice over beating balls all day, and you'll also spend plenty of time on the short game, which is what Pinehurst's golf courses demand over anything else with their small, tabletop Donald Ross green complexes.
Final exam: Look no further than the course that plays right next to the academy: Pinehurst No. 2, where approach shots and short-game savvy are essential. 
Academy details: Visit Pinehurst.com for academy dates, running every weekend and other select weeks throughout the year.
St. Andrews Links Trust Academy, Scotland
St. Andrews is most known for the Old Course and six other Links Trust offerings, but its practice facilities and academies take no back seat here and usher in scores of junior and corporate academies throughout the year.
The Strathtyrum, Balgove and Himalayas putting course are ideal for beginners, while the Old, New, Jubilee and new Castle Course at St. Andrews will test anyone.
Final exam: You'll no doubt want to learn how to hook a shot on demand before teeing it up on the Old Course in St. Andrews, where the old saying goes off the tee: "Left is right, right is wrong."
Academy details: One-, three- and five-day schools are available during select dates throughout the year. Visit StAndrews.org.uk for details.
Nicklaus Academy of Golf, Finca Cortesin Resort, Costa Del Sol, Spain
At Finca Cortesin, you'll tee it up at the new Nicklaus Academy of Golf by day, followed by beaches, tapas bars and enjoying Spain's newest luxury resort, just a sniff off the Mediterranean coast.
The academy might just get lost in the shuffle at the new Finca Cortesin Resort, just a few miles up the mountain from the Mediterranean. Finca Cortesin's golf facilities are tour-worthy, hosting the Volvo Match Play Championships 2009-2011. The hotel rooms are spacious, and the spa is fit for royalty.
Final exam: Test your game out just down the road at Ryder Cup host Valderrama Golf Club, which features small greens and narrow fairways set through a dense cork forest.
Academy details: The Nicklaus Academy of Golf offers playing lessons, short game, long game and a 14-hour golf school that includes two nine-hole rounds of golf. Visit FincaCortesin.com for details.
Nicklaus Academy of Golf at DragonRidge, Las Vegas
For a taste of the Nicklaus Academy in the U.S., the Nicklaus Academy of Golf at DragonRidge in Henderson, Nev. boasts some of the most state-of-the-art teaching equipment, from club and ball fitting to 3-D swing motion analysis in the Nicklaus studios. Your golf group can use the "Create your own group" function that allows your group to receive instruction together before hitting the Vegas scene at night.
Final exam: DragonRidge Golf & Country Club is private, but once the Nicklaus Academy of Golf team has your game in shape, try your new swing on Revere Golf Club's Lexington course or Concord course.
Academy details: The Nicklaus Academy at DragonRidge offers individual instruction, playing lessons, custom club- and ball-fitting programs, specialty clinics, low student-to-teacher ratio golf schools, ladies-only programs, corporate and executive programs, and more.
Dave Simm Golf Schools at Ventana Canyon in Tucson, Ariz.
Get a crash course in Arizona desert golf at Dave Simm's golf school at Tucson's tucked-away Ventana Canyon Golf Club, while staying at the small Lodge at Ventana Canyon, right in the thick of two Fazio-designed desert courses and extensive practice facilities including a separate teaching center.
Golf schools are all catered to the size and tastes of the group, and they'll even teach you how to master the intricacies of desert golf, like how to read greens that are influenced by nearby mountain peaks.
Final exam: Once you've played Ventana Canyon's two courses, head to Ritz Carlton Golf Club at Dove Mountain, where the WGC Accenture Match Play Championships are held, and you can play a course as long and tough as there is in the Arizona desert.
Academy details: There are no set academy dates or group start times. Call and customize a stay-and-play package that includes lodging, golf, instruction and even lunch.