/ Source: a href="http://www.washingtonpost.com/wp-srv/front.htm" linktype="External" resizable="true" status="true" scrollbars="true">The Washington Post</a
The revolt of the Gizab Good Guys began with a clandestine 2 a.m. meeting. By sunrise, 15 angry villagers had set up checkpoints on the main road and captured their first prisoners. In the following hours, their ranks swelled with dozens of rifle-toting neighbors eager to join.
Gunfights erupted and a panicked request for help was sent to the nearest U.S. troops, but the residents of this mountain-ringed hamlet in southern Afghanistan held their ground. By sundown, they managed to pull off a most unusual feat: They kicked out the Taliban.
"We had enough of their oppression," Lalay, the one-named shopkeeper who organized the uprising, said in recounting the late April battle. "So we decided to fight back."
U.S. diplomats and military officials view the rebellion as a milestone in the nearly nine-year-long war. For the first time in this phase of the conflict, ordinary Afghans in the violence-racked south have risen on their own to reclaim territory under insurgent control.
It is a turnabout that U.S. and Afghan officials were not certain would ever occur. One U.S. commander called it "perhaps the most important thing that has happened in southern Afghanistan this year."
Although Gizab had long been used by the Taliban as a rest-and-resupply area for fighters traveling to battlegrounds in Kandahar and Helmand provinces, losing access to the area represents at best a tactical blow for the insurgency. It will not, by itself, change the course of the war. There is no indication that the defeat will have any immediate effect in violence-plagued areas such as Marja or the city of Kandahar.
'Untouchable' reputation
But U.S. officials say they have heard concern voiced by Taliban commanders on intercepts of telephone conversations. Several rank-and-file fighters, and even a few mid-level leaders, have put down their weapons and reintegrated into the community. Residents of neighboring towns have told Gizab elders that they also want to rise against the insurgents.
"The Taliban thought this place was untouchable, and what the people here showed them —and everyone else — was that they could stand up and break free from that grip," said Brig. Gen. Austin S. Miller, the top U.S. Special Operations commander in Afghanistan. One of his Special Forces teams moved here after the uprising to train the self-appointed local guardians, whom the American troops christened the Good Guys.
The insurrection did not draw immediate attention in Kabul or Washington because Gizab is in a remote part of the country that has largely been ignored by the Afghan government and international military forces. But as word of what occurred here has trickled out, U.S. and Afghan officials have scrambled to understand how it started and how it can be replicated.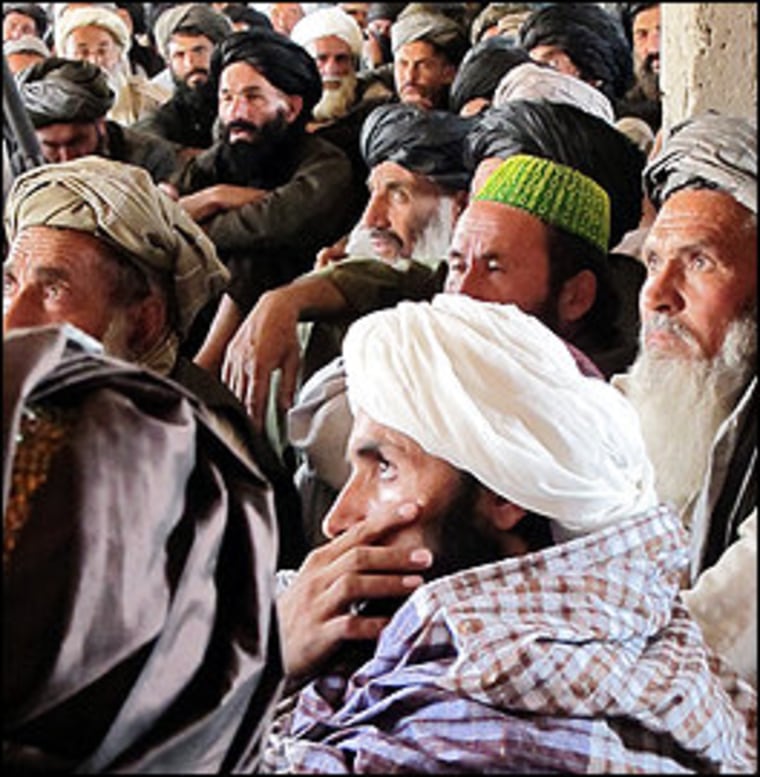 Conversations with Gizab leaders and Special Forces officers suggest that there was no single proximate cause. The uprising appears to have been the result of a combination of Taliban overreaching, U.S. encouragement and local resentment.
"We're looking for the patterns," said a State Department official in southern Afghanistan. "If we can find it, we'll be on the verge of a breakthrough."
School destroyed
The first wave of Taliban commanders moved into Gizab in 2007. The residents were initially acquiescent, and unemployed young men in the area were eager to sign up as fighters for hire. The police's presence was nonexistent.
Gizab, about 100 miles north of Kandahar, sits at the apex of a capillary-like infiltration network that connects western Pakistan's lawless tribal regions to key parts of southern Afghanistan. It is part of Daikundi province, a place U.S. and NATO commanders consider so insignificant that fewer than 50 international troops are stationed there. Unlike the rest of Hazara-dominated Daikundi, Gizab is made up primarily of ethnic Pashtuns, as is the Taliban.
But the Taliban began to wear out its welcome over the past year. Its fighters commandeered the health clinic, destroyed the school and started seizing trucks along the road, often to steal cargo or levy taxes.
"They used to be nice to people, but then they changed," said Abdul Rab, a farmer.
The spark for the rebellion was ignited in mid-April, after Lalay received $24,000 in compensation payments from the Afghan government to distribute to the relatives of a dozen villagers — six of whom were members of his extended family — killed by a Taliban-planted roadside bomb. A Taliban commander told him to hand over the money, saying it was against Islam to accept funds from the government. "If it is haram" — forbidden — "for me, then it is haram for you," Lalay recalled replying.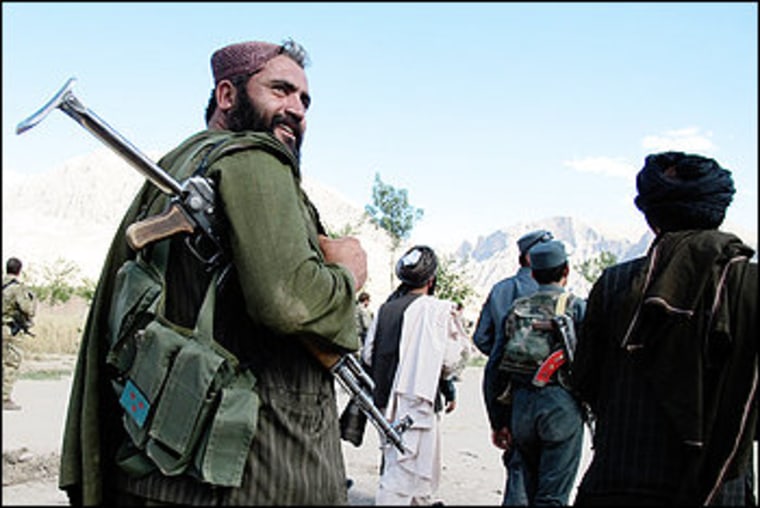 The insurgents did not relent. They detained his brother and then his father, a tribal leader in the village. It was then that Lalay decided to plot the revolt.
Special Forces link
A few weeks earlier, Lalay and a few other men from Gizab had met with members of a Special Forces detachment that has organized young men into armed local defense groups in two towns to the north. In both places, the detachment is funding development projects that have provided much-needed employment.
"We made it clear we would offer them the same things," said the detachment leader, who cannot be named under U.S. military ground rules.
The kidnapping of Lalay's relatives prompted the villagers to act without waiting for the Americans.
But as soon as the villagers set up the first roadblock and captured the first two insurgents, they sent a messenger to the detachment asking for help. A flooded river prevented the American troops from coming that day, so a team of Australian special forces soldiers was sent in by helicopter. When the soldiers landed in Gizab, they found Lalay and his men in a full-on firefight with Taliban fighters.
The Australians were soon joined by a different U.S. Special Forces detachment. To tell friend from foe in the firefight, they gave the Gizab Good Guys pieces of reflective orange fabric to tie around the muzzles of their rifles.
The fighting subsided by the following day, in large part because a few hundred villagers decided to stand against the insurgents. Lalay's credibility had been enhanced in the eyes of his fellow residents — many of whom were initially skeptical that they could be successful —because of the way he treated the first three Taliban prisoners.
All three were executed before the Australians arrived.
Lalay's force has now grown to 300 men. They conduct foot patrols and operate checkpoints in and around Gizab. The revolt also has spread to 14 neighboring villages, each of which has a 10-man defense squad.
The Special Forces detachment that had been based to the north has since moved to Gizab, where its members are training the local defenders and watching over them to prevent any other extrajudicial killings.
'They're in hiding'
Insurgent attacks and intimidation have ceased. "There are still Talibs in the mountains, but they're in hiding," said Lalay, who wears a bandolier slung over the shoulder. "They don't dare to come outside and fight us."
The insurgents who have emerged have sought to surrender. This month, a mid-level commander who was an assistant to the Taliban chief in Gizab district asked to be forgiven. "He told me he couldn't do anything else," said Ahmedullah, Lalay's brother.
But Lalay and other local leaders warn that the peace here remains fragile because of uncertainty about how his force will be funded and equipped. The Afghan government has authorized only a 53-man police force for the entire district. U.S. officials are working with the Afghan Interior Ministry to deputize the others as members of a "public protection force," which would enable them to wear uniforms and draw salaries. But Gizab leaders say the compensation — $60 a month — is not enough.
"It does nothing for our families," said Safiullah, one of Lalay's deputies. "When the people heard that, they said they'd quit."
For now, the police chief in neighboring Uruzgan province and the leader of a private militia there have sent money and weapons to the force, but Gizab residents also are waiting on a decision from the central government to allocate permanent funding for the force.
"Our people are getting impatient," Safiullah told Miller, the Special Operations commander, at a recent meeting.
"We're trying to push it," Miller said of the request for more money and equipment. "We're very anxious for it to happen, but we have to wait for your government to make it happen."