/ Source: The Associated Press
As Capt. Ron Gibbs navigates his pontoon boat down a narrow waterway lined with bald cypress trees dripping Spanish moss, he shuts off the motor. The only noise punctuating the silence is birds calling as the boat glides under the bright summer sun on Caddo Lake.
Visitors to this lake tucked away in Texas' forested northeast corner find a mysterious labyrinth of swamps, sloughs and bayous, home to a vast array of wildlife from owls to eagles to alligators. A boat tour of the lake takes visitors through seas of bright green water lilies, down shaded watery avenues and past islands of dense forest.
"There are some areas that are so primeval it'll make the hair on the back of your neck stand up," said Gibbs, whose Graceful Ghost Steamboat Company Inc. is one of several outfits offering boat tours of the lake. "It's a supernatural feeling. It's downright spooky in some areas."
"It's hauntingly beautiful. It's an enchanting lake," Gibbs said.
The lake's "flooded forest," which has trees that are more than 400 years old, was created when the lake level rose after bald cypress trees germinated on the dry lake bed in a low-water period, said Todd Dickinson, park manager of the state's 484-acre Caddo Lake State Park.
Tourists are drawn to the lake and state park, which is bordered by the 8,000-acre Caddo Lake Wildlife Management Area and the 7,000-acre Caddo Lake National Wildlife Refuge, for the camping, boating, kayaking, bird watching, hiking, fishing and hunting.
The 27,000-acre lake about 170 miles east of Dallas straddles the edge of Texas and Louisiana, where it becomes open water.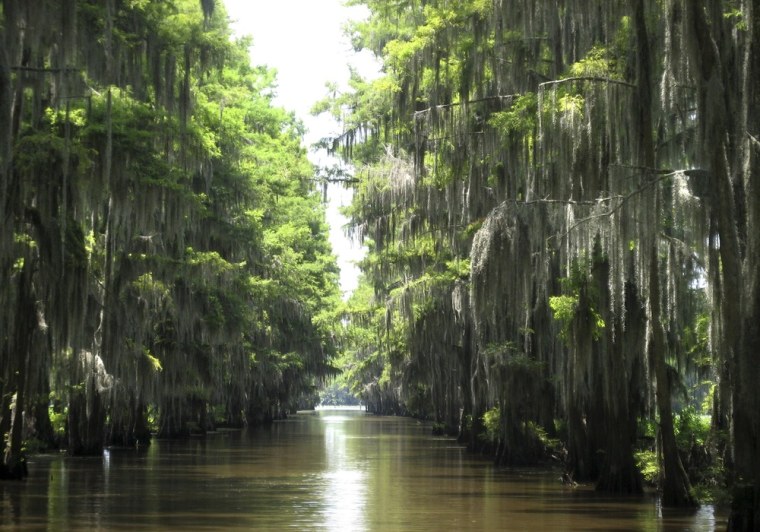 Dickinson said each season offers something new on the lake. In the summer, the lake shimmers under the hot sun and the vegetation is in full bloom, showing off bright greens and colorful flowers. By fall, the bald cypress trees are turning a rusty red, and when the temperature drops in the winter, the lake takes on a silvery glow as the trees lose their leaves. In the spring, more fisherman appear and the lake begins getting greener.
"This lake just comes alive with something new each week," Gibbs said.
A first glimpse of the lake can be bewitching.
"It looks very prehistoric. Really magical, enchanting, otherworldly," said Vanessa Adams, a biologist for the wildlife management area.
Bird watching can be especially interesting, said Adams. One a recent summer afternoon, there were great blue herons wading in the water.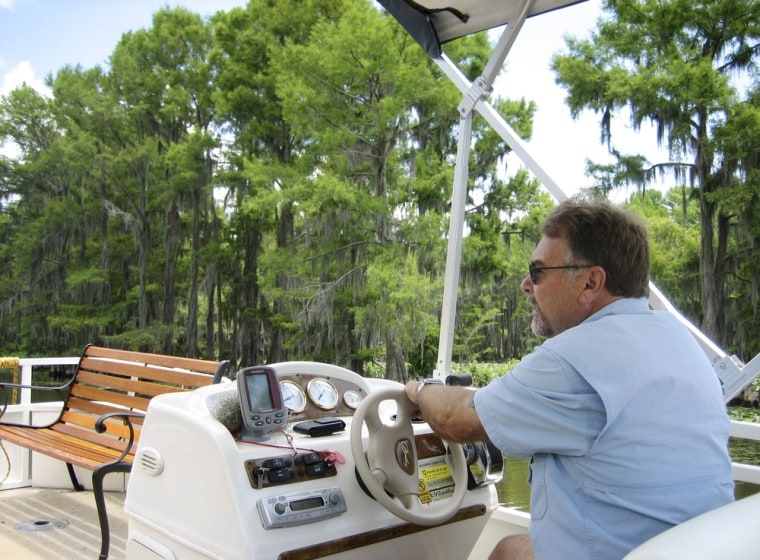 Adams said that in the fall, when wading birds are doing their "post-breeding wandering," there can be some unexpected sightings in the swampy lake.
English sisters Marilyn Jones and Anita Harris from Liverpool made a stop on Caddo Lake as part of a tour of Texas after reading about it in a guidebook. They said the lake did not disappoint, with Jones describing it as "brilliant, beautiful."
"The atmosphere is just completely different," Harris said.
About 17 miles west of the lake, visitors will find the genteel town of Jefferson, which has its own historical ties to the flooded forest.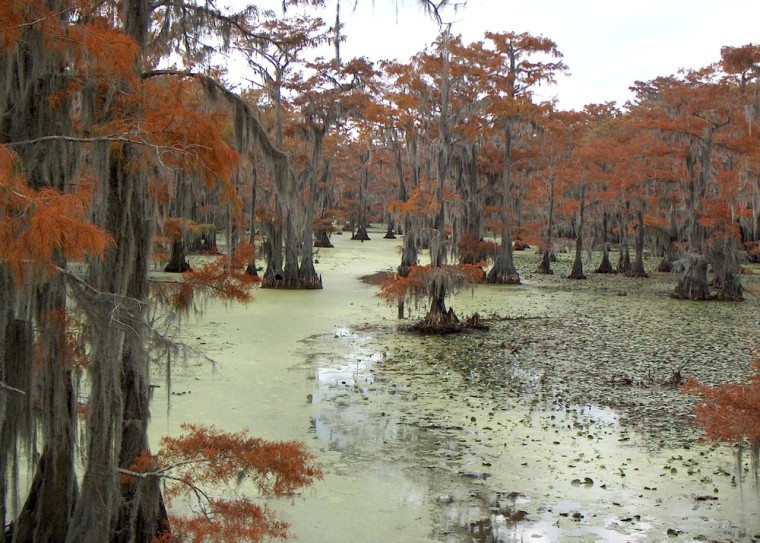 Now a small community of elegant homes, antique stores and bed and breakfasts, Jefferson was once a bustling river port, with steamboats traveling up the Mississippi River from New Orleans to the Red River, through Caddo Lake and down Big Cypress Bayou to Jefferson. But in the 1870s, a "log jam" on the Red River above Shreveport, La., was broken up, opening up the main course of the river and lowering water levels so much that steamboats could no longer make it through to Jefferson.
With its tree-lined lanes of antebellum homes and a downtown square near the Big Cypress Bayou, the town makes a relaxing stop. For elegant dining after a day on the lake, try the Stillwater Inn, located in an old Victorian home.
"The beauty of coming to Jefferson is you can come in, park the car, throw away the keys and walk everywhere," said Juanita Wakefield Chitwood, executive director of the Marion County Chamber of Commerce.
Far away from the bustle of Texas' big cities, and a marked difference from the open prairie and desert that people often associate with the state, Caddo Lake and its surrounding forests offer something different.
"It's not like anything else in Texas, that's for sure," said Rick Lowerre, president of the Caddo Lake Institute, a nonprofit founded by musician Don Henley to help protect the lake.
"That flooded cypress forest, thousands of acres of it, is pretty magical," Lowerre said.
If you go ...
Caddo Lake State Park: http://www.texasstateparks.org
Getting there: Uncertain, Texas, located on Caddo Lake, is about a three-hour drive from Dallas or an hour from Shreveport, La.
Graceful Ghost Steamboat Company Inc.: http://www.gracefulghost.com or 877-894-4678. Boat tours offered Tuesday-Saturday (closed Sunday-Monday except holidays). Adults, $20; children through age 15 are charged $1 for each year of age. Graceful Ghost is one of several boat tour companies in the area.
Jefferson: http://www.jefferson-texas.com/
Stillwater Inn: 203 E. Broadway, Jefferson, Texas; http://stillwaterinn.com/ or 903-665-8415. Entrees, $21.50-$45. Dinner reservations required Friday and Saturday nights; recommended Tuesday, Wednesday and Thursday. (Dining room closed Sunday and Monday.) Cottage rental, $130 a night.
Caddo Lake Wildlife Management Area: http://tinyurl.com/32qkero