GM Nameplate isn't exactly a household name, but its products are well-known to anyone who has flown on a Boeing airplane in recent years.
From a midsized room in a nondescript Seattle building, the family-owned company produces a vast array of graphics that go into Boeing airplanes, from the signs telling passengers where their seats are to the technical instructions for pilots and mechanics.
In all, it amounts to more than a million pieces a year, each meeting a specific airline's color, branding and language specifications. Just getting the right hue of white to match each airline's interior walls can be a challenge.
"It's amazing how many different formulations we have," said Greg Root, president of the company's superGraphics division.
Boeing Co. is one of the nation's biggest and best-known manufacturers, employing 158,000 workers and producing tens of billions of dollars worth of commercial jets and defense systems annually for customers worldwide. But to assemble just one model of airplane — the 737, its smallest and most popular commercial jet — the company relies on a complex web of hundreds of suppliers providing everything from engines and fuselages to seats and exit signs.
"We can't be experts in everything," said Helene Michael, vice president of manufacturing operations for the 737 program.
Instead, Boeing likes to think of itself as an expert in getting all the parts in the right place at the right time, and then putting them together quickly.
"We kind of pride ourselves on being a large-scale systems integrator," said John Hamilton, chief engineer for the 737 program.
While it can make good financial sense to integrate parts rather than build everything in-house, Boeing has learned the hard way — via its much-delayed 787 program — that there are also serious risks in relying too heavily on others. But with the commercial airplane industry poised to grow more competitive, and cash-strapped airlines looking for any way to pinch pennies, making airplanes cheaper and more efficiently may be the only way manufacturers can survive.
"The more efficient we get, the longer we stay in the phone book," Michael said.
The 737, which is made up of 367,000 parts, is assembled at a factory in Renton, Wash., south of Seattle. Boeing delivered 372 of the single-aisle 737s last year — a little more than one a day. Its chief rival, Europe's Airbus, delivered 402 of its comparable A320 family of planes in the same period.
Faster, cheaper, better
To appeal to airlines and compete with Airbus, Boeing has not hesitated to outsource when there may be a cost savings. About five years ago, it even went so far as to spin off the Wichita, Kan., operation that makes 737 fuselages and other airplane parts. That now-independent company, Spirit Aerosystems, also does work for competing aerospace companies.
In part because Boeing serves so many large international airline customers, the company also relies heavily on international suppliers. Among major suppliers, China's Xian Aircraft Co. makes the some 737 vertical fins, and Japan's Mitsubishi Heavy Industries provides the wing's inboard flaps.
"We recognize we can't build every single piece of the plane in America," Michael said.
But as one of the nation's top exporters and a major defense contractor, Boeing also recognizes the importance of keeping its assembly factories on U.S. soil.
Delicate balance
Boeing executives admit that it can be tough to find the right balance between what it makes at its own plants and what it acquires from outside companies.
The company has conceded it tipped too far in the wrong direction with the 787, which is undergoing test flights some two years behind schedule. Boeing relied extensively on other companies to both design and build 787 components, in part to alleviate the burden of financing such a big project. But the extensive outsourcing led to communication snafus and  delays.
Aerospace analyst Richard Aboulafia of the Teal Group said the lesson from "the great fiasco of the 787" is that it's not just what you outsource, it's also how you outsource. He said Boeing failed by giving outsiders too much responsibility for designing integral parts of the aircraft.
Still, Aboulafia said that doesn't mean it's a bad idea to divide the work  — and share the cost — of building an aircraft. He notes that airplane makers always rely on outside suppliers to build engines, one of the most important components in an aircraft, and the system has been highly successful.
"You look at the companies in the world that kept it all in-house, and it's more likely to be General Motors and less likely to be Apple," he said.
Move to 'lean' manufacturing
The 737 production lines stretches down two sides of a building so large some workers use oversized tricycles to get from one end to another. On a typical day, the moving line of green-hued, unpainted airplanes chugs along at about two inches a minute, as workers install the thousands of parts that transform the fuselage from an empty shell to a flight-ready machine.
Employees work around the clock five days a week on multiple airplanes, producing 31.5 new 737s a month, with each 737 coming together in 11 days. About 9,800 employees work in the Renton facility on both the 737 program and the P/8A Poseidon, a military version produced for the Navy.
Rival Airbus produces 34 of its narrow-body A320s per month, and plans to raise that to 36 in December
It wasn't always this way. In the late 1990s, after a crisis so great that Boeing actually briefly shut down the plant, the company began a drastic overhaul of the Renton facility.
Between 2000 and 2006, relying on the type of "lean" manufacturing principles pioneered by carmaker Toyota, Boeing made the gradual shift from building 737s at stations to running a moving production line.
Seemingly small changes resulted in major efficiency gains.
Instead of spending an hour or two assembling the equipment they need for the day, Boeing factory workers now arrive at work to find a kit containing all the screws, hammers and other instruments they will need to get their specific jobs done.
Boeing also moved all the engineers who work on the 737 into offices that literally overlook the factory floor. Now if a worker has an issue, engineers can be at the scene in just a few minutes vs. the perhaps daylong lag when engineers were in other buildings.
Such changes have cut the amount of time it takes to produce a 737 in half, from 22 days to 11. Michael's ultimate goal is to cut the production time to eight days per plane.
Competitive threats
The company says such improvements may be necessary to its survival.
The various 737 models account for about 33 percent of all Boeing and Airbus planes flying today, according to Forecast International. But while Boeing has chiefly competed with Airbus until now, the company is facing looming threats from a slate of potential competitors who are developing similar airplanes in China, Russia, Brazil and Canada.
Although Boeing and Airbus are the key players in the large commercial airplane market right now, aviation consultant Mike Boyd notes that several of the programs in development could quickly play catch up.
"Things can change really quickly," he said.
The airplane maker's efficiency push has a ripple effect on Boeing suppliers. GM Nameplate, the graphics supplier, said it is sometimes asked to rush an order from its Seattle plant to the Renton facility in just a few hours, so production can keep flowing despite an unexpected change in an airline's needs.
GM Nameplate has production facilities in China and Singapore but said it would not make sense to make the products for Boeing there.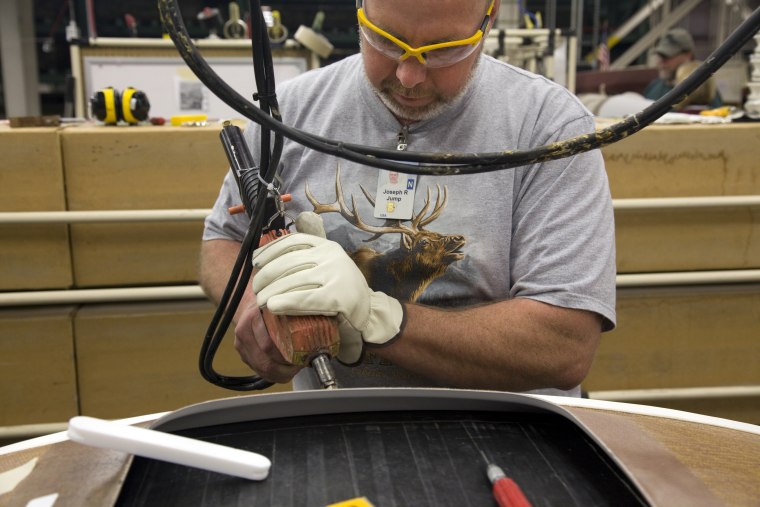 "It'd cost more to ship it back than it would to produce it here," said Brad Root, president of GM Nameplate's Seattle division.
Even Boeing's own units say they feel the pressure.
Internal suppliers
On a recent weekday morning, Brian Crabtree was at work at Boeing's Interiors Responsibility Center in Everett, north of Seattle, pulling new 737 interior panels from an industrial oven.
By the end of the day, about 100 of those panels would be completed and shipped 30 miles south to the 737 plant in Renton to be installed on a new airplane, perhaps as early as that evening.
The quick turnaround leaves little inventory sitting around, which saves money.
The Interiors Responsibility Center may be a Boeing facility, but Beth Anderson, its director, thinks of herself as the 737 plant's supplier.
"They could go outside and do it somewhere else," she said.
This isn't just idle talk; in the late 1990s, Boeing's 767 program did opt to go elsewhere for its interiors.
"We realized that we don't automatically get to do this work," Anderson said. "We have to prove ourselves."
Hamilton, the 737 engineer, concedes the company could move its interiors manufacturing to an overseas supplier but said the Boeing unit has been able to stay competitive.
"Right now, we believe that making those locally is the right thing to do," he said.
Convincing workers
As Boeing has grown more efficient, executives concede it has been tough to convince factory workers that they aren't going to improve themselves out of a job. Hamilton said the 737 factory has had some layoffs but has tried to pare its staff through attrition from retirement, and by not hiring more workers when production levels rise.
The union representing Boeing factory workers, the International Association of Machinists, said the company employs 4,050 Machinists in Renton, working on both the 737 and the Navy's P/8A.
In July 2001, prior to a major commercial airplane downturn following the Sept. 11 terrorist attacks, union spokeswoman Connie Kelliher said Boeing employed 6,022 Machinists in Renton, working on both the 737 and 757, which is no longer in production.
Boeing said Machinists employment has dropped because the company phased out the 757 and made productivity improvements.
James Cairns, a shop supervisor who overseas installation of the interior walls, said that he didn't necessarily see the vision when Boeing began working toward the moving line about 10 years ago. But now, he said, he's come to appreciate that production runs more smoothly and is safer, because workers are no longer crowded together amid a multitude of toolboxes, hoses and ladders.
"There is no way I'd want to go back to how we used to build the planes," he said.
Still, not everyone is convinced all aspects of lean manufacturing are paying off. Crabtree, who works on the interior panels, said his unit's new moving line, which relies on so-called "tugbots" that the company designed in-house, breaks down more frequently than the old chain system and is not as ergonomic as it could be.
Crabtree worries that things like the tugbots are just going to end up costing Boeing more money and increasing the chances the company will move his job to a place where the parts can be made more cheaply using non-union labor.
Those fears have been augmented by Boeing's plan to open a second 787 assembly line in South Carollina, where labor is likely to be much cheaper than the unionized work force in the Seattle area.
"I like lean — there's good ideas — but the best ideas come from people up here," Crabtree said, gesturing to his fellow workers in the plant. "They don't use our ideas."
Boeing says that it has incorporated some ideas from the factory floor into its plants. Following an employee's suggestion, the company bought and modified a hay baler to use for loading seats onto a 737.
Re-engine, or rethink?
As the 737 model ages and faces increased competition, bigger changes are likely on the horizon. The company is currently evaluating whether to introduce a new, more efficient engine to the aircraft, a move that would require other major design changes.
The company also could move to a completely new airplane design, a costly undertaking that may be difficult as it is still flight-testing the brand new 787, the wide-body 747-8 and the P/8A for the Navy. In addition, Boeing is gearing up to launch a new interior for the 737.
Still, the potential for such changes have left some worried that Boeing will choose to make future narrow-body aircraft in another part of the U.S., or even another country.
"What Washington state has to worry about, and I suppose America, is what Boeing decides to do with those replacement airplanes," said aerospace analyst Scott Hamilton with Leeham Co.
John Hamilton, the 737 engineer, said he doesn't envision the company moving its assembly any time soon.
"I think we'll continue to build the airplane in the U.S. for a long time," he said.
Gesturing toward the Renton factory floor, where workers hovered around the glistening line of  737s, he said: "You can't readily duplicate that overseas."