For clothing maker American Apparel, allegations that the company makes staffing decisions based on appearance may turn out to be the least of its concerns.
The company, known for its signature T-shirts, sexualized ads and controversial chief executive, recently reported that its quarterly operating loss had more than quadrupled from a year earlier, and warned that it risks defaulting on a credit agreement. The news sent its stock price, already trading in the low single digits, tumbling.
American Apparel is now scrambling to work out a deal with a major lender, Lion Capital, which also owns an approximately 18 percent stake in the company.  The company has warned that by the end of June it likely won't be able to meet the debt-to-earnings ratio that is required under its agreement with Lion Capital.
Even if the clothing company is able to resolve that crisis, production problems at its factories, which are contributing to its poor financial results, could take months to work out, the company has conceded. The Los Angeles-based company also has warned that it risks having its stock delisted from the Amex because it has repeatedly been tardy with its financial filings.
"American Apparel is unique because they're on the cusp of a total collapse," said Howard Davidowitz, chairman of the retail consulting and investment banking firm Davidowitz & Associates. "You don't have many people out there breaching their loan covenants. They are not a going-forward company until they can resolve the financial issues."
American Apparel has conceded that it made mistakes and said it's unclear what the future holds. Dov Charney, the company's flamboyant founder and chief executive, has said that the company is continuing to operate despite concerns about its debt.
"Our company in the past has been through these types of issues before and it's never really presented us with any particular difficulties in running our business," he said in a conference call with analysts last month after the company reported a $17.6 million quarterly operating loss on sales of $121.8 million.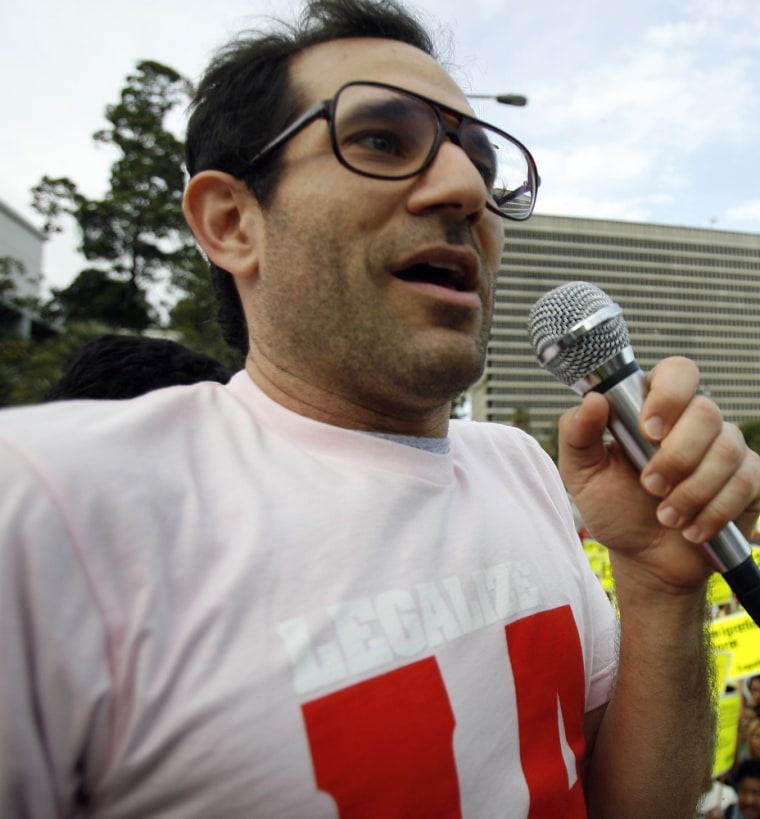 The company's chief financial officer, Adrian Kowalewski, told msnbc.com he could not comment publicly beyond what the company has already disclosed in its financial statements.
Edgy and sexually frank
American Apparel, which aims to appeal to young, hip shoppers around the globe, has long staked its reputation on being edgy and sexually frank, relying on amateur models in borderline pornographic poses to sell its clothes. Critics have alleged that American Apparel and its executives pushed the envelope too far, and the company has been the target of sexual harassment lawsuits and an investigation by the Equal Employment Opportunity Commission.
American Apparel was again in the spotlight recently, when the website Gawker alleged that its executives make personnel decisions based on appearance and regularly ask for employee pictures in order to ensure that its standards are met.
In a statement posted on its website, Charney denied that the company fires employees for not being good-looking.
"American Apparel does not hire or retain applicants based on 'beauty.' Our main priority is finding people with a strong sense of style," he wrote.
But he did confirm that American Apparel uses pictures to evaluate current and potential employees.
"The company legitimately reviews current photographs of job applicants and employees to consider their sense of style and the way in which they present themselves," he wrote.
Deborah L. Rhode, a professor at Stanford Law School and author of "The Beauty Bias," said asking for pictures or imposing appearance standards on current and future employees is not illegal in most parts of the country unless such standards are used to discriminate against a group of people, such as women, minorities or older workers.
For example, she said, flight attendants have argued that weight requirements amount to discrimination because they disproportionately affect women, a protected class of workers. Still, Rhode said such cases can be very difficult to prove.
'Bravado'
Analyst Edward Yruma of KeyBanc Capital Markets noted that such controversy is not unusual for American Apparel and that the company has been relatively unscathed by such issues in the past.
"We think that it's by and large the bravado associated with a brand targeting 20- to 30-year-olds," he said.
Yruma said American Apparel is performing poorly in a highly competitive environment, but he does see a future for the company.
"They've got a very differentiated brand and it still resonates with customers," he said.
Founded by Charney in 1998, American Apparel went public in 2007 in an unusual maneuver that followed a merger with an investment firm, Endeavor Acquisition Corp. In addition to about 280 retail stores in 20 countries, it runs a wholesale business supplying clothing to distributors and screen printers.
Along with its suggestive ads, the company differentiated itself from the outset by being one of very few clothing makers to manufacture in the United States, mainly at a sprawling downtown Los Angeles factory.
That, too, has been a sore spot recently. Last year, American Apparel was forced to fire about 1,500 factory workers after it could not provide adequate documentation they were authorized to work in the United States.
Although the company initially said it didn't think the job losses would seriously disrupt its business, it has changed its tune. Now the company says the manufacturing problems reduced its operating income by $4.4 million in the first quarter and could affect results at least through early 2011.
The company said in the May conference call that it was looking to hire about 1,000 workers and get them up to speed, but that improving efficiency at the factory would take time.
"We got blindsided. We made some mistakes. We're off our game, but we're going to get back on our game," Charney said.
In the same conference call with investors, Charney said the company was working on other supply issues, such as getting the right assortment of clothes from the factory and distribution facilities to the stores, and from store stockrooms to the floor. He said a big increase in the company's wholesale business had hurt its ability to supply its retail operations.
The conference call only included a preliminary report of its performance for the quarter, one of several times the company has delayed a complete filing of its financial results. Because of that, the Amex has warned that it may delist the company, whose stock is currently trading around $2 a share.
Better off as a private company?
The issues facing the company raise the question of whether it should have gone public in the first place.
"If you induce people to buy your stock, what you're saying is you're going to play by a bunch of rules on financial reporting," Davidowitz said.
He suspects these constrictions could be particularly difficult for someone like Charney, who in past interviews has appeared to pride himself on the unorthodox atmosphere of his business.
American Apparel also is operating in a highly fickle area of the apparel market, in which retailers can benefit and suffer substantially from young customers' fast-changing tastes.
American Apparel's comparable-store sales — a key measure of how well a retailer is doing — fell 10 percent in the first quarter. Competing retailers such as Abercrombie & Fitch, American Eagle Outfitters and Aeropostale all saw same-store sales increase in the quarter.
Davidowitz said he could not predict what will happen to American Apparel but noted that the company has overcome serious financial pressures before.
"I think it's amazing that they've been able to come to this point and, like, have this degree of success," Davidowitz said. "That, in itself, to me has always been amazing."