The new iOS 4 firmware update has arrived for newer iPhone and iPod Touch models. Here's what you need to know to get the most out of the new, improved operating system.
First off, have you actually upgraded? If not, .
Afterwards, be sure to go to iTunes and . Now, let's look at what the new OS will do for your phone or iPod.

The big one. Here's how you try it.
Open the phone app
Hit the home button once, then open Safari and go to any site
Double tap the home button, which will bring up a little menu tray
Select one of the "open" apps to switch directly to it
You can also swipe left and right to scroll through the different "pages" of apps you have open. If your app is multitasking-enabled, it will resume exactly where you left off. Games will continue from pause mode, web pages will be where you left them, music will continuously play even while you're in another app, and so forth. The standard multitasking benefits.
So yes, this allows you to listen to Pandora in the background while you do other stuff. Well, as long as you . Strangely enough, YouTube backgrounding does not work, even though I remember specifically talks of that working. Not sure what happened there, or if the YouTube app needs an update.
The big picture is you can do a lot of stuff now that you couldn't do before. You can have a Skype phone call and use your phone simultaneously, have a GPS turn-by-turn navigation app keep your place and keep routing you even while you go and send a text message, or even just load up a web page and have it full in in the background while you go change a song.
To close a running app
Steve Jobs doesn't recommend that you even deal with closing running apps, because the phone will take care of it automatically. But if you want to shut off Pandora, or AIM, or anything else that's running in the background and giving you alerts or doing something you want to end, here's what you do.
Double tap the home button from any app
Press and hold on an app icon. The dismiss "minus" icon will pop up on each app and the icons will start shaking
Click the minus icon to kill an app. You can do so repeatedly for all the apps you want to close.
To get out of this mode, hit the home button
The hell of countless app screens is finally gone — or at least manageable in a sloppy way now. The folders in iOS 4.0 aren't perfect but they help organization just a bit and they're simple to use.
All you need to do is press-and-hold any app to trigger rearranging app icons and you'll be able to drag them onto each other to create folders. Done. Your iPhone will even automatically suggest a name for the folder based on the type of apps you're sticking in there (though you can change that with a tap).
Folders aren't exactly perfect though. They fit twelve apps, but only show tiny versions of 9. Once opened, folders show apps in rows of four — which leaves a net nine-app folder looking awkward once open. No matter though, we're content with being tossed at least a scrap here and hope that future iOS upgrades will address the some of the shortcomings of folders.
It's not surprising, but it's good to know that you can in fact stick folders into the dock.

We're glad to see that the Mail app received a bit of a feature makeover of sorts. All the new changes appear to be in response to complaints we've had our heard from other iPhone users.
The email threading feature is surprisingly solid. When you've got it turned on, emails will be grouped by replies — like in Gmail for example — and you'll see a little number indicator next to the most messages in your inbox to show you how long a thread is. Tap that most recent message and all others will pop up.
Speaking of Gmail! Those users will be happy to see that the "delete" button that shows up after a swipe has turned into an "archive" button. Makes things just a bit more logical.
We're also happy to see that there are now "smart" links in emails now. This means that you can tap on dates to add events to your calendar, press tracking numbers to pull up the UPS website, or open the Maps app when there's an address included.
And the best change to the Mail app? The long-awaited unified inbox. You can finally view emails by inbox or in one large dump. When replying to a message from the unified inbox, your iPhone will automatically use the correct email account.
If you receive an email from a person who has a picture in your contacts, you'll now see a tiny image of him or her in the corner. Kinda cute.
Note syncing
There is now an option to sync notes over-the-air with some email accounts—such as those through MobileMe.
New iPod multitasking controls
While you can no longer get a pop-up set of iPod controls by double-tapping the home button, you do have a decent replacement in the multi-tasking drawer. By swiping over to the very left of the drawer, you'll be able to access some minimal iPod controls next to the orientation lock. Play/pause, forward, back. It's just enough to make some quick adjustments to song selection, but we still miss the old pop-up-style controls a bit.
iBooks
That book e-reader program that's already out on iPad is coming to iPhone! (Yay.) But it's not built in. (Wha?) You have to hit the App Store and . It's free. Maybe for competitive purposes? Who knows.
In any case, you can sync ePub and PDF books directly from iTunes by using the iBooks section. If you have books in other formats other than ePub, use to convert them.
Custom homescreen wallpapers If you have an iPhone 3GS or a late-model iPod Touch, you can set backgrounds for your home screen. Like on the iPad. Here's how.
Go to Settings
Tap Wallpaper
Tap on the two icons that represent your two current homescreen/lockscreen wallpapers
Choose a picture from either the Wallpapers list that Apple included, or use one of your own photos from your photo album
Decide whether you want it on your lock screen, your home screen, or Both
Hit the home button to see your new home screen
Unfortunately, iPhone 3G users don't get to have Wallpapers. But if you want those Lost wallpapers, .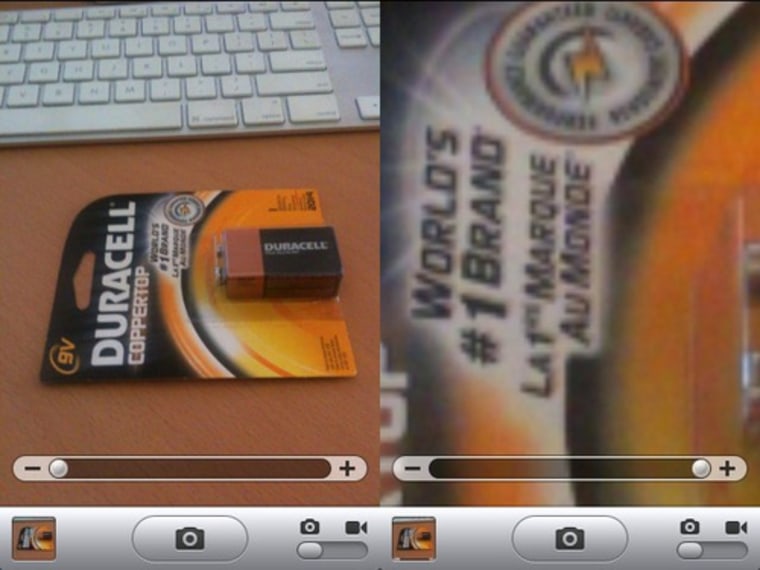 Digital zoom
Keep in mind that this is digital zoom, so the already-wanting quality of the iPhone 3G/3GS camera will get even worse when you go 5x bigger. This is no enhance, enhance, enhance magic.
But to do so, just open up the Camera app, tap somewhere on the middle of the screen and the slider will appear. Slide it right to zoom, left to un-crappify. Note, zooming doesn't work on videos, where you can only tap to focus, but not zoom.
Bluetooth keyboards Pairing a Bluetooth keyboard — almost any Bluetooth keyboard, not just the slender Apple-branded kind — is as simple as pairing any other Bluetooth device. Turn the keyboard on, turn on Bluetooth, let your phone detect the keyboard, and tap a few numbers. Done. It works quite well, though it takes a while to get used to not having the on-scree keyboard pop-up while a Bluetooth one is connected.
Turn off cellular data
If you're traveling abroad and want to make sure you stick only to Wi-Fi, you can now turn off cell data. Go to Settings, General, and then Network.
Tethering You can now tether your phone to your computer over USB or Bluetooth. But how? The first step is turning on tethering on your account, which you can do by going to and enrolling in the tethering plan. It's , and you get to share whatever data plan you have on your phone with your computer.
Charging an extra $20 just for the privilege of using the same data you're already using on another device seems seems pretty lame, but that's a gripe for another time.
iAds
What, you're in such a hurry to look at ads on your iPhone? You'll have to cool it for a bit, because the ads themselves aren't available until July 1. What you can do, though, is opt-out of the targeting portion of the ads by going to oo.apple.com, but that isn't live until July 1 either.

You can do this now! Just hit the "Add New Playlist" from your playlists screen, and follow the on-screen instructions.
Quick Web, Wikipedia search Swipe left from the home screen to get to the quick search area, where it now brings up not just local results, but gives you web and wikipedia links as well.
Speed This isn't exactly something you "try", but compared to 3.1.3, iPhone 4 (on a 3GS) is definitely faster. Everything is snappier and quite fluid. Any of the sluggishness found in the betas is definitely gone.
New contacts screen
Adding a new contact is streamlined so that you don't need to keep jumping to a new input page in order to add a field, making everything just slightly faster.
Sync Events, Faces and Places from iPhoto If you use iPhoto, you can sync discrete Faces, Events and Places from within iTunes, making it easier than setting up a hack-workaround album solution that doesn't work quite as well as Apple's native feature.
Spellcheck
There's a built-in spellchecker, which is useful, unless you're deliberately going for misspelled words in an ironic text, then it's horrifyingly annoying.
Search with Yahoo or Bing Under Settings, Safari, Search Engine, you can change your default search engine to one of the non-Google alternatives, if you're the type of person who likes those engines more.
Send full-sized, any-sized photos when you're emailing No longer do you have to sync your iPhone to your computer to get full-sized photos off of it. You can also have the option of resizing to a small, medium or large size, in case it's something you don't need super clarify for.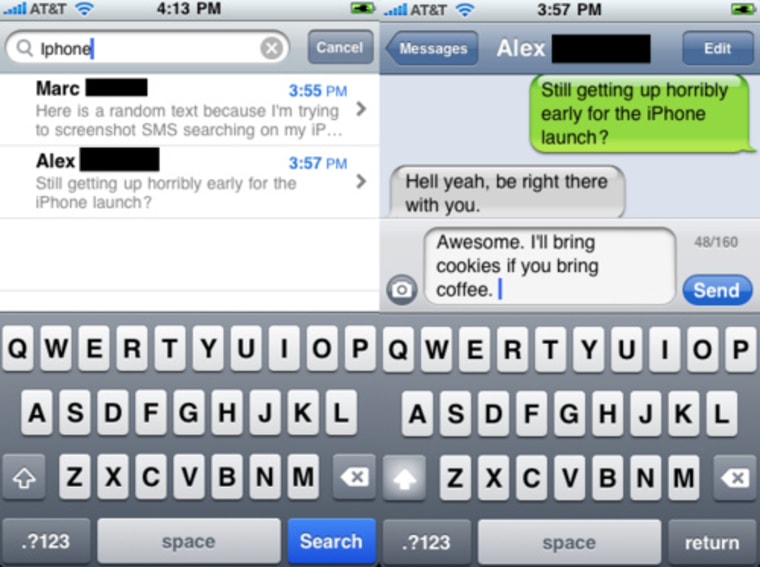 SMS character count, MMS disabling, searching Like the Mail app, the Messaging app got a few new features. For the most part the changes are minor — there are now options to toggle off MMS and grouping of messages with multiple recipients as well as a character count. The best new feature though is the SMS search. It's not really different from any other search in the iOS. It simply live-updates results as you keep adding to your query.
Easier adjustment of location services
Now with apps being able to grab and use your location in the background, there might be multiple apps knowing where you are at the same time. The locations menu lets you keep track of who's used your data in the last 24 hours, or if you want, you can shut off location for certain apps entirely.
Better enterprise support
There's a small segment of you that will care about this, but the iPhone OS 4 can do a bunch of Enterprise stuff. And here it is, courtesy of
You can now encrypt your e-mail or attachments with your iPhone PIN code. The API for this is also available to developers so that you will be able to encrypt data inside of third-party apps as well.
Apple now offers a mobile device management solution so that someone deploying lots of iPhones within a company can manage them.
Wireless app distribution: no longer do you have to deploy apps across your company's iPhones with a physical connection. You can distribute apps to anywhere in the world from your own servers.
As we mentioned in the Mail section, you can now have multiple Exchange accounts on a single phone.
There's now support for Exchange Server 2010.
There's now also support for SSL VPN.
Improved lock codes
For the frustrated and paranoid, Apple has finally added an option to toggle from four-digit "simple passcodes" to longer alphanumeric lockcodes.
Custom dictionaries You can now finally stop telling people to go "duck" themselves because they're such "ducking" idiots by adding your favorite terms to a . The only stupid thing is that the option to edit a dictionary only appears if you add a foreign keyboard in the "International Keyboards" menu.
Cosmetic changes Plenty of minor cosmetic changes in iOS 4. A few settings — like the Spotlight search customization — are now easier to find and some app icons are just a tiny bit prettier. A few of the changes are actually useful though, such as the ability to finally view your Photo Roll in a horizontal orientation and YouTube in a vertical one.
How it runs on iPhone 3G There's no multitasking in iOS 4 for the iPhone 3G. (Or wallpapers or Bluetooth keyboard support.) Which would be fine, if iOS 4 delivered that other thing iPhone 3G owners really wanted: speed. It's no faster than OS 3.1. The hangups, the stuttering and the chugging, still make the iPhone 3G kind of infuriating to use, or at least make you really want to buy a new iPhone.
But iOS 4 still makes it a better experience overall: The unified inbox and folders alone make it worth the jump. After all, it's not any worse than 3.1.
What we still didn't get (and want in iOS 5)
SMS tone customization. Seriously! C'mon!'
, or any kind of cloud-contact syncing
iTunes cloud streaming, direct from an iTunes.com
Better multitasking, because only having four icons visible at once is arbitrarily clumsy. Why swipe through so many apps to find the one to "quickly" switch to
A . I don't want to be locked out of what I'm doing whenever I get an IM
Widgets in the multitasking tray
A lock screen that shows email count, IM count, SMS count and other info to be determined by the user
Home screen widgets even
Free turn-by-turn application (Android can do it, why not one for iPhone)
Ability to remove Apple's default apps
Horizontal homescreen
Ability to disable spotlight searching entirely, for both privacy reasons and for clumsy-swiping reasons
iChat mobile, with FaceTime on iPhone 4 somehow worked in to video chat with desktops
A "mark all as read" or "select all" button in the Mail app would be nice.
Email account specific email signatures could help us avoid forcing our work signature on all our personal email accounts.