/ Source: The Associated Press
In a break from the state's racist legacy, South Carolina Republicans overwhelmingly chose Nikki Haley, an Indian-American woman, to run for governor and easily nominated Tim Scott, in line to become the former Confederate stronghold's first black GOP congressman in more than a century.
Six-term Republican Rep. Bob Inglis fell to prosecutor Trey Gowdy, making him the fifth House or Senate incumbent to stumble this year.
In North Carolina, Secretary of State Elaine Marshall won the Democratic nomination to challenge GOP Sen. Richard Burr in the fall. Attorney Mike Lee was victorious as Utah Republicans chose a GOP successor to vanquished Sen. Bob Bennett in a state that hasn't elected a Democratic senator in four decades. In Mississippi, voters tapped Republican Bill Marcy to face Rep. Bennie Thompson.
Taken together, the victories by Haley and Scott — both favorites for the general election in November — offered clear signs of racial progress in the South.
Tuesday's runoffs and primaries played out across four states, the latest cluster of contests to determine matchups for the midterm congressional elections just over four months away. Already, 2010 is shaping up to be an anti-establishment year with angry voters casting ballots against candidates with ties to Washington and the political parties.
Perhaps no other contest illustrated that better than Haley's. A state legislator with the backing of tea party activists and Sarah Palin, she overtook the old-boy network.
"South Carolina just showed the rest of the country what we're made of," Haley said following her victory. "It's a new day in our state, and I am very blessed to be a part of it."
With her victory, Haley moved one step closer to becoming the first female governor in the conservative-leaning state. She also secured her place as a rising female star in the GOP, if not potential 2012 vice presidential candidate in the early primary state. She stands as the front-runner in the race against the Democratic gubernatorial nominee, state Sen. Vincent Sheheen. The disgraced GOP Gov. Mark Sanford is leaving the post because of term limits.
Haley, 38, brushed aside allegations of marital infidelity and an ethnic slur to come within a percentage point of winning the gubernatorial nod outright on June 8. With 100 percent of the precincts reporting in the runoff, she had 65 percent of the vote to 35 percent for Rep. Gresham Barrett, a four-term congressman who has had to answer for his 2008 vote for the unpopular Wall Street bailout.
In a fitting twist, Haley gave her victory speech at the entrance to the South Carolina Confederate Relic Room and Military Museum.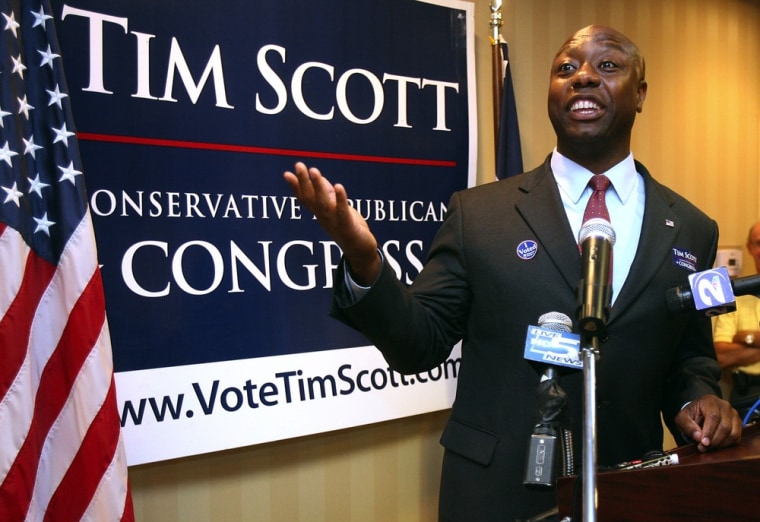 Scott, 44, also a state lawmaker, beat Paul Thurmond, the son of the late U.S. Sen. and former segregationist Strom Thurmond in the runoff after securing the backing of Palin, the anti-tax Club for Growth and several Republican leaders in Washington. With 100 percent of precincts counted, he had 68 percent of the vote to 32 percent for Thurmond.
The GOP-leaning district stretches down the Carolina coast and includes Fort Sumter where the first shots of the Civil War were fired. If elected to the House, Scott would be the GOP's first black lawmaker since Oklahoma's J.C. Watts retired in 2003.
Scott will face Democrat Ben Frasier, who also is black, in November, and is strongly favored to win. The district, which is 72 percent white, has sent a Republican to Congress for three decades. Rep. Henry Brown is retiring.
Aside from Barrett, the bailout vote thwarted Inglis' quest for another term in the 4th Congressional District. Spartanburg prosecutor Gowdy forced Inglis into a runoff after making the race a referendum on the incumbent's bailout vote and casting him as not conservative enough for the district.
Elsewhere, Marshall beat former Army prosecutor Cal Cunningham, a blow to Democratic Party leaders in Washington who recruited him and spent more than $100,000 to boost his candidacy. Despite holding statewide office for more than a decade, Marshall portrayed herself as an outsider while claiming she was an advocate for average citizens and fought against powerful industries.
In Utah, Lee edged out businessman Tim Bridgewater for the GOP Senate nomination. A Democrat hasn't won a Senate race in Utah since 1970.
The victor will succeed Bennett, who lost his bid last month for a fourth term. Conservatives at the GOP state convention punished him for his support of the bailout, officially known as the Troubled Asset Relief Program.