Misty May-Treanor, the most decorated female beach volleyball player in the United States, reveals her journey from growing up in Santa Monica to the behind-the-scenes Olympic moments with partner Kerri Walsh. An excerpt.
All my life, I've dreamed in gold.
When I was a tyke, scampering through the sand, a jump serve away from my parents' pizza stand at Muscle Beach in Santa Monica, California.
When I was eight years old, playing in my first beach volleyball tournament, at Will Rogers State Beach in Pacific Palisades, with Dad as my partner.
When I was the outside hitter for Newport Harbor High School, and we won two California Interscholastic Federation (CIF) state championships.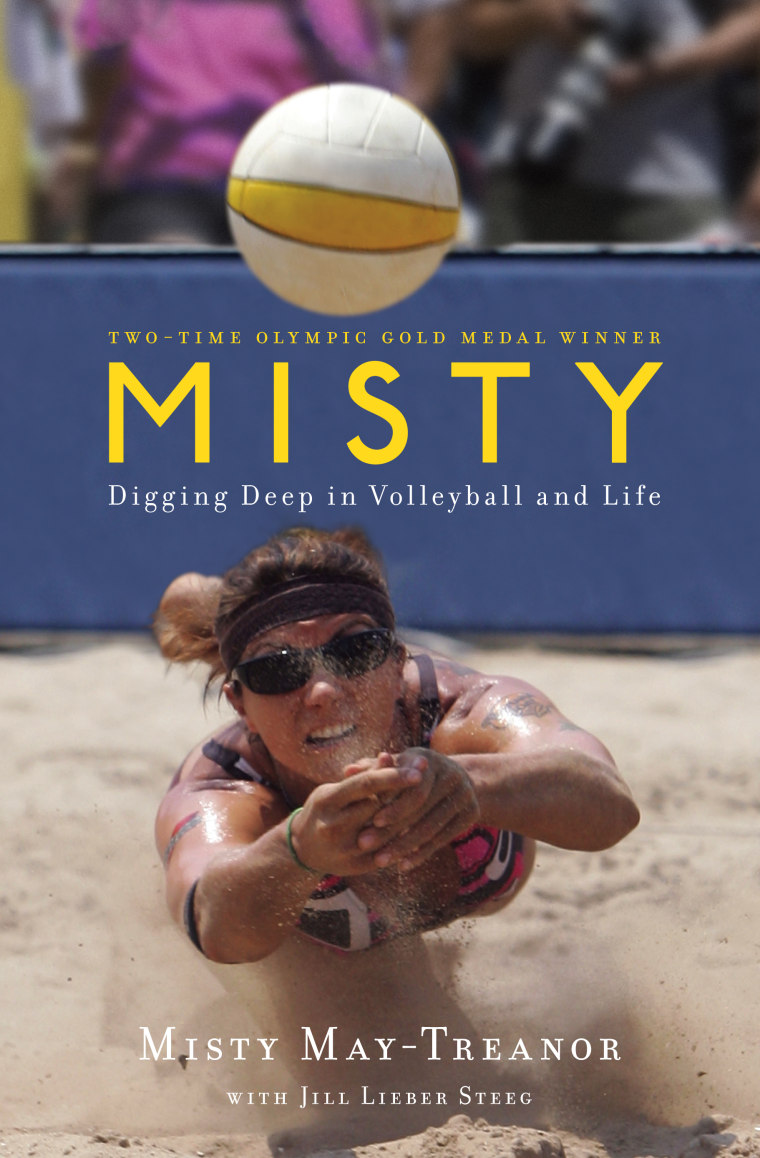 When I was the setter for Long Beach State, and we captured the 1998 Division I NCAA Women's Volleyball Championship.
When I was twenty-seven and considered the best defensive beach volleyball player in the world, and my partner Kerri Walsh and I steamrolled through seven straight matches without losing a single game to win the 2004 Olympic gold medal in Athens, Greece.
And yes, even when I was strutting my stuff in fancy costumes, theatrical makeup, and ultra-high heels as a contestant on ABC's Dancing with the Stars.
Yet, when I served the ball and Kerri blasted it by China's Tian Jia and Wang Jie to give us our second Olympic gold medal, on August 21, 2008, in Beijing, China, the crowning moment wasn't bathed in gold.
Instead, it was an absolute blur of colors, from the pastel pink, green, and blue plastic ponchos draped over the twelve-thousand plus fans packed into Chaoyang Park for the monsoon-drenched gold medal match, to the fluorescent orange T-shirts and bright yellow baseball caps and beach umbrellas designating the two dozen or so family members and friends, who'd lovingly dubbed themselves "Misty's Misfits" as they traipsed across the globe over the years cheering me on. And, of course, the red, white, and blue of hundreds of American flags.
As the ball hit the beach for match point, my knees buckled from all the emotion, and I slid down onto my butt in my sopping wet, white bikini. I clenched my fists and let out a scream. "WOOOOO!"
Kerri grabbed me from behind, and we rolled around on the sand, squeezing each other so tightly I'm surprised we didn't pass out due to a severe lack of oxygen. Kerri pulled me to my feet, and then I jumped onto her, wrapping my legs around her waist. I thrust my arms into the air and let out another scream. "We did it! Can you believe it? We did it!" I yelled.
We'd shared a once-in-a-lifetime experience over the past eight years, and we'd be forever joined. Sisters. Friends. Teammates. Business partners. Trailblazers. We composed ourselves, ran to the other side of the court, and shook hands with the Chinese team, and then we shook hands with the referees and volunteers.
After those few minutes of decorum, it was a full-on Beijing Olympics gold medal celebration. I began clapping to "Celebration," by Kool & the Gang, which was blaring over the loudspeakers, and I turned to scope out the crowd, hoping to find my loved ones.
Instantly, everything shifted into super slow motion. I saw a sea of colors but couldn't make out people's faces. It was a complete jumble, and it reminded me of the way a TV screen looks when the reception gets scrambled.
I began running around the stadium, searching for anybody I knew, jumping up off the sand, squealing with happiness, shaking hands and slapping high fives. Somebody handed me an American flag the size of a large beach towel. Someone else gave me a small American flag on a stick. Suddenly, I turned into a two-fisted, bikini-clad Lady Liberty, madly waving both of them as if it were the Fourth of July. Except, instead of a crown, my head was wrapped in a red sweatband. I noticed the Beach Girls, the beach volleyball dance team who'd entertained the crowds in their skimpy bikinis throughout the Games during breaks in the action, and I began gyrating my hips and shaking my booty, mimicking their sexy moves. "WOOOOO!" I screamed again.
My heart was pumping so hard I thought it was going to fly right out of my chest, and my adrenaline was surging so quickly my skin tingled from head to toe. At that time, I weighed between 150 and 155 pounds, but I remember thinking, "I feel so incredibly light." Out of the blue, a thought shot through my brain, "Didn't the Olympics start yesterday?" We'd been competing almost two weeks, but the time had flown by, and now our happy ending was unfolding just as I'd imagined. However, I admit I was somewhat dumbfounded it had actually turned out that way. In fact, part of me kept waiting for someone to shake me and say, "Wake up, Misty! It's only a dream!"
Despite the iconic, first-name-only status we'd achieved in our sport over the past four years, it was truly unbelievable to me that we'd managed to become the first beach volleyball team ever to win back-to-back Olympic gold medals. From the outside, it may have looked easy, but having lived, breathed, eaten, and slept volleyball since the day I was born, I knew what we'd pulled off in Beijing was no small feat.
Excerpted from "MISTY: Digging Deep in Volleyball and Life" by Misty May-Treanor with Jill Lieber Steeg. Copyright © 2010 by Misty May-Treanor with Jill Lieber Steeg. Excerpted with permission by Scribner, a Division of Simon & Schuster, Inc.