/ Source: TODAY contributor
In the eyebrow-raising department, themed weddings rarely disappoint. Diehard fans of movies and TV shows know this, and for years they've been staging Klingon weddings, Star Wars weddings, Middle Earth weddings. (How do you say "I do" in Elvish?)
But brace yourselves, because a whole new matrimonial "trend" is making headlines in Britain. That's right: The Shrek wedding is here.
Tracey and Vivian Williams, a happy couple from Wales, just tied the knot by dressing up as two of their favorite movie characters: the green ogres Shrek and Princess Fiona. Tracey Williams, 33, told the British newspaper The Daily Mail that the themed wedding idea suited her and her new husband perfectly.
"Our friends always used to say we looked like the characters when we went on nights out," she said. "Even though Shrek and Fiona are both green ogres, we didn't take it offensively because we like them so much."
The couple actually saw a "Shrek" movie on their first date and have been loyal fans ever since. To get ready for the big day, the pair covered themselves in green body paint and affixed fake green ears to the tops of their heads. Tracey donned a bright red wig to complete the Princess Fiona look, and Vivian sported checked trousers.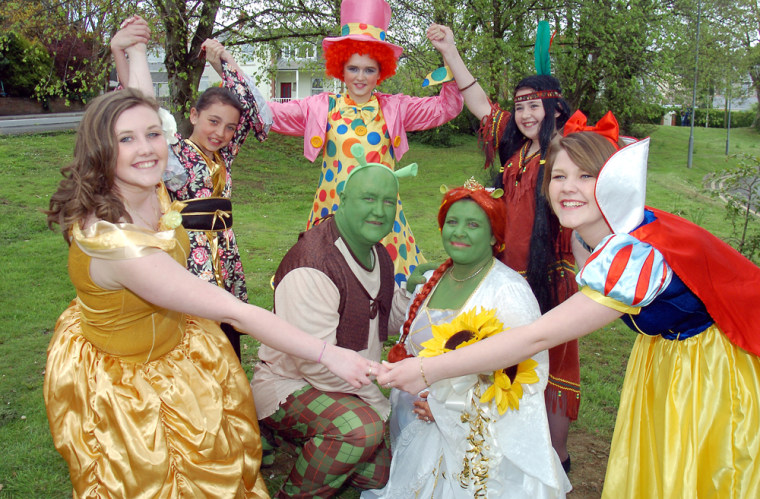 The Williams' wedding guests got in on the fun, with the best man dressing up as Monsieur Hood, the bride's father going as Lord Farquaad, the bride's mother playing the Fairy Godmother and the maid of honor playing Snow White.
Vivian Williams, 53, told The Daily Mail that he and his bride were equally enthusiastic about the elaborate wedding plans.
"We watched the films, became addicted and when we decided to get married we both knew how we wanted the wedding to be," he said. "I wouldn't mind betting we have started a trend — the whole family absolutely loved it. It looked amazing."
Granted, Tracey and Vivian Williams aren't the first couple to throw a Shrek wedding on the other side of the Atlantic. In April 2009, Keith and Christine Green — (yes, their last name is Green) — coordinated a Shrek bash with 100 guests, many of whom dressed up as the Gingerbread Man, Donkey and other characters from the movie.
The couple from Devon, England, spent three hours having their green makeup meticulously applied before they said their vows.
Christine Green's mother, Annette England, told the British newspaper The Telegraph that the wedding was "great fun." She also noted: "It's not necessarily how you imagine seeing your daughter get married."