/ Source: The Associated Press
Sales of new homes collapsed in May, sinking 33 percent to the lowest level on record as potential buyers stopped shopping for homes once they could no longer receive government tax credits.
The bleak report from the Commerce Department on Wednesday is the latest sign of a precarious housing market that is struggling to recover and could weaken the broader economic recovery. It follows a disappointing report issued earlier in the week showing sales of previously occupied homes had dipped in May.
Analysts linked the sudden drop in new-home sales to the expiration of federal tax credits of up to $8,000. But double-digit unemployment and slow job growth have also weighed on the market, even with mortgage rates at near-historic lows.
"We fear that the appetite to buy a home has disappeared alongside the tax credit," Paul Dales, U.S. economist with Capital Economics," wrote in a note to clients. "After all, unemployment remains high, job security is low and credit conditions are tight."
To sustain the economic rebound, the Federal Reserve is expected to leave interest rates at record lows and repeat a pledge to keep them there for a while. The Fed resumed its two-day meeting Wednesday with policymakers having some cause for optimism as well as caution.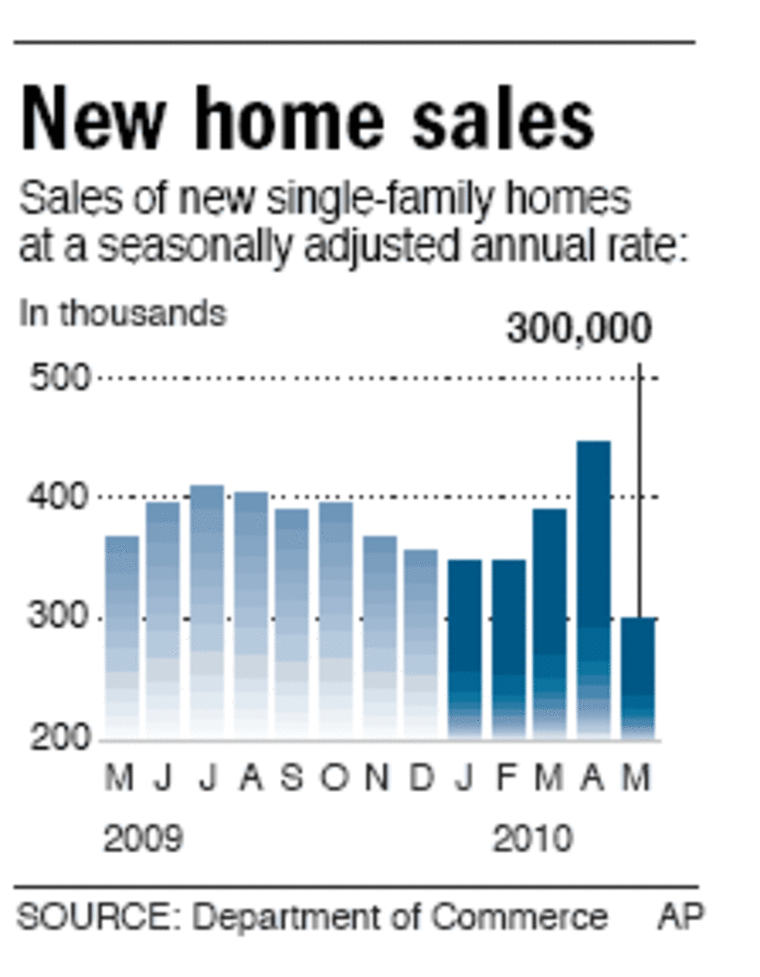 Fed Chairman Ben Bernanke has expressed confidence that the nation won't fall back into a "double dip" recession. At the same time, the recovery remains vulnerable to threats and chief among them is a fragile housing market.
New-home sales fell in May from April to a seasonally adjusted annual sales pace of 300,000, the government said Wednesday. That was the slowest sales pace on records dating back to 1963. It also was the largest monthly drop on record. Sales have now sunk 78 percent from their peak in July 2005.
The tax credits expired on April 30. Buyers who signed sales contracts by the deadline have until June 30 to close on their homes and qualify.
The new-home sales report measures contracts to buy homes rather than completed sales. So it offered a glimpse of what the housing industry will endure throughout the summer.
"We all knew there would be a housing hangover from the expiration of the tax credit," wrote Mike Larson, real estate and interest rate analyst at Weiss Research. "But this decline takes your breath away."
Sales of previously occupied homes are recorded when buyers close, so there were expectations for strong numbers in that sector through June. The 2.2 percent drop in May from the previous month showed the entire industry is weakening.
New-home sales fell nationwide from April's levels. They dropped 53 percent from a month earlier in the West and 33 percent in the Northeast. Sales in the South dropped 25 percent. The Midwest posted a 24 percent decline.
Builders have sharply scaled back construction in the face of a severe housing market bust. The number of new homes up for sale in March fell 0.5 percent to 213,000, the lowest level in nearly 40 years. But due to the sluggish sales pace in May, it would still take 8.5 months to exhaust that supply, above a healthy level of about six months.
The median sales price in May was $200,900. That was down 9.6 percent from a year earlier and down 1 percent from April.
New-homes sales made up about 7 percent of the housing market last year. That's down from about 15 percent before the bust.
The drop in new-home sales means fewer jobs in the construction industry, which normally powers economic recoveries but has remained lackluster this time.
Each new home built creates, on average, the equivalent of three jobs for a year and generates about $90,000 in taxes paid to local and federal authorities, according to the National Association of Home Builders. The impact is felt across multiple industries, from makers of faucets and dishwashers to lumber yards.