With obesity rates on the rise among Americans and their pets, two Californian women have come up with an all-in-one solution — a doggy boot camp where dog owners and their canine friends work out together.
Thank Dog boot camp is the nation's first outdoor fitness program where both humans and dogs get a full body workout while the pooches also learn basic obedience skills.
Founded two years ago by identical twins Jill and Jamie Bowers, the program has grown to include classes at various Los Angeles and Orange County locations. Earlier this year, Northern California locations have also began to open up.
Classes begin as early as 6 a.m. with instructors in urban-camo pants yelling out drill-like commands in the traditional boot camp style.
The difference here is that instructors are certified in both fitness and dog training, and each boot camper happens to have a four-legged partner by their side at all times. "People need to exercise, and dogs need to be trained and exercised," said Jill Bowers.
"When you can do both at the same time in one hour before you even start your day, you can't beat it."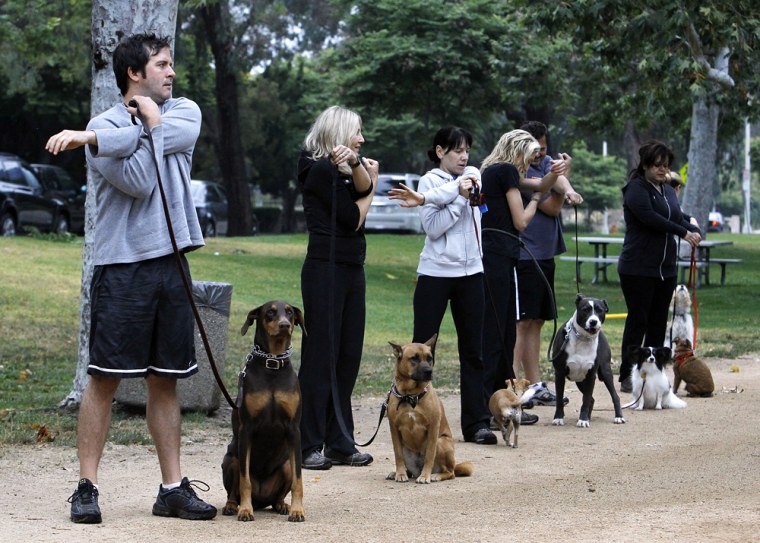 Newcomers begin with a one-on-one consultation and obedience lesson. If you don't have a dog, you can borrow one from boot campers who have more than one dog.
The class takes place on a field in a public park with 30 minutes of cardio and 30 minutes of weight training. Each person has a mat with weights and bands. Their dog has its own mat and water bowl beside their owner.
The cardio portion involves boot campers running around park trails and zigzagging through pylon-marked obstacle courses on the field with their leashed canine companions. Various squats, lunges, jumps and sprints are incorporated for the humans.
Obedience lessons on the run
Meanwhile, dogs are told to engage in a series of numbered commands ranging from one through nine. Those include everything from "sit" to "down" to "come."
During the weight work on the mats, dogs learn to be at the "stay" command, which is also a mental exercise for them to stay put despite other distractions happening around them.
"A lack of exercise and training causes dogs to have behavioral problems," says Bowers. "If they don't have enough activity to expend their energy, they take it out on your favorite couch or your designer shoes. With boot camp, your dog is too tired to be bad."
Latest statistics show that in 2009 about 28 percent of Americans aged 20 and over were obese, up from 19.4 percent in 1997, while it is estimated that about 43 percent of U.S. dogs are overweight or obese.
Bowers came up with the idea after she joined a boot camp-style workout and lost 40 lbs.
"Since I have a Doberman, a breed that needs constant exercise, I was getting all the workouts and she wasn't," she said.
Today, Bowers leads the 6 a.m. Burbank class with her dog, Quinn. The rest of her day is spent in consultations with newcomers and private in-home dog training.
Laura Allen, a clinical psychologist, joined boot camp after rescuing her Chihuahua terrier mix, Logan.
"He had been poorly socialized and was exhibiting leash aggression and some other behavioral problems," said Allen. "Now his leash aggression is non-existent and I'm in the best shape I've ever been."
Shannon Payne, a paralegal, says she always loved running, but her Pomeranian Chihuahua mix, Sammie, was "too wild" when she tried to take him with her. He barked and growled at every passing dog so she ended up leaving him home then felt guilty exercising without him so stopped working out entirely.
Payne credits her 7.30 a.m. Burbank boot camp class for making Sammy comfortable around other dogs, giving him an outlet for releasing pent-up energy and making her feel safe enough to be able to leave him at home alone all day, sleeping.
"The class is just as good, if not better, than weight training classes I've taken at gyms, but with this one, I get to be with my Sammie," Payne said.
Ken Kristensen, a screenwriter/producer who works out with his wire-fox terrier, Myrna Loy, says not only has he gotten back the abs he lost in grad school, but "working out with your dog strengthens the bond between the two of you, and the dog the comes to respect you as its leader."
Or perhaps it's the other way around? Attorney Nancy Taylor says she would never dream of missing boot camp no matter how late she was up the night before. Her lab-shepherd rescue Bella won't let her.
"She's the motivator to get me out of bed," says Taylor, who joined six months ago. "She's so used to going now that she's the one making sure I'm up and out the door. I've lost 15 pounds and have gained a lot of confidence."