/ Source: msnbc.com staff and news service reports
A prime international marketing opportunity for Canada, or a $1 billion boondoggle?
The G-20 and G-8 financial summits this weekend in Toronto and Huntsville, Ontario, have been a topic of rabid debate across the nation as Canadians sound off on the merits of hosting three days of meetings of world leaders that will leave taxpayers footing a whopping bill.
A report released this week by the Parliamentary Budget Office says the two summits are expected to cost Canadians C$930 million (US$893 million) in security alone, including more than C$500 million for the Royal Canadian Mounted Police. Together with other hosting costs — including nearly C$2 million for a marketing and media pavilion in Toronto that includes a "fake lake" — the total tab will run well north of C$1 billion.
Prime Minister Stephen Harper insists the costs are reasonable, given that Canada is hosting unprecedented back-to-back summits in two different locations. He says the high-profile gatherings, drawing leaders from across the world, are a great opportunity for Canada to market itself.
Others aren't so sure.
"Security: The summit of all taxpaying fears," blared a Canwest News Service article headline this week in several major dailies, including the Montreal Gazette and the Vancouver Sun.
"The G20 summit: A billion-dollar waste of time," trumpeted the national weekly Macleans.
"There's a nagging sense police, public servants and politicians are wallowing in a bottomless trough they figure Canadians will constantly replenish," columnist James Travers wrote in the Toronto Star, the country's biggest newspaper.
Bruce Schneier, an internationally renowned security technologist and author of several books on the topic, calls the security bill for the three-day affair "ridiculous."
"I'm sure if you totaled everything up it would be vaguely plausible, but the total is stupid," he told msnbc.com. "And fundamentally we have to ask ourselves, if it costs that much money for people to get together face to face then we should try video-conferencing."
High-profile leaders
Politicians also aren't mincing words.
"This might be the most expensive 72 hours in Canadian history," quipped Liberal Member of Parliament Mark Holland.
The main opposition Liberal party has aired radio ads criticizing the summit costs. It also launched a "G8/G20 Waste Clock" that gives a second-by-second ticking of what Holland called Harper's "$1 billion boondoggle."
"In the time it takes for you to wash the dishes, or cut the grass, or cook dinner, you'll be able to see how much of your money Stephen Harper will blow at the same rate during the summit," said Holland.
Security is in high gear in part because of the who's-who lineup of leaders taking part, including Chinese President Hu Jintao, U.S. President Barack Obama, French President Nicolas Sarkozy, British Prime Minister David Cameron and Russian President Dimitry Medvedev.
On Friday and Saturday, leaders from the Group of Eight industrialized nations will meet in Huntsville, Ontario, about two hours' drive north of Toronto. The G-20 will then gather in Toronto Saturday and Sunday.
Public Safety Minister Vic Toews has defended the costs for security, saying Canada has an obligation to make sure world leaders are safe.
"I take my advice from the experts ... and the indication we received was that the amount of money spent is what was required to address the threat that was in place," he told reporters recently.
As part of the security plan, tens of thousands of police are fanning out across Ontario. Toronto's downtown core resembles a fortress, with a 10-foot-high steel and concrete fence surrounding several blocks around the G-20 summit site. Many businesses closed for the weekend, with some boarding their shop windows. Police also purchased four "sound cannons" — devices that emit ear-splitting pitches — for crowd control.
Police said they took a man into custody Thursday after searching a car and finding containers of gasoline and unspecified weapons. The car was stopped near a hotel where the French delegation is staying. Workers at the hotel had walked off the job Thursday as part of a labor dispute.
Belly flop?
The Parliamentary Budget Office's report notes that, when adjusted for inflation and exchange rates, the total costs of past such summits since September 2001 "has always been in the hundreds of millions of dollars," with security accounting for about 90 percent of the costs.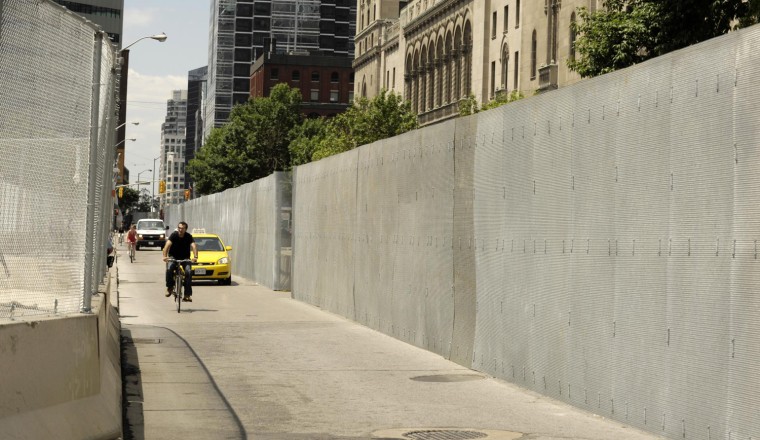 It says the final costs to the public won't be known until an audit is done after the events.
And a Canadian Press Harris-Decima poll released last week found 76 percent of respondents said the back-to-back weekend summits were either very or somewhat important, versus 20 percent that were opposed.
But critics aren't buying that.
The "fake lake," a chlorinated replica of idyllic Lake Muskoka in northern Ontario's cottage country, has drawn particular ridicule from opposition politicians, the media and the public as an example of wasteful spending by the ruling Conservatives during a time of national belt-tightening. In addition to the artificial pool, the "Experience Canada" pavilion at the Toronto media center also includes a wooden deck with trademark Muskoka chairs, canoes and giant-screen TVs.
As world leaders meet in Canada, a few demonstrators turn to violence.
Harper defended building the pavilion. "The Experience Canada space will host over 3,000 media and other guests, and will serve to highlight Canada's pristine natural beauty, as well as promote leading Canadian businesses and industries," said a statement issued by his office.
The "fake lake" has been parodied on YouTube by singer, writer and municipal candidate Jennifer Smith and pilloried by bloggers and other citizen commentators.
"As both politicians and public continue to froth over that fake lake and other indefensible items that help make up a whopping billion-dollar price tag for the summit, the G20 planning reminds me of that familiar children's toy warning: 'batteries not included,' one woman wrote in an Internet forum. "Only substitute the word 'brains' for 'batteries.'"