/ Source: TODAY contributor
An adorable, half-dollar-sized turtle is lucky to be in the loving home of its 10-year-old owner rather than the city of Atlanta's waste management system after a series of confounding events consigned the creature to a trash can at Hartsfield-Jackson International Airport.
Ten-year-old Carley Helm thought it was OK to bring her new friend Neytiri back with her on a flight from Atlanta to her home in Milwaukee. And so did AirTran Airways personnel — at first, that is.
But just as the plane was making its way out of the gate, flight attendants pulled an about-face and ordered Neytiri off the plane, citing company policy.
Carley's 22-year-old sister Rebecca looked on as her little sibling wept, and faced an agonizing choice: What to do with Neytiri? She eventually placed the turtle, tank and all, in a trash can, hoping her father could come back to the airport and retrieve it.
That didn't happen, but in a series of fortunate events, Neytiri finally made the 670-mile journey home to her grateful owner Carley.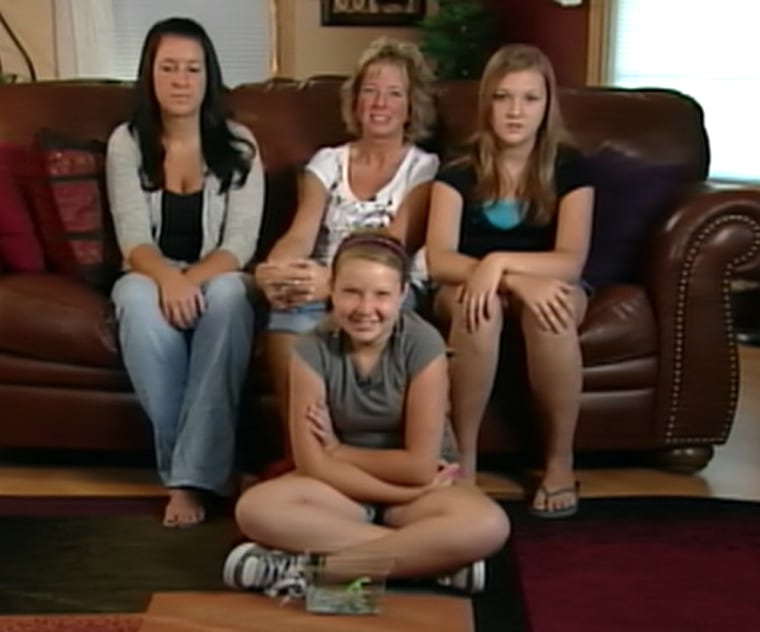 Reptile reunion
"I was happy — I was excited," Carley told TODAY's Meredith Vieira about the reunion with her pet via satellite from Milwaukee on Friday.
The events began to unfold Tuesday, when Carley, Rebecca and 13-year-old sis Annie were ready to head home after a visit in Atlanta with their father, William Helm. The family had made a side trip to South Carolina, where Carley eyed the little reptile at a souvenir shop. Dad bought it for her, and she named it Neytiri, after actress Zoe Saldana's character in "Avatar."
The gals waltzed through the airport metal detector with Neytiri in tow, drawing nary a word from security personnel. "We went past security and they OK'd it, and [we] got on the plane," Rebecca recounted. "All the flight attendants thought it was OK, and they told us to put it under the seat.
"Then all of a sudden, after we taxied, they found those rules and we had to go back."
Reptile regulations
AirTran, like other airlines, has a no-reptile rule. Small reptiles have the potential to be carriers of salmonella and other bacteria, making them a no-go.
What transpired when the plane got back to the gate is a matter of dispute. Rebecca Helm insists airline staff told her to throw Neytiri away, although AirTran spokesmen deny it.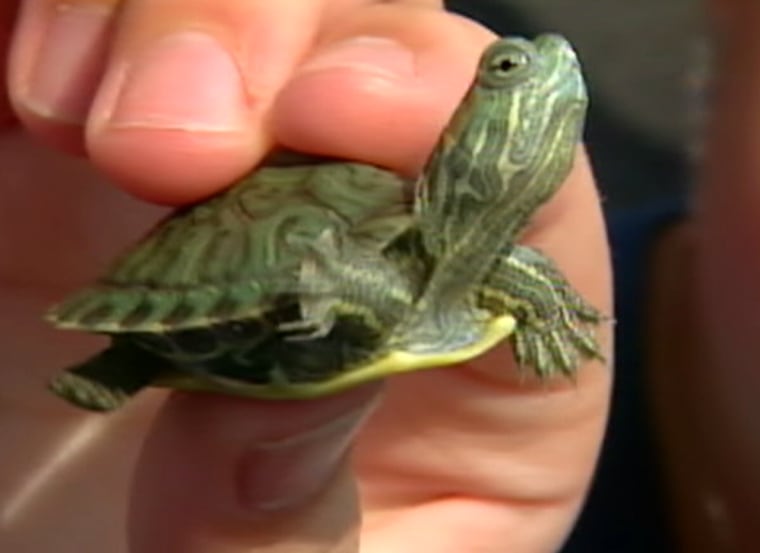 "They told us to throw it away or get off [the flight]," Rebecca told Vieira. She had called her father in the meantime, and William Helm was heading back to the airport to retrieve Neytiri. Rebecca says she asked airline staff to contact her dad to make arrangements for the transfer, but they refused.
So she eventually set Neytiri, tank and all, down in a trash bin.
"I thought if I just left it there, [Dad] was already on his way, he could come and get it for us," Rebecca said.
William Helm arrived back at the airport and couldn't turn up Neytiri, even with employees joining him in digging around. Later they learned that another AirTran employee had already fished the turtle out of the trash and handed it off to a co-worker, who then took it home as a pet for their son.
Heroine on the half shell
The turtle tale was soon sorted out. Neytiri was retrieved, and a young boy who thought he had a new Yellow-Eared Slider for a pet was given two replacement turtles as a consolation prize. AirTran gave Neytiri a free ride back to Milwaukee Thursday to be reunited with Carley Helm — but this time in the cargo hold.
Appearing with her daughters on TODAY Friday, mom Tamara Helm was clearly dissatisfied with the chain of events that nearly led to Neytiri becoming trash. She said the no-reptile policy is only as good as the employees charged with enforcing it.
"We didn't know there was a policy; they brought the turtle to the gate and the attendants commented how cute it was," she told Vieira. "Policies are great, but the employees should know the policies and stop something like this from happening."
Tamara added the turtle-girl reunion would have never happened if Jennifer Forbes, a cruelty caseworker for People for the Ethical Treatment of Animals, hadn't learned of the case and run interference for the family.
"[Carley's] dad was at the airport asking for help; he got no help from anybody there, and it wasn't until Jennifer stepped in that action was taken immediately," Tamara told Vieira.
Still, the hard-luck, hard-shell story had a happy ending. And Carley Helm plans on keeping Neytiri right at her new home from now on.
"She's going to stay in her tank," Carley said.