/ Source: The New York Times
Nine weeks into the disaster in the Gulf of Mexico, there is more money in this small, hardscrabble fishing town than there has been in decades, residents say. There are more high-paying workdays, more traffic accidents, more reports of domestic violence, more drug and alcohol use, more resentment, more rumors, more hunger, more worry.
On a recent afternoon, Delane Seaman scowled at a procession of boats starting to come in to the town dock, each owner or captain with a promise of a day's pay of more than $1,400, each mate with around $200, all courtesy of a BP program created to employ boats to help with the oil spill cleanup. The program, called Vessels of Opportunity, has been a lifeline for hundreds in this town of 2,300 at the mouth of Mobile Bay, paying several times more than they could make fishing. But for others, like Mr. Seaman and his brother, Bruce, whose oyster-processing business has been closed since May, it has been a target for frustration.
"These folks you see right here, they shouldn't be hired on," Mr. Seaman said, pointing to a group of sport-fishing boats from Florida. "We heard BP was going to be hiring the people directly affected by the oil spill. But we can't get hired, and they're hiring all these people who quit their jobs to come here. We've had our application in for two months."
From a hamlet of independent fishermen and seafood handlers, many second or third generation, Bayou La Batre has become something close to a one-employer town, with BP acting as both the destroyer of livelihoods and the main source of income, through cleanup programs and compensation for lost business.
As the money flows in, many residents say it is not reaching them. In early June, commercial fishermen blockaded Mississippi Sound to protest BP's hiring of recreational boats for the cleanup. A fisherman was led away in handcuffs.
The company is trying to hire more commercial fishermen and has cut the share of recreational boats working in Alabama to 13 percent, from 23 percent a week ago, said Andrew Cassels, director of the Vessels of Opportunity program at the Mobile Incident Command Post.
A week ago, the company began consulting local officials on all hires, Mr. Cassels said.
"We're restructuring our fleet to take the commercial fishermen," Mr. Cassels said.
But those who are not working say this still has not happened. And for everybody, there is fear that the money will run out, BP will declare bankruptcy or end Vessels of Opportunity. There are 915 vessels in the Alabama program, 262 of them working from Bayou La Batre.
'Worried to death'
"Everyone's worried to death," said Kendall Stork, owner of the Lighthouse restaurant, where business is still good. "Unless they got a building as big as the Empire State Building filled with $100 bills, it's going to run out. There'll be some killing around here."
Signs outside Bayou La Batre declare it the seafood capital of Alabama, and for the people here — whose median household income is $24,539, 28 percent below the state median, according to the 2000 census — fishing is a passion and a cross to bear. Business owners were just starting to recover from Hurricane Katrina, which flattened many shops, including the Seamans'.
Residents here said that in the past they always knew they would not starve because they could get their food from the gulf; now that security is gone.
At Dominick's Seafood, a shrimp processor operating at 60 percent below its normal volume — boats can shrimp only off parts of Florida and western Louisiana — Dominick Ficarino spoke lovingly about every aspect of the business. Then he said he did not want his daughters or their boyfriends to come near the plant. "I don't want nobody to have this miserable life," he said.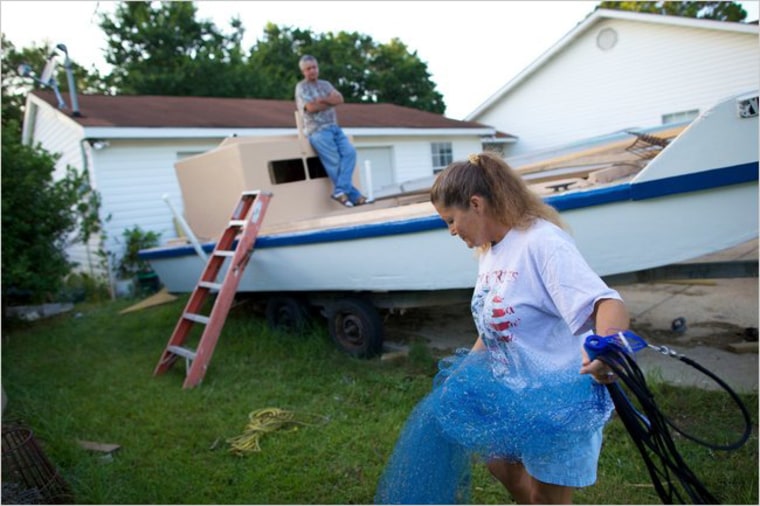 Now, many here say, even this misery will be taken from them.
Het Le, 30, who came from Vietnam when he was 11, has been shucking oysters since he was 16. Since the government closed the oyster beds in May, Mr. Le has been out of work, as have his eight siblings. Though he got a check from BP for $1,000 for lost income, he has had to rely on a food bank to feed his family.
"Lots of families are having arguments because of money," he said. "My wife, she's good. But with money, she blames on me, I blame on her. It makes your life more of a struggle."
Bayou La Batre's population is one-third Asian, mostly Vietnamese, and many have a hard time getting social services or training to work for BP because of the language barrier, said David Pham, a counselor at Boat People SOS, a nonprofit group. Many older residents are neither fit enough for beach cleanup jobs nor eligible for Social Security because they are not citizens, he said.
"In most families the mother, father, children and grandparents are all out of work," he said. "People come in here edgy, angry and scared. They'll come to the office and argue in front of me, or say, 'My husband is acting more angry now.' Usually Asians try to keep private problems at home." He added that many hesitate to use the food bank, even though they need the support.
"They say, 'I don't want to beg for food,' " Mr. Pham said. "One woman told me, 'I haven't seen powdered milk since the refugee camps.' "
'BP took our life away'
Mayor Stanley Wright said he had repeatedly fought with BP to hire more local fishermen, and got grants of $7.5 million and $1 million from the state's BP grant to put residents to work, at about half the rate BP pays. This money, however, has run out. "How we got out of this without a murder, it's a miracle," he said.
Calls to the police and accidents were up 50 percent since late April, said the police chief, John Joyner. Even his officers were working off-duty for BP, Chief Joyner said.
At the Bayou Clinic, started by Regina M. Benjamin, now the United States surgeon general, 20 percent more patients are asking for free health care.
Most people here say they have received some compensation from BP, but not enough to cover their losses. And many who have put in claims will never be repaid because much of their business was cash and they do not have proof of income, said Linda Fisher, an accountant who worked for 12 shops but is now mostly out of work herself.
"I've had guys call me and want 1099s for previous years," Ms. Fisher said. "I can't do that."
Ms. Fisher said that after four trips to the BP claim center, the company has compensated her $2,000 for lost income, less than half of her monthly earnings.
For Delane Seaman, there is the feeling that "BP took our life away," only to replace it with a form of dependency that he and his brother went into business to avoid. "All our lives we've made decisions for ourselves," he said. "Now BP is telling us what we can and can't do. You have no mediator. BP has the final yes or no because they're holding the purse strings."
He looked across his empty workplace, where 40 stainless steel shucking stations sat empty. After Hurricane Katrina, he said, people in town learned not to expect anything from government programs. "We pulled ourselves up by our bootstraps," he said. "Now BP took away our boots."
This story, "Cleanup Hiring Feeds Frustration in Fishing Town," originally appeared in The New York Times.