/ Source: msnbc.com news services
Tropical Storm Alex won't hit the BP cleanup effort head on, but it is likely to push oil farther inland, toss around oil-prevention booms and delay BP's plan to double its oil-capture capacity, officials said Monday.

Kent Wells, senior vice president of exploration and production, told reporters that Alex was not expected to interrupt current oil-capture systems or the drilling of a pair of relief wells intended to plug the leak by August.
But Wells said Alex could cause a delay of up to a week in hooking up a third oil-capture system. "While we are on track for the end of June, it will be roughly a week after that, the 6th or 7th of July," he said.
Moreover, by midweek boats skimming the sludge from the water may have to return to port for their own safety, and the floating oil-containment booms could be rendered useless by waves slopping over them and may have to be pulled out of the water.

Alex is slowly intensifying and will likely strengthen into the first hurricane of the Atlantic season Tuesday, the National Hurricane Center said.

The NHC expects Alex to come ashore near the Texas-Mexico border early Thursday.  Hurricane warnings were issued for the area Monday night.
It could generate waves up to 15 feet high and winds of 20 to 30 mph on its outer edges that could pound the oil spill area, said Stacy Stewart, a specialist at the center in Miami.
"That could exacerbate the problem there in terms of pushing oil further inland and also perhaps hindering operations," Stewart said.
What forecasters are most concerned about, said Ed Rappaport, deputy director of the National Hurricane Center, is the slim chance that the distant storm could generate winds of 39 mph or so in the spill area, which would probably mean curtailing the cleanup.

Crews may have to pick up booms in the storm's path before they get tossed around.

"What boom they don't pick up — and there's miles and miles of it, so there's no way they can pick it all up — will end up back in the marsh," said Ivor van Heerden, former deputy director of Louisiana State University's Hurricane Center.
At Grand Isle, La., crews already were packing up boom and moving other supplies and equipment, Coast Guard Cmdr. Joe Higgins said. He said Alex could send 2 feet to 4 feet of storm surge there.

"We have had to move a lot of material from low-lying areas," he said.

"Our concern now is the safety of the people working on this."

Rough seas would also make skimmer vessels less effective and could put crews at risk.

Pulling boats and crews off the water could cost precious time, said Nancy Kinner, co-director of the Coastal Response Research Center at the University of New Hampshire. Equipment has to be stripped down, packed and protected from the force of the storm, and then has to be reassembled and deployed again — a task that takes resources and hours away from cleanup and containment, she said.

"It not only prevents you from being on the water, it delays you in how long it takes to get back on the water," Kinner said.
An undetermined amount of oil continues to billow out from under the rig's cap and through vents on top into the sea. A team of U.S. scientists estimate that the leak is gushing up to 60,000 barrels a day overall.

The current containment system involves a drillship and a service rig that can handle up to 28,000 barrels a day of oil. The next step is adding another rig to the mix to increase that capacity to 53,000 barrels a day, according to BP.

A plan to increase capacity up to 80,000 barrels a day by mid-July remains on track, Wells said.
Coast Guard Admiral Thad Allen, the top U.S. official overseeing the spill response, said waves of 5 to 6 feet could impede the ability to load collected oil onto a tanker that ships it to port.
He said 12-foot waves could make the drillship, Transocean Ltd's Discoverer Enterprise, stop operations.
"We would be concerned around 12 feet for the Enterprise," Allen told a briefing in New Orleans.
Allen said a storm-related shutdown of the rigs drilling the relief wells could interrupt those operations for up to two weeks.
BP said earlier Monday that the current oil-capture systems collected or burned off 24,450 barrels of oil Sunday.
BP on Monday also said the costs for capping and cleaning up the spill have reached $2.65 billion, and denied reports out of Russia that CEO Tony Hayward is resigning.
The company's expenses climbed $100 million per day over the weekend, according to an SEC filing Monday.
BP said the cost of its response to the Gulf of Mexico oil spill had reached about $2.65 billion, up from $2.35 billion as of Friday. The costs include spill response, containment, relief well drilling, grants to Gulf states, claims paid, and federal costs.
BP said it had received more than 80,000 claims and made almost 41,000 payments, totaling more than $128 million.
The figure does not include a $20 billion fund for Gulf damages it created this month, BP noted.
BP has lost more than $100 billion in market value since the deep-water drilling platform it was operating blew up April 20, killing 11 workers and starting the massive leak that has fouled the coastline in four states.
BP also rushed to deny the report by Russia's state RIA Novosti news agency that a senior Russian Cabinet official had said Hayward was expected to resign as chief executive.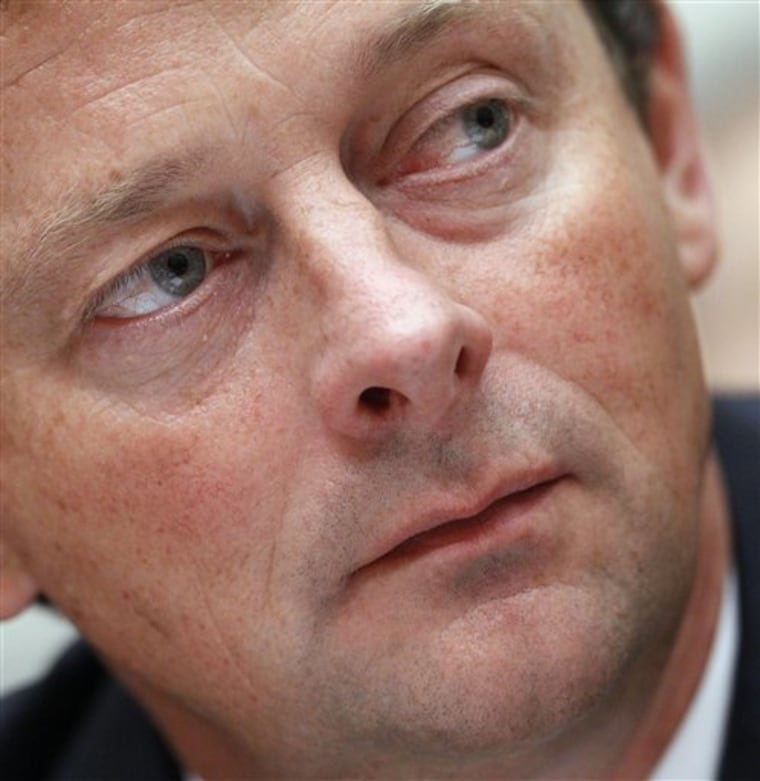 It quoted Deputy Prime Minister Igor Sechin as saying that Hayward would introduce his successor when the two met Monday.
"Hayward is leaving his post, he will introduce his successor," Sechin was quoted as saying by RIA Novosti.
But Sechin's office said after the meeting that management changes were not discussed.
Moreover, BP spokeswoman Carolyn Copland in London said the report "is definitely not correct."
Hayward was to assure Russian officials of BP's viability and discuss issues related to Russian joint venture TNK-BP, which accounts for about a quarter of BP's reserves and production.