/ Source: NBC, msnbc.com and news services
The scandal over an alleged Russian spy ring erupted at an awkward time for a White House that has staked its foreign policy record on improved cooperation with Moscow, but it appeared unlikely to do lasting damage to U.S.-Russian relations.
The administration sought to dampen tensions, while the Russian government offered the conciliatory hope Tuesday that U.S. authorities would "show proper understanding, taking into account the positive character of the current stage of development of Russian-American relations."
The White House response was notably restrained following the dramatic announcement that 11 people assigned a decade or more to illegally infiltrate American society had been arrested. They are accused of using fake names and claims of U.S. citizenship to burrow into U.S. society and ferret out intelligence as Russian "illegals" — spies operating without diplomatic cover.
White House spokesman Robert Gibbs labored to show that the arrests were a law enforcement matter — one not driven by the president, even though President Barack Obama was informed — and played down any political consequences.
Obama was asked about the matter by reporters twice Tuesday. He declined to comment both times.
Gibbs said Obama was aware before he met with Russian President Dmitry Medvedev at the White House on Thursday that the case was under investigation, but the two leaders did not discuss it. Another White House spokesman, Tommy Vietor, said Obama did not know the exact timing of the arrests.
Officials in both countries left the impression that spy rings remain a common way of doing business.
Prime Minister Vladimir Putin offered a message of restraint during a meeting at his country residence with former President Bill Clinton, who was in Moscow to speak at an investment conference.
"I understand that back home police are putting people in prison," Putin said, drawing a laugh from Clinton. "That's their job. I'm counting on the fact that the positive trend seen in the relationship will not be harmed by these events."
The FBI moved on the bust because one of the suspects was scheduled to leave the country, the Justice Department said.
The last suspect, using the name Christopher Metsos and purporting to be a Canadian citizen, was arrested at the Larnaca airport in Cyprus while trying to fly to Budapest, Hungary, police in the Mediterranean island nation said. He was later released on bail.
Metsos, 54, was among those named in complaints unsealed Monday in federal court in Manhattan. Authorities in Cyprus said he will remain there for one month until extradition proceedings begin.
'Unbelievable things'
Most of the suspects were accused of using fake names and claims of U.S. citizenship while really being Russian. It was unclear how and where they were recruited, but court papers say the operation goes back as far as the 1990s.
Intelligence on Obama's foreign policy, particularly toward Russia, appears to have been their top priority, according to prosecutors, who charged each of the 10 arrested in the U.S. with conspiracy to act as an agent of a foreign government without notifying the U.S. attorney general. None was charged with espionage.
The 38-year-old son of one of the arrested couples, Vicky Pelaez and Juan Lazaro, said Tuesday outside their home in Yonkers that he didn't believe the allegations.
"This looks like an Alfred Hitchcock movie with all this stuff from the 1960s. This is preposterous," Waldomar Mariscal said. Of the charges, he said, "They're all inflated little pieces in the mosaic of unbelievable things."
Russia: Some are our citizens
Russia's foreign ministry acknowledged Tuesday that those arrested included Russian citizens but insisted they did nothing to hurt U.S. interests.
The ministry earlier angrily denounced the arrests as an unjustified throwback to the Cold War, and senior lawmakers said some in the U.S. government may be trying to undercut President Barack Obama's warming relations with Moscow.
"These actions are unfounded and pursue unseemly goals," the ministry said in a statement. "We don't understand the reasons which prompted the U.S. Department of Justice to make a public statement in the spirit of Cold War-era spy stories."
A member of the Russian Parliament had suggested that elements of the U.S. government opposed to the recent thaw in relations were responsible for the timing of the arrests. But Justice spokesman Dean Boyd noted several critical law enforcement and operational reasons for the timing of the arrests, including one suspect's plans to leave the country.
Court documents indicate that the FBI believed defendant Anna Chapman, arrested Sunday in Manhattan, was about to go to Moscow, but it was not clear that her impending departure was the one that triggered the arrests.
U.S. official: Spying will continue
A senior State Department official told NBC News that the arrests of the alleged spies was just another issue that the U.S. and Russia will have to agree to disagree on — and that until the relationship is more open between the two nations, the spying will continue.
Assistant Secretary of State for European and Eurasian Affairs Phil Gordon said that the U.S. will continue to work with their Russian counterparts, and reminded an assembled press briefing that President Obama made clear when he announced the new way forward with Russia 18 months ago that there would be issues the U.S. and Russia would disagree on, and that the U.S. "should see this spying issue in that context."
Gordon said that the U.S. and Russia "have made significant progress in the 18 months that we have been pursuing this different relationship with Russia, and that "all along we have made clear that there are still things we disagree on and President Obama never fails to bring those things up when he sees his Russian counterpart."
Spy novel in real life
Two criminal complaints outlining the charges were filed in U.S. District Court in New York. They include allegations of false identities, secret communications, money and document handoffs in heavily trafficked public areas like New York's Grand Central Station and Central Park.
The FBI said it had intercepted a message from SVR's headquarters, Moscow Center, to two of the 10 defendants describing their main mission as "to search and develop ties in policymaking circles in US." Intercepted messages showed they were asked to learn about a wide range of topics, including nuclear weapons, U.S. arms control positions, Iran, White House rumors, CIA leadership turnover, the last presidential election, Congress and the political parties, prosecutors said.
The court papers allege some of the ring's members lived as husband and wife; used invisible ink, coded radio transmissions and encrypted data; and employed Hollywood methods like swapping bags in passing at a train station.
The court papers also described a new high-tech spy-to-spy communications system used by the defendants: short-range wireless communications between laptop computers — a modern supplement for the old-style dead drop in a remote area, high-speed burst radio transmission or the hollowed-out nickels used by captured Soviet Col. Rudolf Abel in the 1950s to conceal and deliver microfilm.
Behind the scenes, they were known as "illegals" — short for illegal Russian agents — and were believed to have fake back stories known as "legends."
'A very interesting target'
In spring 2009, court documents say, conspirators Richard and Cynthia Murphy, who lived in New Jersey, were asked for information about Obama's impending trip to Russia that summer, the U.S. negotiating position on the START arms reduction treaty, Afghanistan and the approach Washington would take in dealing with Iran's suspect nuclear program. They also were asked to send background on U.S. officials traveling with Obama or involved in foreign policy, the documents say.
"Try to outline their views and most important Obama's goals (sic) which he expects to achieve during summit in July and how does his team plan to do it (arguments, provisions, means of persuasion to 'lure' (Russia) into cooperation in US interests," Moscow asked, according to the documents.
Moscow wanted reports that "should reflect approaches and ideas of" four unnamed sub-Cabinet U.S. foreign policy officials, they say.
One intercepted message said Cynthia Murphy "had several work-related personal meetings with" a man the court papers describe as a prominent New York-based financier active in politics.
In response, Moscow Center described the man as a very interesting target and urged the defendants to "try to build up little by little relations. ... Maybe he can provide" Murphy "with remarks re US foreign policy, 'roumors' about White house internal 'kitchen,' invite her to venues (to major political party HQ in NYC, for instance. ... In short, consider carefully all options in regard" to the financier.
The Murphys lived as husband and wife in suburban New Jersey, first Hoboken, then Montclair, with Richard Murphy carrying a fake birth certificate saying he was born in Philadelphia, authorities said.
The complaint says Metsos traveled to the United States to pay Richard Murphy and others using clandestine — and sometimes bizarre — methods.
Money drop
Metsos was surreptitiously handed the money by a Russian official as the two swapped nearly identical orange bags while passing each other on a staircase at a commuter train station in New York, Metsos said.
After giving some of the money to one of the defendants, Metsos drove north and stopped his car near upstate Wurtsboro, N.Y. Using data from a global-positioning system that had been secretly installed in his car, agents went to the site and found a partially buried brown beer bottle. They dug down about five inches and discovered a package wrapped in duct tape, which they photographed and then reburied.
Two years later, video surveillance caught two unnamed secret agents digging up the package.
On Saturday, an undercover FBI agent in New York and another in Washington, both posing as Russian agents, met with two of the defendants — Chapman at a New York restaurant and Mikhail Semenko on a Washington street corner blocks from the White House — prosecutors said. The FBI undercover agents gave each an espionage-related delivery to make. Court papers indicated Semenko made the delivery as instructed but apparently Chapman didn't.
Aside from the Murphys, three other defendants also appeared in federal court in Manhattan — Pelaez and Lazaro, who were arrested at their Yonkers, N.Y., residence, and Chapman.
Pelaez was a reporter and editor for a prominent Spanish-language newspaper videotaped by the FBI contacting a Russian official in 2000 in Latin America, prosecutors said.
The Murphys, Lazaro, Pelaez and Chapman were held without bail but didn't enter a plea. Another hearing was set for Thursday.
'Very friendly'
Pelaez is a Peruvian-born reporter and editor and worked for several years for El Diario/La Prensa, one of the country's best-known Spanish-language newspapers. She is best known for her opinion columns, which often criticize the U.S. government.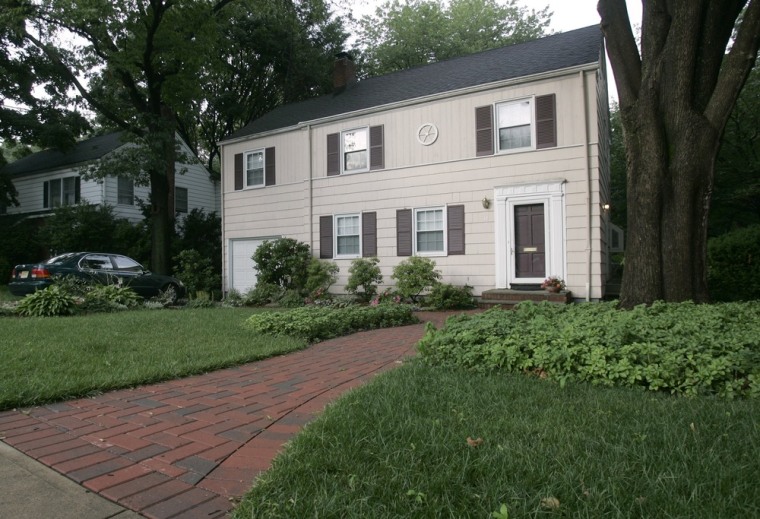 "They were very friendly," said Carmen Marrero, 80, who lived next to Pelaez and Lazaro in Yonkers for years. When a tree from the couple's yard fell on Marrero's property, they took care of it promptly. They once invited him to their young son's piano concert. And they threw parties on the Fourth of July.
"I never saw anything suspicious," he said.
Two other defendants, Michael Zottoli and Patricia Mills, were arrested at their Arlington, Va., residence. Also arrested at an Arlington residence was Semenko.
Zottoli, Mills and Semenko appeared before U.S. Magistrate Theresa Buchanan on Monday in Alexandria, Va. The hearing was closed because the case had not yet been unsealed in New York. The three did not have attorneys at the hearing, U.S. attorney spokesman Peter Carr said.
Two defendants, Donald Howard Heathfield and Tracey Lee Ann Foley, were arrested at their Cambridge, Mass., residence Sunday and appeared briefly in Boston federal court Monday. A detention hearing was set for Thursday. Lawyers could not be found or did not return calls.
Deep-cover couples Oleg Gordievsky, a former deputy head of the KGB in London who defected in 1985, claimed Russia probably has about 50 deep-cover couples — and maybe even up to 60 of them — spying inside the United States.
The 71-year-old ex-double agent said that, based on his experience in Russian intelligence, "there's usually 40 to 50 couples, all illegal."
"The [Russian] president will know the number, and in each country how many — but not their names," said Gordievsky, who said he spent nine years working in the KGB directorate in charge of illegal spy teams.