As the owners of a 32-foot Winnebago Vectra RV, Ron and Margie Johnson seldom lack for space when they travel — unless, that is, they're traveling with their grown children, their children's spouses and a passel of grandchildren.
Last summer, the three-generation, 11-member group came up with a clever solution to the space problem during a trip to California's gold country. Setting up camp at the Marble Quarry RV Park, in Columbia, they reserved an RV site and one of the campground's "park model" cabins, a cedar-sided unit with a kitchen, bathroom and large deck.
"It worked out great," says Johnson. "We stayed in the motorhome; they stayed in the cabin, and no one had to stumble out of a tent to use the bathroom in the middle of the night."
Not your father's camping cabin
If you haven't stayed in a campground in a while, you may have missed the hottest trend in the business. Now offered by approximately one-third of the nation's 8,000 public campgrounds, so-called park models are making the outdoors more accessible to people who don't own an RV, prefer not to sleep on the ground and wouldn't mind a little comfort along the way.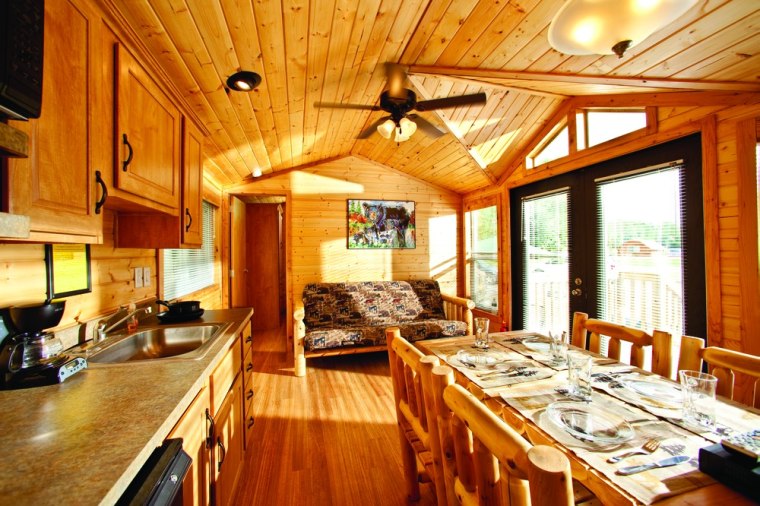 The units are perhaps more accurately called park trailers, although the industry tends to frown on the "T-word." Maxing out at 400 square feet, they're built on chassis by RV companies and can be rolled into place. Once on site, they're hooked up with electricity and real plumbing, which means no messy holding tanks, and outfitted with decks and wheel-hiding trim. (Guests generally bring their own linens, toiletries and cooking gear.)
The result is still technically an RV, but one that's designed to remain stationary. And while some do, indeed, look like shrunken double wides, others take their design cues from log cabins, Cape Codders and other region-specific motifs. Either way, they're a large step up from traditional campground cabins, which have historically offered the lodging equivalent of a tent with walls. Depending on the season, location and amenities, park models typically rent for $75–$150 per night.
"It's the fastest-growing part of our business," says Mike Atkinson, director of lodging at Kampgrounds of America (KOA) Inc., which offers park models at 249 of its 475 campgrounds. "We now have 1,370 in the system, six or seven hundred of which have been installed in the last three years."
The West Glacier KOA, outside Glacier National Park, Mont., for example, recently installed six units — "Kamping Lodges" in KOA vernacular — which are proving especially popular for family reunions and other large groups. "Some folks will be in RVs, some will be in tents, but everyone can use the cabin as a central meeting place," says owner Theresa McClure. "They're completely booked for July."
Changing times, changing tastes
The appeal of park-model camping, say promoters, has also gotten a boost from the economic turmoil of the last few years. "People haven't been taking big vacations," says Linda Profaizer, president and CEO of the National Association of RV Parks and Campgrounds. "They're looking for simpler vacations and staying closer to home. We're seeing a lot of people who wouldn't have considered a campground before."
Younger people, too, says Atkinson, who notes that park-model renters skew slightly younger than KOA's traditional customers: "We're working with generations — Gen X, Millennials — that expect more. We want a bathroom; we want pillow-top mattresses. We want to enjoy the outdoors, but we also want a comfortable experience."
That's certainly true at the Pecan Park Campground in San Marcos, Texas, which offers two western-themed cabins — complete with flat-screen TVs, DVD players and six-foot front porches — overlooking the San Marcos River. "These are not the folks who pull in in a million-dollar motorcoach, set up camp and never come outside," says owner David Rowley. "They're kayakers and canoers — boomers, Gen-Xers and beyond."
Each offers a unique take on the American landscape, the nation's history and our collective culture. Best of all, you won't have to fight the crowds along the way. By Rob Lovitt
They're also part of a larger demographic trend, suggests Shane Ott, director of campground relations for Thor Industries Inc., a major park-model manufacturer: "Mom's working; the kids are engaged in school activities that extend far into the summer. Most families can't take that two-week vacation anymore. Traveling within a day's drive of home and staying in one of these units is sort of the new wave of camping."
Scott Duever, who spent the Memorial Day weekend at Pecan Park with his wife and two other couples, would probably agree. By day, they kayaked on the San Marcos River; come evening, they cooked communal meals and enjoyed the cabin's amenities, not to mention the fact that they didn't have to sleep on the ground or squeeze into an RV.
"We used to have a pop-up camper, but it was old and used and we just didn't like it that much," says Duever. "And we're a little past the camping in a tent phase. We've all had the adventures of being out in the boonies. This is a nice way to go."
Rob Lovitt is a frequent contributor to msnbc.com. If you'd like to respond to one of his columns or suggest a story idea, .