/ Source: msnbc.com staff and news service reports
Police were searching Tuesday for a convict charged with fatally shooting two Tampa police officers during an early morning traffic stop of a car that didn't have a visible license plate.
Officer David Curtis pulled over a man and woman in a red Toyota Camry around 2:15 a.m. and called for backup after a background check revealed the man, believed to be a passenger, was wanted on a misdemeanor charge for writing a worthless check in Jacksonville.
Officer Jeffrey Kocab arrived, and the two officers approached the passenger side of the vehicle. Six minutes later a witness called 911 to report they had been shot.
Curtis and Kocab, both 31, were pronounced dead at the hospital.
The woman who police believe was driving the car, 22-year-old Cortnee Nicole Brantly, was taken into custody Tuesday afternoon for questioning, but she was not arrested.
'We know who he is'
Dontae Rashawn Morris, 24, still being sought by police, was charged with two counts of first-degree murder and a single count of felony possession of a firearm.
Tampa Police Chief Jane Castor said "we know who he is and we're going to find him."
Morris was released from prison in April after serving two years for cocaine possession and sales. He also served about nine months on other cocaine possession charges in 2004, according to prison records.
The St. Petersburg Times reported that in 2006, Morris was found not guilty of attempted first-degree murder, aggravated battery with a firearm, attempted robbery and possession of a short-barreled shotgun.
Castor and Mayor Pam Iorio announced Kocab's death at a news conference at the hospital where the officers were taken. Dozens of somber officers filled the hospital.
"This is an unbelievable tragedy," said Iorio, who burst into tears. "Our hearts are just breaking."
"The crime scene was horrible," said Tampa Police Officer Jeremy Larson, a friend of Curtis and one of the first responders.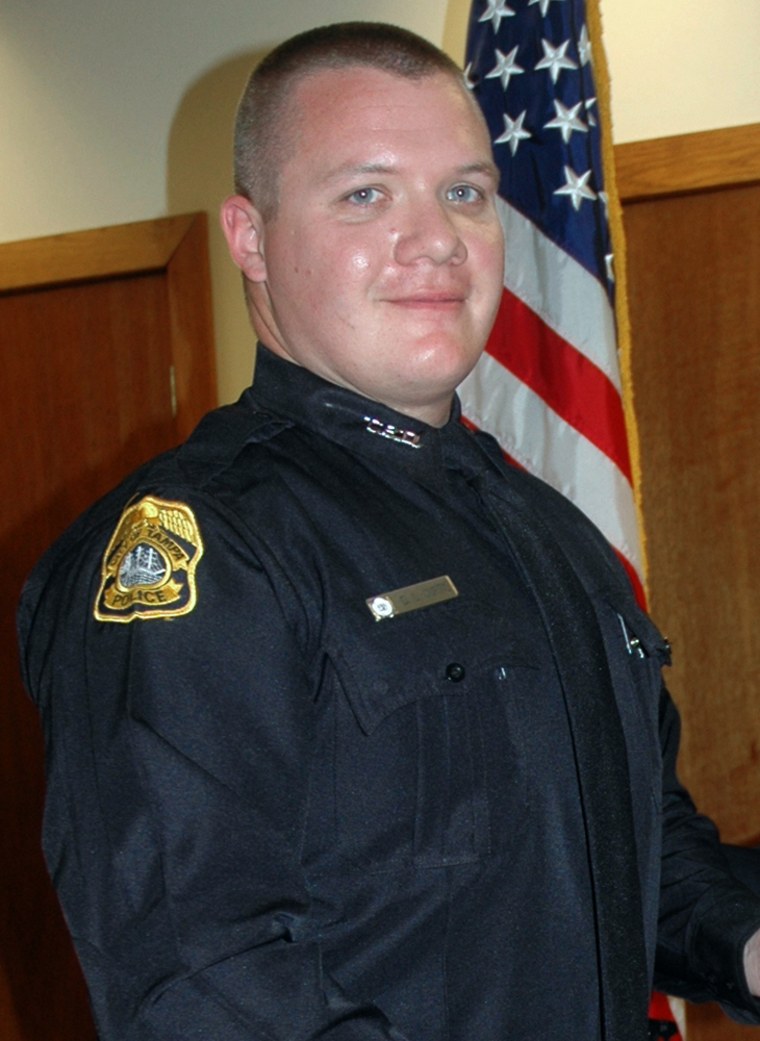 A father-to-be
Kocab had been on the force for 14 months. His wife is nine months pregnant with their first child, police said.
Kocab was previously an officer for the Plant City Police Department in rural Hillsborough County, and won the department's officer of the year award in 2007.
"He loved his job," Tampa officer Whitney McCormick said. "He was one of the best."
Father of four boys
Curtis, a father of four boys, had nearly four years with the department. He remained on life support as doctors prepared to harvest his organs at the family's request. He was originally from Mobile, Ala.
"He loved his wife and children with everything he had," said Tampa officer Larson, choking up during a news conference. "If you could imagine the perfect family, that would be Dave's family."
"They both said how much Dave and Jeff loved being a Tampa police officer. They both said their loved ones loved going to work everyday...that it was the best job in the world," Iorio said of the officers' families.
"It's just been heart wrenching as the family members have said goodbye to their loved ones and then it's been heart wrenching to see the officers and how much they respect them," she said.
Man spun around and shot
Castor told the news conference that the officers had tried to arrest the male passenger "on what appeared to be right now a minor warrant."
"As they put their hands on the suspect, the suspect spun around, pulled a firearm and shot both police officers," she said.
Castor said they were hit in the upper body.
A witness told the Times that she had heard four or five gunshots.
Chris Arline, 49, said she was buying a candy bar at a nearby gas station when she heard the shots, which her son initially thought were caused by a truck. "That's not a truck," she said. "That's bullets."
This is the region's second incident of law enforcers being shot in less than a week. Two Polk County deputies were shot early Friday in Lakeland after stopping a man riding a bicycle. They are expected to recover.